Multiple-time Muay Thai World Champion Dejdamrong Sor Amnuaysirichoke from the Evolve Fight Team is a lifelong martial artist. He's been practicing martial arts, taking up the art of Muay Thai, since he was a child growing up in Thailand.
When he transitioned to mixed martial arts in 2014, Dejdamrong had to add new elements to his game, particularly in the grappling department. As mixed martial arts encompasses the full spectrum of fighting styles and is the truly pure embodiment of combat, Dejdamrong had to equip himself accordingly.
Fast forward to present day, and Dejdamrong is one of the most highly-respected strawweights in ONE Championship. He's the former strawweight titleholder and an extremely dangerous finisher. But more than this, Dejdamrong is a complete martial artist, with all the skills necessary to compete on the global stage.
On 22 November at ONE: Edge of Greatness, Dejdamrong returns to the Singapore Indoor Stadium in search of a victory against Muhammad Imran.
Before Dejdamrong takes the ONE Championship ring, let's take a look at a few reasons why he's the favorite to win his next bout. Today, Evolve Daily shares three reasons why Dejdamrong Sor Amnuaysirichoke is a complete martial artist.
1) He has devastating striking ability
After a lengthy professional Muay Thai career, in which Dejdamrong achieved the highest accolades in Bangkok's most prestigious stadiums, it's safe to say that "Kru Rong" is known for his unbelievable striking ability.
Just to give you an idea of how amazing Dejdamrong truly is, the list of awards is long. He is a 3x Lumpinee Muay Thai World Champion, a Thailand National Champion, and Omnoi Stadium Champion.
Dejdamrong is known as a technical fighter with quick hands and lightning feet. He has some of the most unique and creative striking combinations in all of martial arts. The result is an 80% finish rate in MMA, with five knockouts out of 10 victories.
To say that Dejdamrong is a devastating striker is a massive understatement. The man can literally finish fights in a variety of ways and quickly too. The majority of his knockout wins have come in the first round.
2) He can finish fights on the mat
Though Dejdamrong relied heavily on his striking skills early on in his mixed martial arts career, he's developed smoothly as a grappler as well.
Training with World Champions at Evolve MMA across multiple disciplines, Dejdamrong has upgraded his submission grappling skills. Of course, rolling with Brazilian Jiu-Jitsu black belts on a daily basis is incredible for mixed martial arts athletes at the highest level.
Opponents can no longer hope to bring "Kru Rong" to the mat in hopes of disadvantaging him. He has the ability to hang with the best on the ground, defending against the most complex of transitions and submissions, as well as attacking with a myriad of his own.
Out of 10 victories as a professional, Dejdamrong has won three of them via submission, finishing with armbars and rear naked chokes. Suffice to say, Dejdamrong is simply dangerous in all situations, as opponents quickly find out as soon as they step into the cage with him.
3) He has experience on his side
At 40 years of age, Dejdamrong is a wise sage in martial arts. His experience is not to be overlooked. Before he even stepped foot inside the mixed martial arts cage, Dejdamrong has already built his legend as one of the world's most incredible striking talents.
Of course, training in Muay Thai since he was barely four feet tall has turned him into a striking machine. Over his professional Muay Thai career, Dejdamrong has tallied an astounding 282-65-3 record. Without a shadow of a doubt, experience is Dejdamrong's biggest strength among all his strengths.
On 22 November at ONE: Edge of Greatness, Dejdamrong marches forward in his career and attempts to make another run at the ONE Strawweight World Title.
Don't miss your favorite members of the Evolve Fight Team competing on the biggest global stage of martial arts competition!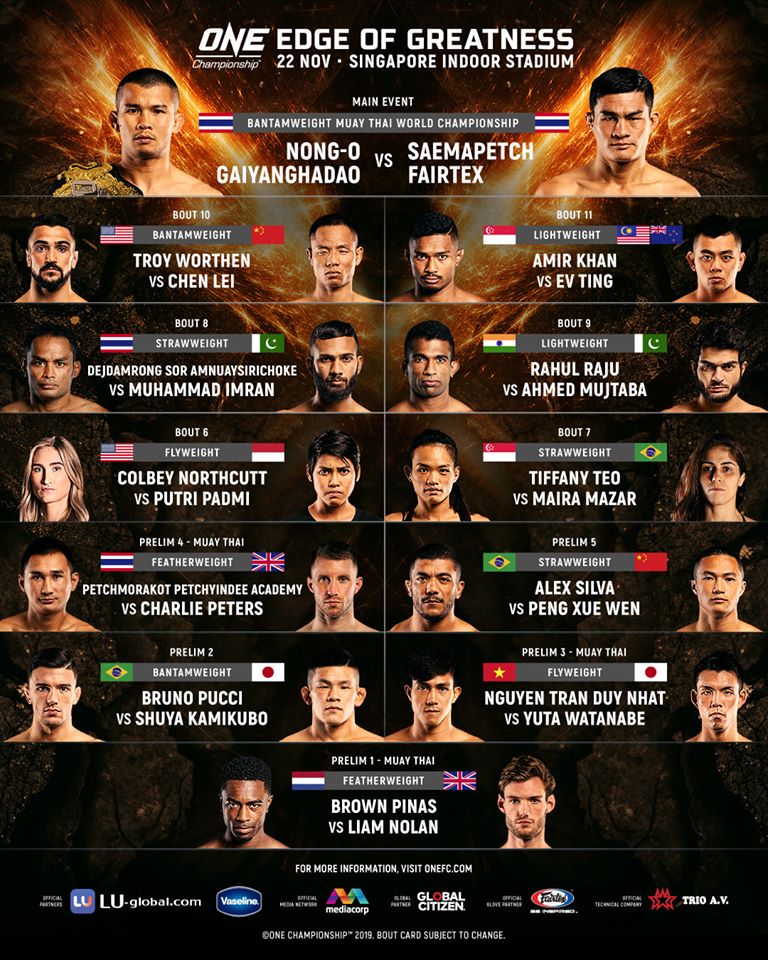 You may also like: