Their first fight was so good, they had to do it again.
27-year-old UFC Middleweight World Champion Robert Whittaker overcame a stiff challenge from Yoel Romero last Saturday night, June 9 at the United Center in Chicago in front of a capacity crowd in the main event of UFC 225. And it was a tremendous five-round affair, as the fight delivered multiple momentum swings and ferocious power from both corners.
Whittaker defeated Romero by unanimous decision nearly a year ago, and he was victorious again this time around. But Romero gave a much better account of himself, hurting Whittaker on multiple occasions. Whittaker hung tough, however, and survived his opponent's vaunted power just enough to earn two of the three judges' nods.
In the end, Whittaker secured the Split Decision verdict with scores of 48-47 (twice), and 47-48.
The first two rounds were extremely competitive, with both men wanting to take each other's heads off with strikes. Romero, who owns five career third-round stoppage wins, failed to make his presence known in the first frame.
Whittaker intelligently proceeded to control the action with a solid jab and a series of leg kicks. A glancing punch from Whittaker shut Romero's right eye, and at that point, a finish for Whittaker seemed imminent.
Then the explosive third round happened, which saw both fighters turn in an absolute classic, as the duo left it all in the cage in an intense five minutes of solid action. They landed a plethora of strikes including uppercuts, knees, kicks, and elbows that would have crumbled lesser fighters, but neither wanted to concede defeat and both soldiered on. Romero in particular came out with much more energy compared to the first two rounds.
The final two rounds were equally as exciting, but Whittaker proved he did just enough to earn the victory, despite getting dropped twice from Romero's heavy hands.
In order to appreciate Whittaker's tremendous victory at UFC 225, let's take a look at three ways he proved how much of an amazing martial artist he is with his performance. Today, Evolve Daily shares three ways Robert Whittaker showed he's a true champion against Yoel Romero.
1) He survived Romero's incredible power
As is the case for anybody who has enough courage to take on the wily Cuban, Whittaker had to dig deep to overcome Romero's vaunted power, which made its grand appearance in the second half of the five-round title tiff.
Sensing he was behind on the scorecards, a renewed Romero looked to engage in round four, attempting to get on the inside as Whittaker boxed intelligently from the outside to keep him out of range.
Although Romero was moving forward with bad intentions, Whittaker kept him in check with stiff jabs to the head and continued to work on the Cuban's legs.
In the fifth, Romero came out with fire and fury, delivering a combination that sent Whittaker reeling towards the fence. Whittaker recovered but was in trouble again when Romero landed with punches over the top. Just then, a monstrous left hook connected for Romero, sending Whittaker crashing to the canvas.
Miraculously, Whittaker was able to muster enough strength to drive forward for a takedown, but Romero tagged him with a knee coming in.
Needless to say, it was a tough ending for Whittaker, but he survived long enough to hear the final bell.
"It could have gone either way, he dropped me in the fourth in the fifth but I thought I controlled three rounds," said Whittaker after the fight.
2) Use of intelligence and a sound game plan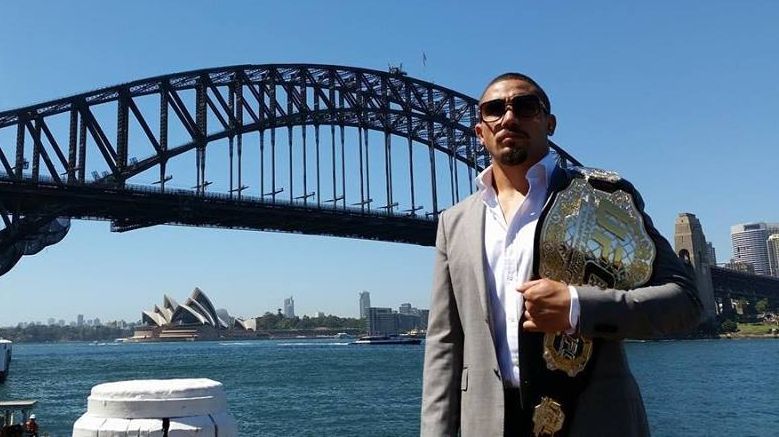 Despite Romero's forward advances, Whittaker knew he had to continue to charge back and keep the pressure on Romero with his counter offense.
Whittaker fought intelligently, employing a sound game plan which involved boxing from a distance and peppering Romero with low kicks, which dug into both the Cuban's base and his midsection. The work Whittaker put into his kicks no doubt took the steam out of Romero's punches and proved critical in the final moments of the bout for Whittaker to survive to a decision.
It was a great performance for the middleweight champion, one that proves without a shadow of a doubt just how much heart Whittaker has and that he can do whatever it takes to earn a victory.
By the end of the bout, both men were completely spent and Whittaker gave Romero props for his effort.
"He hits like a truck," Whittaker said. "I know he looks weak, but man he has some power I'll tell you that much. He caught me in the fourth and the fifth and I just survived."
3) He proved his mettle by beating Romero twice
While it is already an incredibly daunting task to beat the Cuban beast that is Yoel Romero, Whittaker did so twice in his last two outings — a feat that simply cannot be downplayed.
At 41 years of age, Romero isn't exactly a young gun, but the former Cuban Olympic wrestler is still known as one of the most dangerous men inside the octagon. Whittaker being able to deal Romero two losses is an astonishing feat, and he may have to go for a third victory over his rival in a likely rubber match.
Despite Romero failing to make weight in their only two encounters, a third fight seems imminent given how much action the two fighters have produced over 10 solid rounds. This is one of those special trilogy matchups that happens every so often, and both Whittaker and Romero would do well to oblige.
No matter the result, the effort of these two individuals is a true martial arts fan's dream.
Before the match, Whittaker tweeted that he came here to fight and that he did. What a fight it was, and fans will surely know what to look forward to in the third bout, if and when it happens.