24-year-old Singaporean martial arts sensation Amir Khan from the Evolve Fight Team is scheduled to appear in the co-main event of ONE: CONQUEST OF CHAMPIONS, set for this Friday, 23 November at the Mall of Asia Arena in Manila, Philippines.
Standing across from him inside the ONE Championship cage is 34-year-old veteran and former lightweight titleholder Eduard "Landslide" Folayang of the Philippines.
The pair is set to clash in a five-round bout that will crown the new ONE Lightweight World Champion. For Khan, this is the first opportunity at a world title in his young career, and he has worked extremely hard to reach this point.
The Singaporean has powered through numerous obstacles, weathered many storms, and turned in inspiring performances over the course of a four-year career thus far. He's beaten some of the biggest names in his division, all of which have led him to the title.
Now, all that's left for Khan is to put together another amazing showcase of his incredible skills to claim victory, and the highly-coveted gold-plated hardware. If his previous outings are any indication, then it appears Khan is more than ready to answer the call of destiny.
Let's take a look at some of the moments in Khan's career that have led him here. Today, Evolve Daily shares four moments that prove Amir Khan is ready to become a world champion.
1) Overcoming Tourette Syndrome And Childhood Bullying
Khan certainly did not grow up doing anything the easy way, nor did he have an easy childhood by any means. He suffers from Tourette Syndrome, a neurological disorder that causes involuntary muscle tics and spasms. As a result of this mannerism, he was often picked on and bullied as a kid.
Bullying led him to martial arts so that he could learn to defend himself, and he soon discovered the art of Muay Thai. What's more, Khan also found out that the training actually helped him to focus, which in turn helped him to deal with his disorder. This granted him a boost of self-confidence and even made him popular among his peers and friends.
Today, he is a Singaporean Muay Thai Champion and one of the most talented mixed martial artists in ONE Championship. With a professional record of 11-3, 10 of which are finishes, Khan is also one of the most exciting athletes in the entire promotion. And that's a big reason why he is competing for the lightweight title this Friday night.
2) Overcoming Adversity Against Vaughn Donayre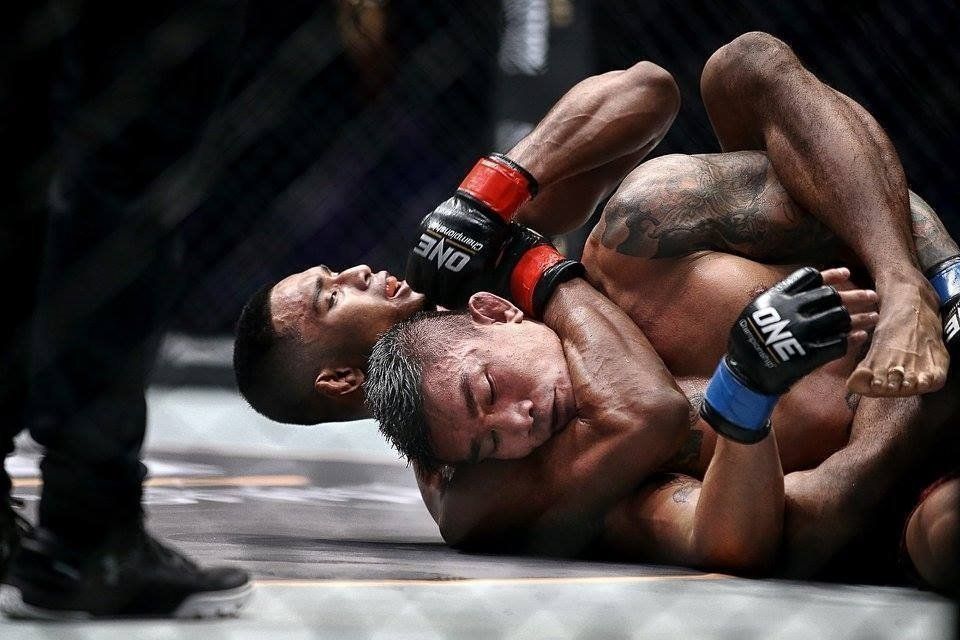 Khan proved a lot about his toughness in a bout against Filipino veteran Vaughn "The Spawn" Donayre back in November 2016. Donayre caught Khan in a near submission in the second round of their contest at ONE: DEFENDING HONOR.
It took every ounce of determination and willpower in Khan's being to be able to power through his predicament. And today, Khan's terrific come-from-behind victory remains one of the most inspiring moments of the Singaporean's career.
In an incredible display of guts, Khan kept his composure and muscled through the pain, even though Donayre's Kimura attempt was very deep. Although fans cringed as they yelled for Khan to tap, the youngster knew he had what it took to break the hold and get back up to his feet.
In the end, Khan turned the tables on Donayre, winning via third-round submission of his own.
With his performance, Khan proved that he could overcome seemingly impossible odds by keeping calm and letting his skills guide him through any situation. He also proved that he is not a quitter and will never give up.
3) Intelligently Defeating A Dangerous Puncher In Adrian Pang
In November 2017, Khan was paired with one of the most dangerous strikers in all the lightweight division — the veteran Adrian Pang.
Pang was not just known for his heavy hands and unbridled knockout power, but also well known for his uncanny durability and toughness, being able to walk through many hard shots seemingly unaffected. It was certainly a very dangerous fight for Khan.
But instead of going toe-to-toe with Pang, Khan instead utilized a sound game plan and intelligently picked Pang apart. Khan stifled Pang for three whole rounds, keeping him at range while doing damage from the outside. Pang tried his best to close the distance, but Khan proved much too elusive and smart.
Furthermore, Khan employed a tremendous amount of legwork, inevitably slowing down Pang as the bout wore on. Although Pang remained dangerous for the entire bout, Khan stuck to his guns and was methodical all throughout. The result was one of Khan's finest and most mature performances as a professional, and a unanimous decision victory well-earned.
4) Dominating A Veteran In Honorio Banario
Highlight: Amir Khan vs Honorio Banario

ONE Superstar Amir Khan from the EVOLVE Fight Team put the lightweight division on notice with his first-round submission victory at ONE: Beyond The Horizon!

Posted by Evolve MMA on Thursday, September 20, 2018
Last September, Khan took on Team Lakay veteran and former ONE Featherweight World Champion Honorio "The Rock" Banario, a lightweight superstar who was then riding an impressive five-bout win streak.
The bout was expected to be highly competitive, with Banario owning the edge in experience. But Khan, who was determined to make a statement knowing that he was very close to landing a title shot, knew he had to put together his best performance yet.
Training under the tutelage of Brazilian Jiu-Jitsu World Champions at Evolve MMA such as Leandro Issa, Alex Silva, and Teco Shinzato, Khan has been shaped and molded by incredible sages of the grappling arts.
Dominating a veteran in Banario, Khan intelligently used the full breadth of his skills to lure Banario to the mat, where the Singaporean saw an advantage.
The end result was a first round rear naked choke submission victory for Khan, making it look like easy work against a dangerous foe in Banario. The win earned him a shot at the vacant ONE Lightweight World Championship in his next outing.
Show your support and catch Amir Khan in action this Friday night at ONE: CONQUEST OF CHAMPIONS. He faces veteran Eduard Folayang of the Philippines for the ONE World Title!