Disney's 2020 live action remake of Mulan is in, and the initial reviews are ravingly positive. Critics are calling it a visual art masterpiece, with sprawling set pieces, beautifully-choreographed action sequences, and the familiar father-daughter story that tugs at the heartstrings.
Fans are saying it is one of Disney's very best animation to live action adaptations to date, and one that strikes a successful balance between a familiar story, and something that can totally stand on its own.
Of course, Disney's character is based on the ancient Chinese hero, Hua Mulan, a female warrior from the Northern and Southern dynasties period of Chinese history. She originally appeared in the Ballad of Mulan, wherein she disguised herself as a man in order to take her elderly father's place in the army as they faced war. This was the inspiration behind the story of Mulan.
There are many similarities between Mulan and "The Panda" Xiong Jing Nan from the Evolve Fight Team. Like Mulan, Jing Nan is a Chinese heroine who represents the hopes and dreams of many girls and women in the mainland.
The reigning ONE Strawweight World Champion is one of the best mixed martial artists in the world, and every time she steps into the ONE Circle, it's an absolute spectacle.
Let's take a look at some of the similarities between Mulan and Jing Nan. Today, Evolve Daily shares five reasons why Xiong Jing Nan is the modern-day Mulan.
1) Courage
If there's one word to describe both Mulan and Jing Nan, it would be courage. Both Mulan and Jing Nan have stood tremendous adversity in the face and fought with immense courage. Part of that courage stems from the love for their country, as both women represent the pride of China.
Mulan courageously took her father's place in the army, called on to fight a formidable enemy on the field of battle. She endured rigorous fight training, strength and conditioning. When most of her fellow men gave up, Mulan persevered.
Jing Nan, on the other hand, faces adversity of the modern-day sort, having to tackle incredible challenges inside the ONE Circle. "The Panda" competes among the best in the world in mixed martial arts, and is considered one of the world's best fighters. She is a winner in every sense of the word.
Courage is one of the distinctive traits of any true martial arts hero, and Jing Nan has an abundance of it.
2) Breaking Stereotypes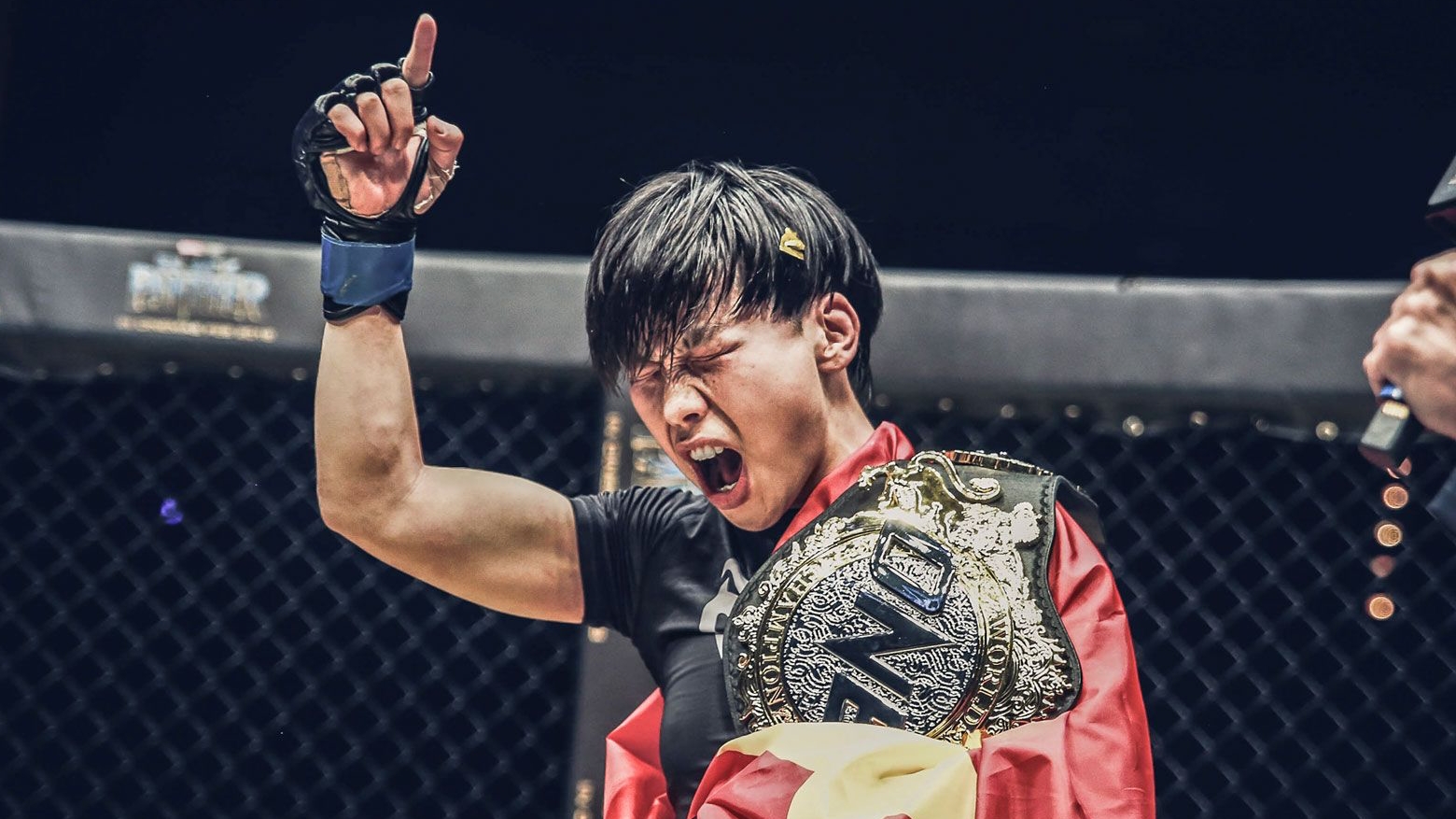 Mulan didn't fit into the expectations or mold of a traditional Chinese girl during her time. Young girls were expected to be obedient, silent, and demure. Despite her natural beauty, Mulan was instead often outspoken, brash, clumsy, and independent.
Mulan ultimately broke gender stereotypes when she joined the all-male army in place of her elderly father, who was drafted into the position. This was unheard of in ancient China, but Mulan's bravery and love for her country thrust her into danger and peril against the bloodthirsty Huns.
Jing Nan, in the same vein, broke all gender stereotypes when she decided to live the life of a martial artist. Today, she competes in the highest professional ranks, and displays incredible skill on the modern-day battlefield.
Mixed martial arts is a male-dominated sport. The fact that Jing Nan can compete at such a high level proves the dedication to her craft, and that it doesn't matter what gender you are, but how hard you are willing to work to achieve your dreams.
3) Love for Family
The main driving factor behind Mulan's story is the love for her family, her father in particular.
Knowing her father was already old and would be in great danger if he joined the army at his age, Mulan chose to put herself at risk instead. She donned her father's armor and headed off to camp to prepare to fight the Huns. There she trained to be a warrior, learned how to fight and use weapons, and ultimately fought in battle.
Coming from a non-martial arts family, Jing Nan also journeyed from her home province of Shandong in eastern China, all the way to the nation's capital of Beijing to follow her dreams of becoming a professional mixed martial artist. Her path led her to take up several combat sports, at one point even representing China in boxing, before she transitioned to mixed martial arts.
Much of Jing Nan's success stems from the inspiration she drew from her father. She once said:
"My father conducted himself in a way that taught me the importance of having brains and the ability to fight. So to me, I saw him as my idol growing up. No matter what I face, I don't panic, and I believe in myself. My self-confidence, my strength, my courage, are all given to me by my parents."
4) Unbelievable Work Ethic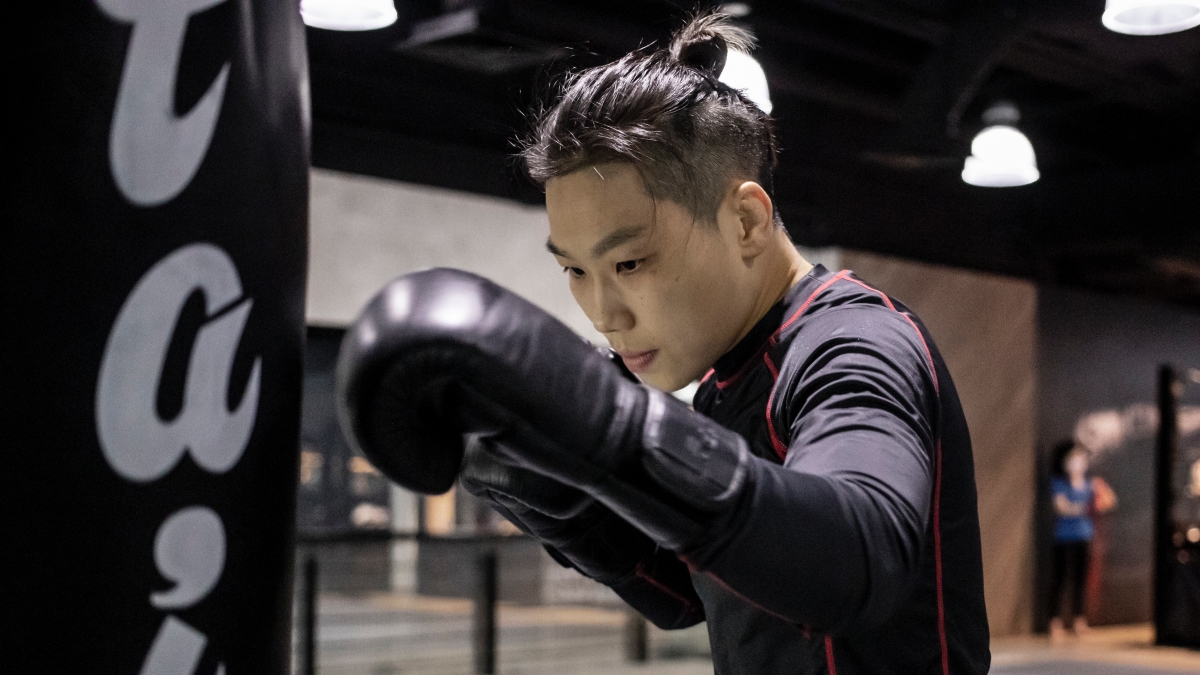 Obviously, Mulan would not have been successful on the battlefield if she didn't have an unbelievable work ethic and was willing to do anything it took to make the army. In the story, Mulan had to work harder than everybody else, outperforming all men in her faction.
The ancient hero Hua Mulan eventually became a general and served the Emperor for over 12 years, eventually retiring back in her hometown.
Similarly, Jing Nan is known as one of the hardest workers in her craft. She is tireless in her pursuit of greatness in the ONE Circle, training countless hours in the gym perfecting her skills. Jing Nan often showcases her incredible strength and conditioning in each of her fights, and is able to overpower and outlast her opponents.
More importantly, Jing Nan sharpened her tools the same way Mulan did. Where Mulan learned to shoot a bow and arrow, and wield a sword, Jing Nan instead honed her skills in boxing, Muay Thai, and Brazilian Jiu-Jitsu.
5) Heroic and Brave
Much has been said about Mulan and how she went against all the odds to fight for her country. Mulan defied societal pressure, particularly on women, who weren't typically called to war and asked to participate in battle. She went against sexism and injustice, breaking the mold in every way.
That took an abundant amount of heroism and bravery. Jing Nan is the perfect representation of both traits.
Jing Nan is China's first mixed martial arts world champion, capturing the ONE Strawweight World Title with a victory over Tiffany Teo in 2018. She has since defended the title on three successful occasions.
Her whole life, she was encouraged by her father to focus on martial arts, and because of that support, she flourished. When she was a young girl, Jing Nan often stood up for the weak and bullied whenever she could. Like Mulan, Jing Nan is an inspiration to millions all over the world.
You may also like: