It's Father's Day, folks––the only time in a year that dads get more hugs and kisses than moms do. While we like making fun of his dad bod every now and then and think that his jokes are pretty corny; it doesn't mean that we don't appreciate him all year round. And now that Dad has been practicing martial arts, we think he's become extra-super-duper. Here's why:
1) Because he has secret superpowers!
When it comes to awesome piggyback rides or reading bedtime stories, Dad has always been number one. He's been our go-to for carrying heavy stuff and also for reaching those well-hidden snacks in the pantry. But when he started martial arts, we saw that he could do even cooler things––like kick a heavy bag or takedown someone twice his size! We always knew that Dad had superhuman strength, but now he's just taken it to a whole new level!
2) Because he won't give up
When Dad first started martial arts, we (especially the moms) thought it wouldn't last. But one, two, three years down the road, he's still been training and he's surprised even himself. The more he trains martial arts, the more strong-willed he's become. He knows that giving up won't help him learn a technique faster or lose weight. He knows that if he keeps on trying, he'll eventually get to where he wants to be.
3) Because he's completely changed the way he looks
Remember when Dad couldn't fit into his old pair of jeans? Or when he couldn't chase us without stopping to catch his breath? Or when he refused to go to the pool without a shirt on? Things have changed now that he's been training. He's leaner, beer belly nonexistent and looking more confident than he has in years. In fact, he's even inspired us to start training martial arts ourselves!
4) Because he can defend us from anything (even the bad guys)
Dad doesn't train all week just to look fit (although it's a big plus!). Sure, he looks great, but there's power behind those muscles too. And most importantly, there's technical knowledge. Because of all the martial arts classes he's done, he's able to protect the most precious people in his life (us) from physical harm.
5) Because he knows he has a family worth being healthy for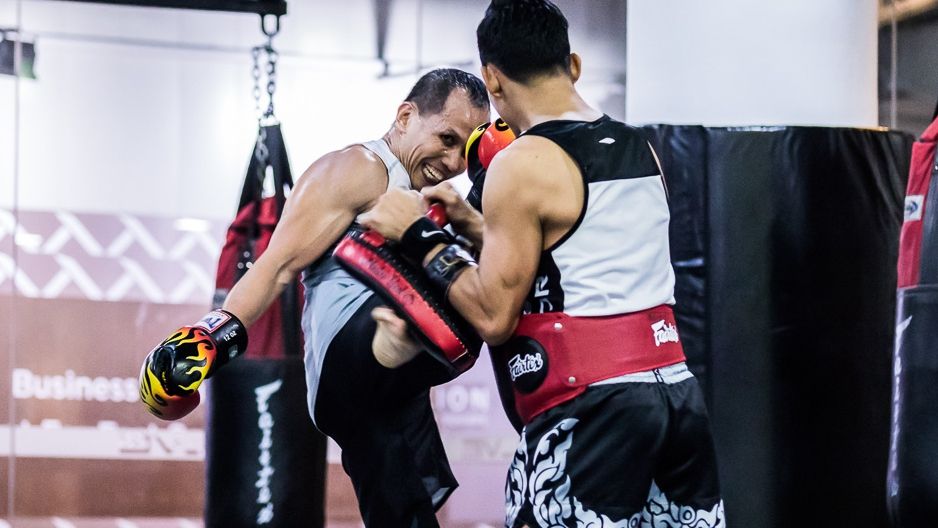 It doesn't take a genius to know that we're the most important people in our dad's life. And because of that, he knows that he needs to stay healthy for us. Since he's started martial arts, he's changed his entire lifestyle –– from eating better to working out on a regular basis. He knows that part of taking care of his family is taking care of himself too.
When you have a dad as dedicated as yours is to martial arts, it's obvious that he cares enough about his family so that he'll always be there to protect and take care of them. So next time you catch yourself giving him a hard time about attending yet another training session, put on your BJJ gi or Muay Thai shorts and hit the gym with him instead!
So, if you've yet to begin your journey towards becoming a Super Dad, now's your chance. Sign up for a complimentary trial class today to start your martial arts journey.
Book your complimentary trial class with our World Champions below!
If you have any other questions regarding Evolve MMA and the programs we offer, you can get in touch with our membership executives at the following locations:
Evolve MMA (Far East Square)
26 China Street
Far East Square #01-01
Singapore 049568
Phone: (65) 6536 4525
Evolve MMA (Orchard Central)
181 Orchard Road
#06-01 Orchard Central
Singapore 238896
Phone: (65) 6536 4556
Evolve MMA (ONE KM)
11 Tanjong Katong Road
#02-52 ONE KM
Singapore 437157
Phone: (65) 6288 2293
Evolve MMA (PoMo Mall)
1 Selegie Road
#03-11 PoMo Mall
Singapore 188306
Phone: (65) 6337 0082