When most people think of exercise, they think of it as a personal pursuit, an activity that will help to make you stronger, fitter, and healthier. However, there are actually benefits to making your workouts more social and bringing your significant other in on the fun. According to Dr. Jane Greer, when a couple exercises together, the actual exercise itself can have a positive impact, physically and emotionally.
Today, Evolve Daily shares 5 reasons why working out with your significant other is the best idea since sliced bread!
1) You Can Motivate Each Other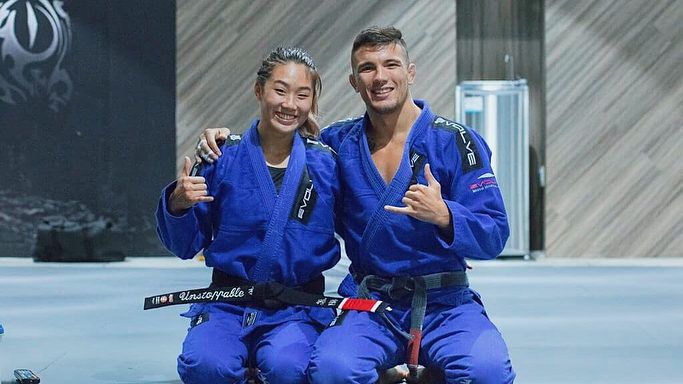 Sometimes, work might get too tiring and you just don't feel like working out. But if you have someone who's waiting for you at the gym, then you'll be less likely to miss a session. Feeling lazy halfway through a class? Your partner can pump you up and convince you to carry on! Research shows that when you share health and fitness goals with someone, the likelihood that you'll both continue working towards your goals increase.
ONE Atomweight World Champion Angela Lee from the Evolve Fight Team knows a thing or two about training with her significant other — after all, she is married to BJJ World Champion Bruno Pucci! Angela is a firm believer that working out with your significant other is a good idea. "It's always better to work out together! I recommend just taking a class and having fun. As a couple, it's a great way to get to know each other even better. And it's always important to encourage each other," shares Angela.
2) More Quality Time For The Two Of You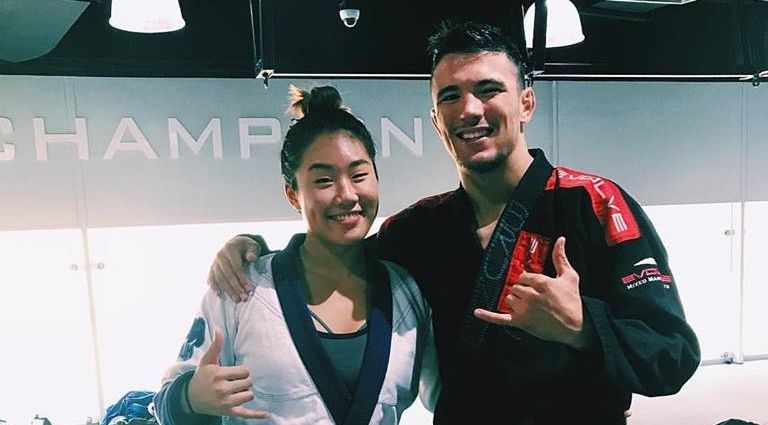 I'm sure that your partner has complained more than once about not spending enough quality time together. Working out together opens up more opportunities to spend time together. You'll have activities that you can share and talk about, creating a closer bond between the two of you. Instead of attending a BJJ session on your own, you'll have someone to analyze the techniques with or even drill with at home.
Because both Angela and Bruno are professional martial artists that train twice a day, they end up spending a lot of time together, which Angela definitely sees as a good thing. "We train together every day. We train and teach together for 5 to 6 hours a day, every day, it is what we love it to do. We are very thankful and couldn't ask for a better life. We feel like we're living our dream and there's nothing better than doing it side by side," explains Angela.
3) You'll Both Feel Less Tired
When you work out with your partner, you'll feel more inclined to give it your all. Instead of hitting the bag aimlessly during speed punching drills, having your partner beside you will motivate you to hit harder. After all, you don't want to be the "weaker" person in the relationship!
4) You'll Both Look Great
Having someone to support your fitness goals is important; especially if they are going through the same thing. You'll want to keep your toned body because your partner is working on his, and vice versa. By working out together, you can achieve these goals together and as a result—end up looking great as well!
5) You'll Both Feel Great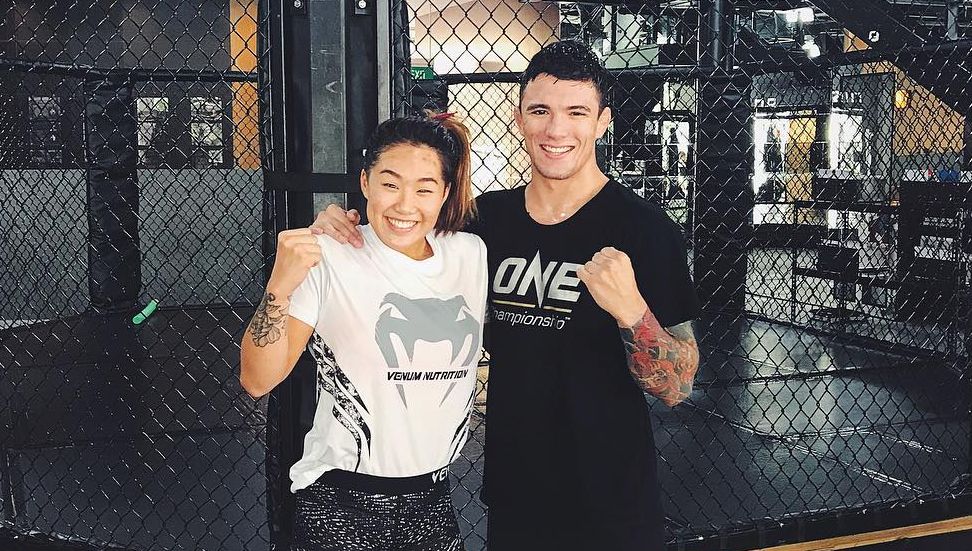 Life can get quite stressful and so can being in a relationship. Working out always makes you feel better, as a result of the endorphins produced while you exercise. It is also a great way to release frustration, especially when you're hitting those pads! Instead of taking it out on your partner, use mixed martial arts classes instead. Your partner and your body will thank you for it.
Just like taking care of your body, being in a relationship requires commitment, time and effort. Instead of dreading time at the gym, training with someone you love will make working out so much easier. Not only will it enhance your relationship, but it will make you feel and look great as well. It will also make you a much better athlete.
If you're looking for the right exercise to bring you and your significant other together, give martial arts a try!
Book your complimentary trial class with our World Champions below!
If you have any other questions regarding Evolve MMA and the programs we offer, you can get in touch with our membership executives at the following locations:
Evolve MMA (Far East Square)
26 China Street
Far East Square #01-01
Singapore 049568
Phone: (65) 6536 4525
Evolve MMA (Orchard Central)
181 Orchard Road
#06-01 Orchard Central
Singapore 238896
Phone: (65) 6536 4556
Evolve MMA (KINEX)
11 Tanjong Katong Road
#02-52 KINEX
Singapore 437157
Phone: (65) 6288 2293
Evolve MMA (PoMo Mall)
#03-11 PoMo Mall
1 Selegie Road
Singapore 188306
Phone: (65) 6337 0082