Evolve MMA has added yet another worthy addition to its world-class coaching staff. British Muay Thai World Champion Daniel McGowan joins the team to teach the Art of Eight Limbs.
McGowan began training in Muay Thai at 11 years of age, after dabbling as a child in both taekwondo and kickboxing. At age 15, he became the youngest non-Thai native to compete at the famed Rajadamnern Stadium in Bangkok. He has since become an absolute beast in the ring, winning multiple Muay Thai World Championships throughout his near-decade-long fighting career.
McGowan now resides in Singapore, where he has focused his attention on imparting his knowledge of Muay Thai to willing learners, and helping people get in shape. He also plans to resume his professional Muay Thai career at some point, and believes Evolve MMA is the perfect gym for him to further hone his skills.
"All the students and coaches have welcomed me very well, which I appreciate a lot. The gym and facilities are second to none as well, so I'm really looking forward to the future at Evolve MMA," says McGowan.
"Evolve is such a huge company in our industry, and it has the best of the best training and coaching there, so it was a no-brainer when I got the offer. I still have plans to fight at the highest level, so hopefully, when I'm settled in, I can take my coaching game and fight game to the next level."
Although McGowan looks to establish his roots in Singapore, the 25-year old says the time he spent in Thailand and his experiences there will help him in this current endeavor.
Let's take the time to get to know Evolve's newest Muay Thai instructor, Daniel McGowan.
The uniqueness of Muay Thai training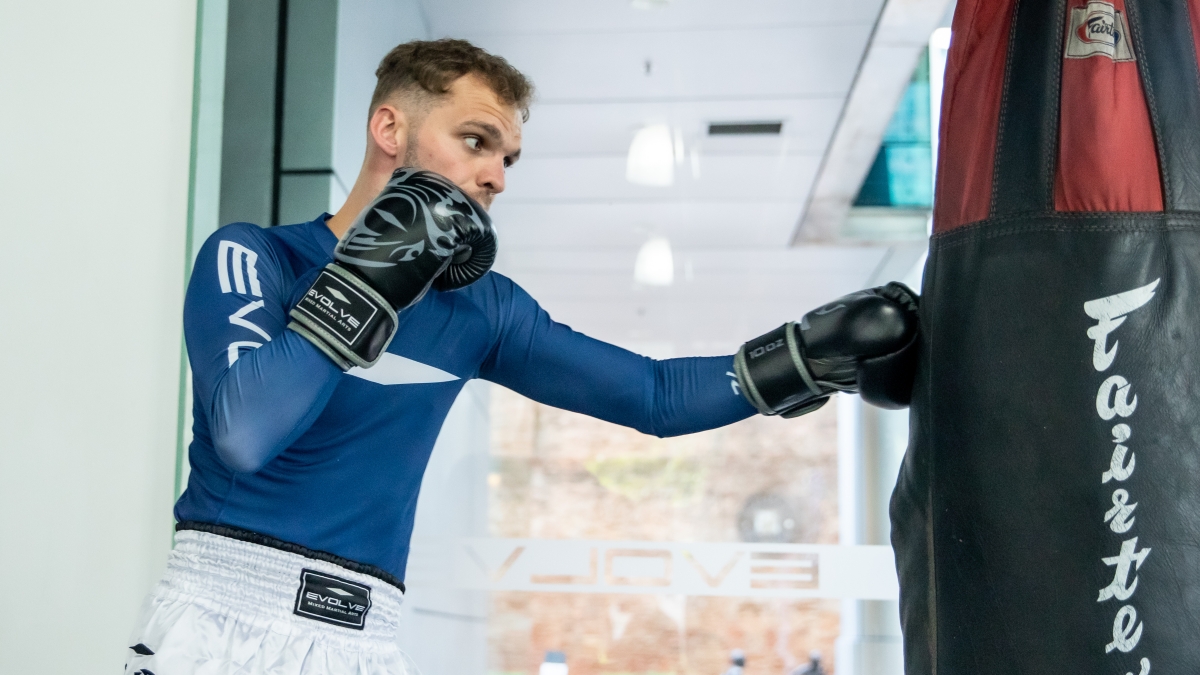 A lot of people are drawn to Muay Thai, not just for sport, but now as a viable fitness option. McGowan believes it is the perfect martial art for fitness because it's so diverse. There are many elements to Muay Thai training, and students can tailor their experience to their liking.
"I think you'd struggle to find a better training regime for a full-body workout, and for your cardio training than Muay Thai. Everybody can benefit from it," says McGowan.
"You don't have to be a fighter to train Muay Thai. You can come and enjoy the sessions, and just get a real good sweat on, which will leave you feeling amazing. You don't have to get hit. If you spar, it's really your own choice."
More than just helping people reach their prime physical fitness, McGowan hopes to shape his students' lives both in and out of the gym.
"I hope to pass on my 'perfectionist' style of Muay Thai, and give students my knowledge of the martial art," says McGowan.
"Muay Thai is perfect, especially for my competitive nature. I fell in love with it from the get-go. I firmly believe that if you're going to take a sport seriously and aim to reach a high level, you need to train at a high level. I've had great coaches over the years who have taught me a lot about Muay Thai, and I think that has helped to shape the person I am outside of the ring too. This is what I hope to do for my students as well."
Training Philosophy
Training philosophy is such an important part of martial arts, and each discipline has its own unique approach to teaching people how to defend themselves. Muay Thai is certainly no different. Muay Thai features a host of physical and mental benefits. Having a good coach will help you unlock those benefits.
Like many of Evolve's veteran coaches, McGowan has his own unique training style, which he hopes will rub off on his students.
"I really like teaching the small details of Muay Thai techniques, so the body mechanics of how to kick, and punch, and more," says McGowan. "I want students to come out with a good sweat, but at the same time, I also want them to learn proper Muay Thai technique."
McGowan joins a tremendous group of Muay Thai World Champions at Evolve, warriors like ONE Bantamweight Muay Thai World Champion Nong-O Gaiyanghadao, and two-sport ONE World Champion Sam-A Gaiyanghadao, among others. The 25-year-old is elated to be part of such a well-accomplished coaching staff.
"I still find it surreal that even though I've trained alongside them quite a lot in the past, watching them kicking the bags and teaching is still a joy for me," says McGowan.
"Being around this level of fighters and coaches is only going to help develop my fight game, and also make me a better coach. They are such good people to be around, with great attitudes and work ethic."
"Furthermore, you meet so many good people and even make friends for life through coaching. It's also satisfying watching students achieve their goals, because I get to be a part of that too," McGowan added.
Sharing his experiences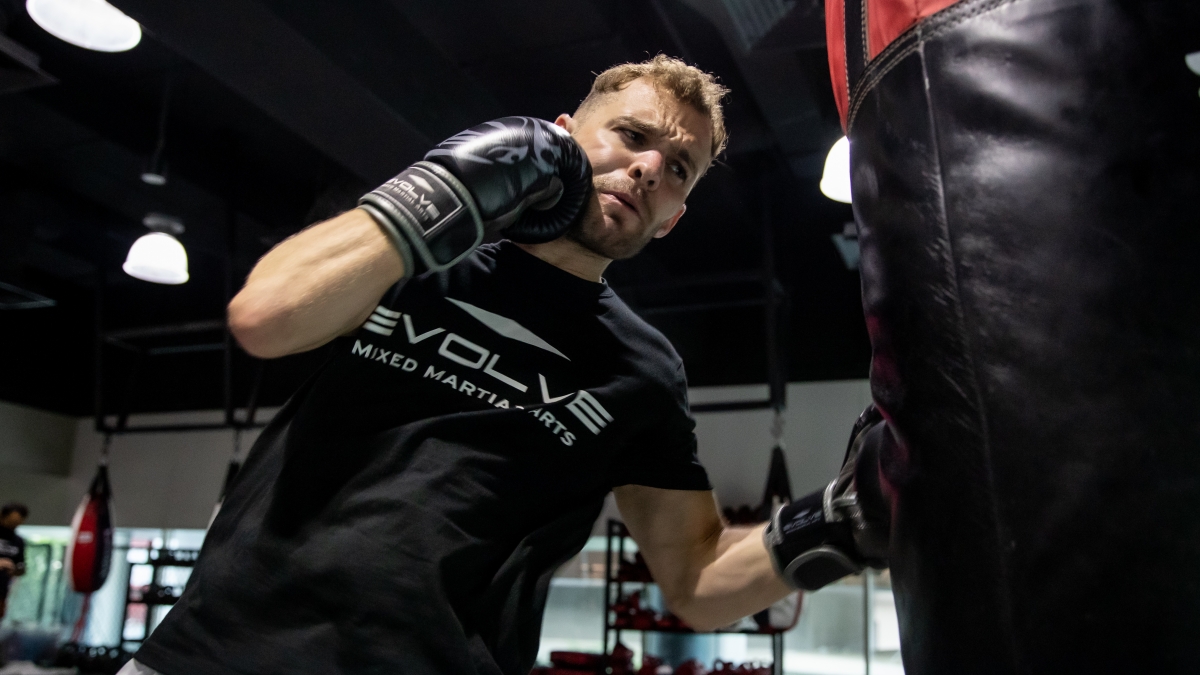 McGowan has practiced martial arts and Muay Thai pretty much his entire life. He's even lived and competed in Bangkok, the mecca of the sport. As such, he has so much experience that he can share with his students.
"It has been a rollercoaster ride. So many ups and a few downs, but the good times 100% outweigh the bad. And my experiences have just helped me drive further and become better. One thing I can say is that Muay Thai has changed my life dramatically. I wouldn't have done half of the things I did, or traveled to half of the places around the world without Muay Thai," says McGowan.
"I would recommend Muay Thai training to everyone. It will open a lot of doors, and unlock a lot of physical abilities. It will show you that you're capable of so much more than you've ever imagined. It's great for anyone, no matter how old you are or where you come from."
McGowan also believes that Muay Thai is a lifelong journey, and one that does not have a finite end. It's a way of life that will help guide you through the toughest junctures.
While the British striker is now focused on his coaching career, he hasn't put his fighting career completely aside, and in fact, still plans to continue to perform in the ring professionally.
"I do plan to fight again. My plan is to focus on the job role I have as a coach and get my feet on the ground here in Singapore over the next few months. I'll see where I'm at and then try to get back in the game," says McGowan.
If you enjoyed this article, you may also like:
Here's Why Muay Thai Is The Most Comprehensive Striking Art On Earth