At 25 years old, Rory MacDonald is one of the youngest and scariest Welterweights in the UFC today. Currently ranked #2, he is set to take the UFC Welterweight Championship belt from Robbie Lawler on July 11 at UFC 189 in Las Vegas.
According to BestFightOdds.com, "Red King" MacDonald is favored to win over Lawler, who is listed as #7 in Sherdog.com's "Top 10 Scariest Finishers". So what is it that MacDonald has that makes him such a tough contender?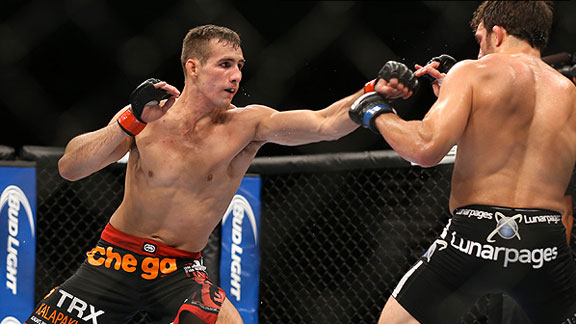 1) He started out young.
MacDonald started training when he was only 14 years old with David Lea at Toshido Fighting Arts Academy. A few years later, he moved to Montreal and joined Tristar Gym, home of Georges St-Pierre. At 16, he made his professional MMA debut at Extreme Fighting Challenge, winning against Terry Thiara via rear naked choke.
2) He has one of the greatest teams around him.
Upon moving to Tristar Gym, MacDonald was welcomed by former UFC Welterweight Champion Georges St-Pierre with open arms. Led by legendary coach Firas Zahabi, the Tristar Gym is one of the best teams in the world. In an interview with Joe Rogan on MMAFighting.com, MacDonald recounts his experience: "[Georges] welcomed it. I never forgot it, either. A lot of people now are asking me to fight him, this and that. They don't see the things that I got to see, that I appreciate. Not only as a martial artist, but for myself. I learned so much from him and I gained a lot from his kindness and what he gave to me."
3) He's beaten some of the greatest names in MMA.
We all remember that day MacDonald beat BJ Penn. Throughout all three rounds, MacDonald completely dominated Penn, solidifying his name in the UFC. Apart from Penn, he's faced other big names in MMA: Nate Diaz, Demian Maia, Jake Ellenberger. There's no denying MacDonald's talent. In fact, MacDonald is touted to be the next GSP. Seems to be quite apt, considering they are training partners. Iron sharpens iron, right?
4) He is well versed in every key martial art of MMA.
MacDonald belongs to the new breed of MMA fighters, complete in every aspect of MMA: boxing, kickboxing, Muay Thai, BJJ, and wrestling. From the start, he trained in all aspects of MMA, giving him that calm, collected demeanor that has all his opponents worried. There's no doubt that having high level skills in every facet of MMA would do that.
5) He's got that pysch-out down pat.
The Canadian Pyscho. The Red King. Ares – whatever his nickname may be, MacDonald has that zen-like demeanor walking into the cage. Unlike fighters who have certain specialties in MMA, this is where MacDonald's well-roundedness comes into play. He has no strategy to play up one of his strengths; he's just so damn good at everything. With this cool, business-like approach, he goes on to dominate his opponents, beating them without remorse or emotion. Who does that?
Come July 11, there's no doubt that this much awaited rematch and title shot will go down in UFC history as one of the greatest fights ever. Although MacDonald may be favored to win, Robbie Lawler's definitely got a bag of tricks up his sleeve, aka a possible knockout. Let's see if Lawler's vicious striking can get the best of MacDonald!