There is no such thing as being too young to learn martial arts. Matter of fact, the earlier you start training a combat style, the better off you will be in the long run. That's because the younger years are the most important years when it comes to developing positive attributes. These attributes often stay with martial artists for their entire lives.
Young people deal with lots of pressure all the time, especially when they reach the teenage years. They are still trying to figure out who they are, and they are constantly dealing with negative and positive influences. The decision a person makes during these formidable years, often determines how his/her life turns out.
Bullying is also a serious issue that young people constantly have to deal with, and Singapore is ranked second in the world when it comes to the frequency of such activities.
That's what makes martial arts training so important for teenagers.
Martial arts teach young people all the skills needed to deal with the teenage years. It makes them confident, healthier, calmer, better focused, more respectful, better-problems solvers, more sociable, and they get a healthy positive hobby that keeps them busy during their spare time. All these attributes gained from martial arts training helps teenagers at school, with their personal relationships, and, eventually, during their careers.
"Martial arts training gave me courage," Darren explains. "It's important to not give up and keep going. I started training martial arts when I was 12 because I was really into martial arts from a young age. I knew about Evolve MMA through the internet. Martial arts helps me to de-stress, and I enjoy doing it."
Martial arts training also teaches young people how to deal with bullies and de-escalate confrontations. In the event that they end up getting attacked, their training gives them the tools they need to safely end the confrontation.
It's no surprise an increasing number of parents and guardians are signing up their young ones for martial arts classes. While other children are being coerced into getting into mischief or picking up bad habits from their peers, your child will be learning all the things he/she needs to be a successful person.
"Training martial arts, I've gained knowledge and respect for others," Darren adds. "I've also made lots of friends along the way. To the staff, thanks for everything, and to my friends, let's train hard together."
The level of martial arts training a person receives is highly dependent on the quality of the instructors at the gym one decides to go with. Some instructors are more committed to their students than others, and some people are simply better teachers than others.
That's why training at a top-class martial arts gym like Evolve MMA is so important. Their training facility is filled with world-class instructors who have completed at the highest levels like the Ultimate Fighting Championship, One FC, and countless Brazilian Jiu-Jitsu and Muay Thai tournaments. These are people who have spent lots of time perfecting their crafts against top-level competition. When you decide to train at Evolve MMA, you can be sure you are receiving the best level of instruction you can find anywhere in Singapore.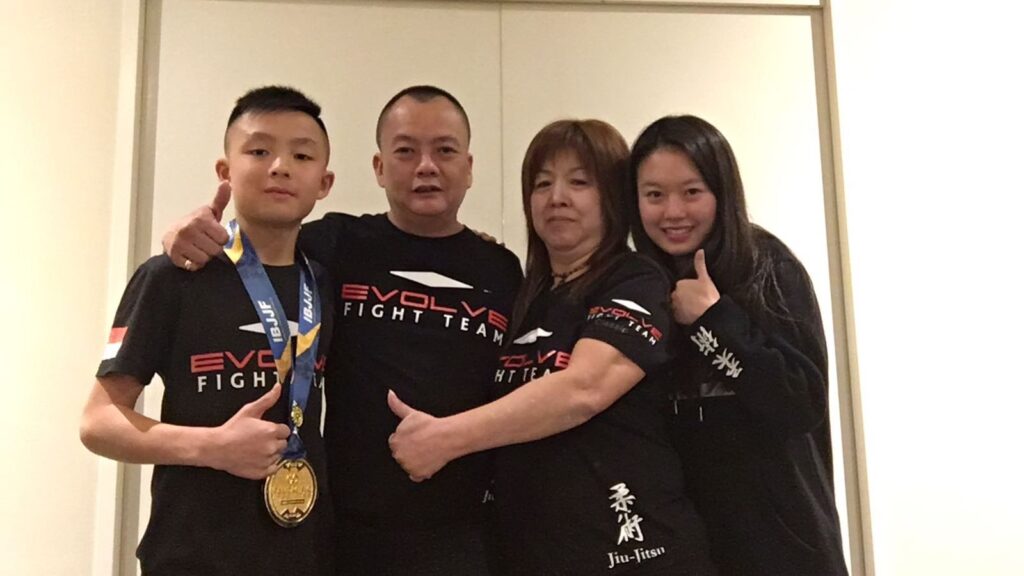 "What makes Evolve special is that they have a lot of world champions in Muay Thai and Brazilian Jiu-Jitsu," Darren explains. "That makes me want to learn from them. Ever since I've competed, I've had a few losses and wins. I've gained experience, but I would love to train even harder to achieve more. I've achieved several gold medals competing in Brazilian Jiu-Jitsu for Evolve."
Darren's instructors couldn't be any happier with his growth as a BJJ practitioner. UFC veteran and One FC Champion, Leandro Issa, thinks he has what it takes to achieve any goals he sets for himself on the mat.
"Darren is a nice kid, he respects everyone and everyone in the class likes him," Issa explains. "The first class, I still remember, he showed a lot of talent and skills. And then I said to myself, 'wow, if this boy trains, he will have a big future.'"
Darren has grown a lot since his first day at the dojo, and his instructors aren't the only ones that have noticed his improvement on the mat and his growth as a person.
"I am always very proud of him because he has found his passion," Darren's sister explains. "I have seen his courage and confidence every time he steps into a competition. And ever since he started mixed martial arts, I've seen him become more firm with his values in life. I want him to know that I want him to continue to do what he loves and never give up because he always has a supportive family behind his back."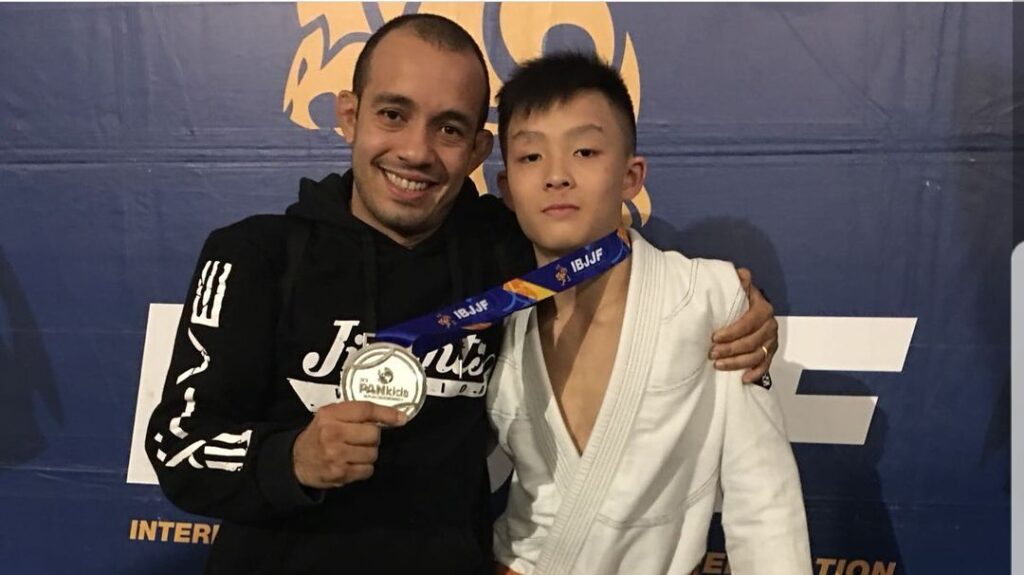 Darren is clearly more level-headed than the average 15-year-old. He credits his training for his improved maturity.
"As I always say to them, 'we never lose, we always learn,'" BJJ World Championship silver medalist and Evolve instructor Almiro Barros adds. "He always uses the experience he gains from the competitions to be better."
Professor Almiro also has some solid advice for Darren as he looks to secure more BJJ accolades.
"Don't let anyone put you down, keep the determination that you have," Barros adds. "Believe in yourself, and we also believe in you."
Anyone can benefit from training martial arts. While starting off early in life brings lots of benefits, it's never too late to start training a combat style. It's only a matter of making a conscious decision to be a better version of yourself. As a result of your training, you will also enjoy improved discipline, confidence, focus, and fitness.
Evolve MMA offers free introductory classes, so you have nothing to lose and everything to gain. Darren has some good advice for his friends and anyone interested in learning martial arts.
"I would like to tell all my friends at Evolve to keep training hard so that you can achieve something better in life," Darren concludes.
Well said, young warrior.
If you want to unleash your true greatness and become the best version of yourself, come on down for a trial class.
Book your complimentary trial class with our World Champions below!
If you have any other questions regarding Evolve MMA and the programs we offer, you can get in touch with our membership executives at the following locations:
Evolve MMA (Far East Square)
26 China Street
Far East Square #01-01
Singapore 049568
Phone: (65) 6536 4525
Evolve MMA (Orchard Central)
181 Orchard Road
#06-01 Orchard Central
Singapore 238896
Phone: (65) 6536 4556
Evolve MMA (ONE KM)
11 Tanjong Katong Road
#02-52 ONE KM
Singapore 437157
Phone: (65) 6288 2293
Evolve MMA (PoMo Mall)
1 Selegie Road
#03-11 PoMo Mall
Singapore 188306
Phone: (65) 6337 0082