Signing up a child for martial arts classes is one of the best things parents can do for their young ones. It is an investment that will continue to pay off throughout the kid's life. Evolve MMA student Danish Faiz is a prime example of this reality.
Danish's father, Khai, took him in for one of Evolve's complimentary introductory classes when he was 4, and he immediately fell in love with it. He has been training ever since. Now 11, Danish and his parents credit his martial arts training as one of the key factors that have helped him develop into a promising young man and a martial artist with great potential.
"Martial arts give me the courage to keep on trying and never give up," Danish explains. "It's very fun and interesting to learn. Besides Muay Thai and BJJ, I'm also interested in swimming, cycling, and football."
When parents decide to sign up their children for martial arts classes, it is essential to find a training facility with competent instructors, a safe and positive environment, top-end facilities, and convenient class schedules.
"Evolve is a very well-known academy, full of World Champions that produce champions at a young age," Khai adds. "When he was four-years-old, I found out that only Evolve has classes for children below the age of five. I brought him here for his trial, he really loved it. That was what made him stay until now. Evolve is family oriented. Parents can get involved with the kids. We can also just leave the kids here with no worries. They are like second parents to them. I prefer to have my kids here than somewhere out there."
Danish shares his father's sentiments and he's very appreciative that he gets to receive instruction from world-class martial artists.
"The thing that makes Evolve MMA special is the instructors," Danish says. "They are very kind, they are lovely, and they are like my second parents to me."
When children – or anyone else for that matter – start learning martial arts, they begin to develop attributes like self-discipline, confidence, and the willingness to persevere when things get tough. This comes with the small gains each student makes with each class under their belt. Over time, techniques and drills that once seemed "too hard" become second-nature to the student. It teaches the student they can accomplish anything if they set a goal and consistently work towards it.
Martial arts training also teaches students to be respectful of others and it improves their analytical skills.
Most noticeably, martial arts training gets people into prime physical shape. This is particularly important for children who now find themselves growing up in a world where entertainment only requires a few taps of the screen of a smartphone.
Martial arts training gets children off the couch and on the mat. This increases their physical fitness levels and their social skills since they get to interact with their peers while training. This gives them the tools they need to confidently engage in other extracurricular activities at school. Children who are overweight tend to be more reluctant to partake in physical activates with their peers, limiting their social interactions.
The discipline and confidence children learn from training martial arts carries over to their school life. A disciplined child is less likely to cause disruptions at school and is more likely to perform homework and other assignments at school. The discipline learned from martial arts training often stays with each student for the rest of their lives.
Danish's instructors have noticed him becoming a more discipline martial artist over the years.
"Wow, Danish was quite a naughty boy," Brazilian Jiu-Jitsu World Championship Silver Medalist and Evolve MMA instructor, Almiro Barros, explains. "He caused some trouble in the gym, playing around all the time. After a while, because martial arts always teach you a good way to live your life, he started to become a very good example and he has also developed really good skills."
Danish's newfound discipline was enough to propel him to an Abu Dhabi BJJ World Championship in 2018.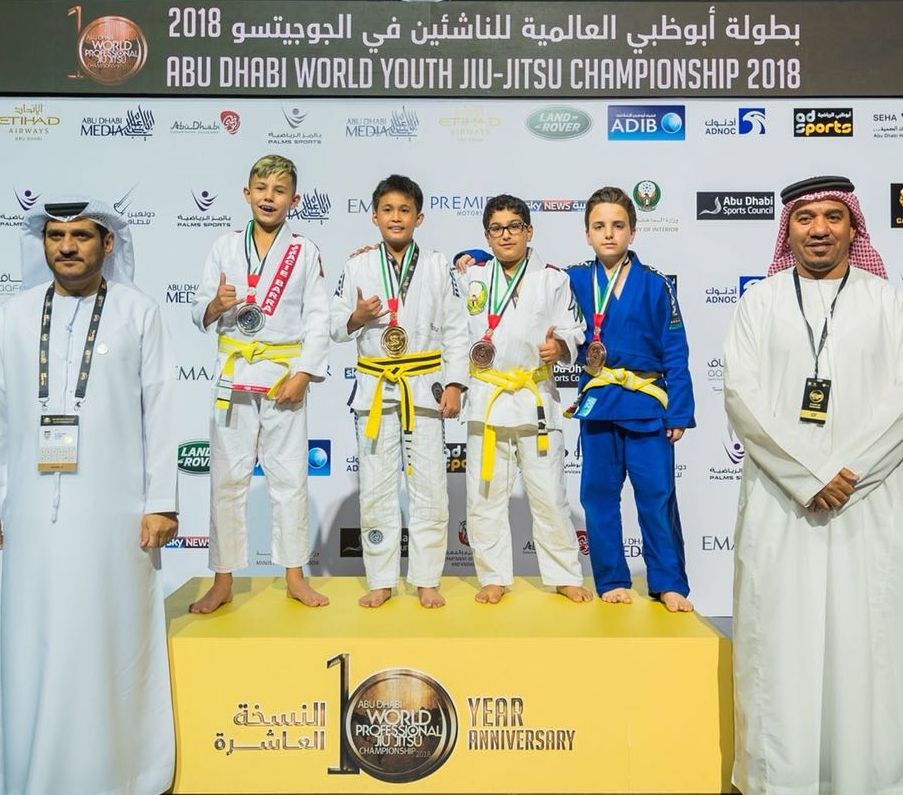 Danish's Muay Thai instructors are just as impressed with his development over the years.
"Danish is a friendly and helpful student," multiple-time Muay Thai World Champion and Evolve instructor, Penek Sitnumnoi, says. "He likes to help his friends in class. He has shown hard work, focus, and discipline."
Danish's father remains his biggest cheerleader and he's proud of all the developments he has noticed since he started training.
"Ever since he joined Evolve MMA, we have become closer," Khai explains. "He was a little boy when he first came in, eager. Discipline wise, he is getting more mature. He will listen, he will try to focus on what he is doing, especially nowadays in his studies. So from there, hopefully, he will become a very independent person. A person who people can look up to. He's my hero. He has shown me that if you want to achieve something, you've got to train hard. By training hard, you will gain what you want."
Danish is a prime example of the many things children have to gain when their parents sign them up for martial arts classes. It is one of the healthiest hobbies a person can have, and the lessons learned on the mat carry over into many other aspects of life.
There is no such thing as being too young or too old to train martial arts. Anyone can benefit from training as long as they consistently do it. It is a fun activity most children enjoy and parents get to take a break for a couple of hours while the instructors do all the work.
If you're looking for a positive activity for your child to get engrossed in, give martial arts a go!
Book your complimentary trial class with our World Champions below!
If you have any other questions regarding Evolve MMA and the programs we offer, you can get in touch with our membership executives at the following locations:
Evolve MMA (Far East Square)
26 China Street
Far East Square #01-01
Singapore 049568
Phone: (65) 6536 4525
Evolve MMA (Orchard Central)
181 Orchard Road
#06-01 Orchard Central
Singapore 238896
Phone: (65) 6536 4556
Evolve MMA (ONE KM)
11 Tanjong Katong Road
#02-52 ONE KM
Singapore 437157
Phone: (65) 6288 2293
Evolve MMA (PoMo Mall)
1 Selegie Road
#03-11 PoMo Mall
Singapore 188306
Phone: (65) 6337 0082