Training martial arts comes with many benefits. It's something Ibrahim Razat and Sarah Yeo are all too familiar with.
For starters, martial arts gives one of the best workouts you can get. A one-hour Muay Thai training session can burn up to of 1,000 calories. That makes it a lot easier to lose any fat on your body, especially if the training is coupled with a healthy diet. The physical benefits of martial arts training don't stop there though. Training also gives you a full-body workout, so you end up with more toned and leaner muscles.
As impressive as the physical benefits of training martial arts are, the most important benefits of training a martial art are the mental attributes you gain. Training increases your confidence, perseverance, discipline, energy levels, problem-solving skills, social skills, and it improves your ability to handle stressful situations. These are things that don't just help you while you're at the gym, these attributes will translate to your personal life and career.
"I've seen a lot of changes in Sarah," Ibrahim explains. "She's able to better control her emotions, and also, her management of stress is much better for her which is a good sign."
Sarah has also noticed changes in the way Ibrahim interacts with others since he started training Muay Thai.
"Ibrahim is no longer that shy," Sarah says. "Muay Thai has made him a little bit more expressive. I don't know how that happened, but he's certainly more expressive now. So I'm very grateful for what Evolve or what Muay Thai has given us."
Ibrahim couldn't be happier with the changes he has noticed in himself since he started training martial arts.
"Martial arts has helped me to be more focused, more creative, and I'm able to think on my toes," Ibrahim explains. "Especially at work. You face a lot of challenges, but I think with martial arts, that gives us more balance."
Ibrahim and Sarah feel martial arts has brought them closer, and their son Hafiz agrees with their assessment.
"I cannot deny that Muay Thai has bonded us as a family," Sarah explains. "I think that's one way Muay Thai has changed us as a family."
The two now find themselves doing most things together.
"We like to work out," Ibrahim adds. "Most of the time we spend together we spend working out. We do some light running, some body workouts. Other than that, we love to travel a lot. I like Muay Thai a lot. Muay Thai is interesting by itself, there's a lot you can learn from the art."
Sarah and Ibrahim have a very interesting story when it comes to how they discovered Muay Thai. It all started from a ONE Championship event some Evolve MMA fighters were participating in, and they were inspired by the camaraderie the entire team had with one another.
"We started off by watching MMA fights, we watched ONE Championship," Ibrahim says.
"And when we went to watch, we saw this group of people standing up and cheering," Sarah continues. "All of them were wearing the same t-shirt, and I was asking Ibrahim, 'What secret society is that?' So we did some Google searches, and that's how we found Evolve MMA."
When one decides to train martial arts, it's important to seek out a gym that has world-class instructors and a family-friendly atmosphere that is always welcoming to new students of all ages and backgrounds.
"Evolve MMA is still the only gym that has authentic Muay Thai fighters and they're World Champions," Sarah adds. "Despite the instructors being World Champions, they always level out the students' level. They are one of the clubs that never say if you're too old, you can't join. I'll never forget Kru Bang when I was doing my trial class with him, he called me 'mama' and I realized this is Thai culture. He said, 'Mama you can! No problem mama, wonderful!' These are the encouragements that I think makes Evolve very much different from a lot of gyms. I always feel like we're a family, we're quite closely knitted."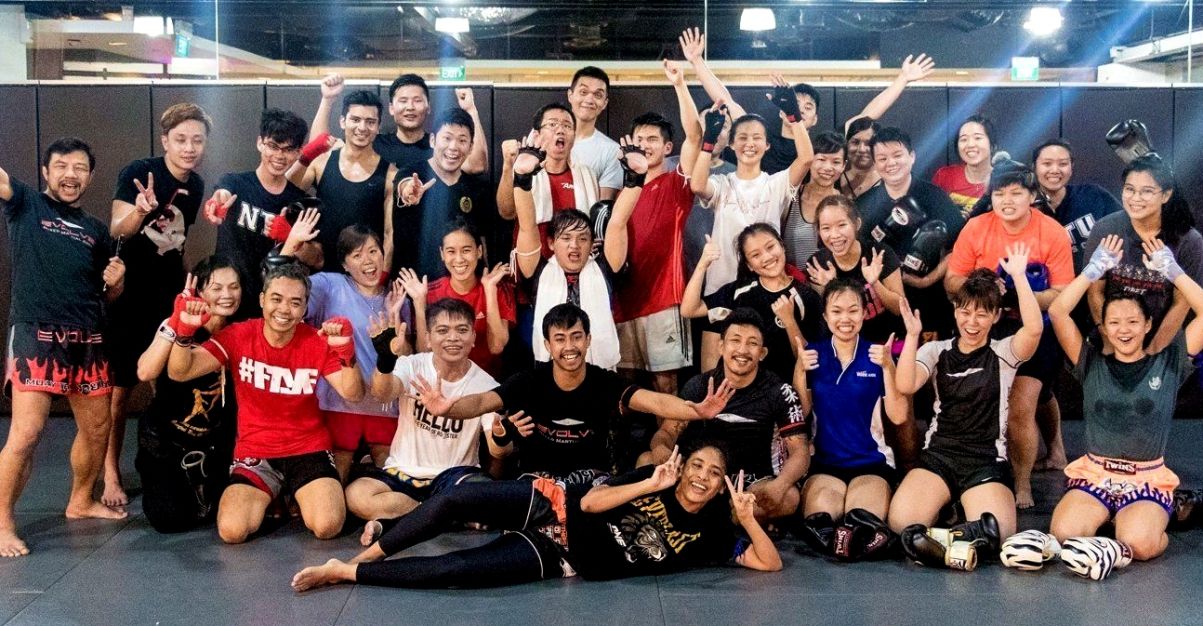 Ibrahim also enjoys training at Evolve MMA and he's glad he has the opportunity to train with top-end instructors that are personable and committed to their students.
"Evolve itself, I think the instructors are very special, and they have friendly staff," Ibrahim adds. "The environment is conducive, and I think it's a good training ground."
Now both 47, and with a couple of years of Muay Thai training under their belts, Ibrahim and Sarah have now reached level 3. Their improvements have made them even more committed to their martial arts training.
"We have enjoyed the journey in Muay Thai so far, from level 2 to level 3 right now," Ibrahim says. "It gives us increased motivation, and at the same time the self-discovery. Now, we're able to do it much more elegantly in our Muay Thai practice, rather than just punching and kicking. This is a great accomplishment in martial arts because martial arts isn't a one-time thing but a journey."
Their instructors at Evolve MMA are very proud of what both Ibrahim and Sarah have been able to accomplish in such a short time.
"They have improved so much, especially their techniques," multiple-time Muay Thai World Champion and Evolve instructor, Muangfalek Kiatvichian, says about their progression. "They bring a lot of energy to the class."
There's no good reason for you to sit on the sidelines while others reap the rewards of martial arts training. Your age isn't a barrier, neither is your busy schedule. World-class gyms like Evolve MMA have classes going on throughout the day, so you can always find time for a class regardless of your schedule.
Ibrahim and Sarah both have some advice for anyone who thinks it's too late to give martial arts a try.
"At this age [47], I think if we can do it, those who are our age will be able to do it," Ibrahim concludes.
S0, what are you waiting for? If you want to change your life through martial arts, schedule a complimentary introductory class and begin your transformation!
Book your complimentary trial class with our World Champions below!
If you have any other questions regarding Evolve MMA and the programs we offer, you can get in touch with our membership executives at the following locations:
Evolve MMA (Far East Square)
26 China Street
Far East Square #01-01
Singapore 049568
Phone: (65) 6536 4525
Evolve MMA (Orchard Central)
181 Orchard Road
#06-01 Orchard Central
Singapore 238896
Phone: (65) 6536 4556
Evolve MMA (ONE KM)
11 Tanjong Katong Road
#02-52 ONE KM
Singapore 437157
Phone: (65) 6288 2293
Evolve MMA (PoMo Mall)
1 Selegie Road
#03-11 PoMo Mall
Singapore 188306
Phone: (65) 6337 0082