Su Wee Tan and her then-fiancé had the same goals many people have heading into their wedding day: lose weight and get in shape in anticipation of the big day. The two had picked up a few extra pounds thanks to their many travels all over the world and their shared appetite for pizza, pasta, and burgers.
Their plan was to lose weight by working out at a gym, swimming and running together. However, they weren't getting the results they wanted. After doing some research online, her husband stumbled across Evolve MMA and the rest is history.
When Su Wee first started training Muay Thai, her stamina was very poor. She had not exercised for a long time because of her busy work schedule. After finding Muay Thai, all that changed.
The stamina improvements Su Wee has made in the past few years can't be overstated. It hasn't only helped her to get in shape, it has also improved her performance at work.
"In the past when I used to work very long hours, I would get very chronic neck and back pain," Su Wee explains. "Sometimes it would be so bad that it would actually prevent me from working. I would have to visit the physiotherapist very often and it would put me in a lot of pain. Since joining Evolve, I guess because my core muscles have strengthened, I no longer have these postural issues."
Yep, that's one of the many benefits of training martial arts like Muay Thai. You get a core workout that very few other activities can match and a calorie burn of up to 1,000 calories per hour spent training. That's significantly more than the burn you would get from the activities Su Wee first turned to when she and her husband tried to lose weight.
"Su Wee is a good student," Trainer of World Champions and Evolve Instructor Yodkunsup Por Pongsawang explains. "She is serious when it comes to training. All the hours that she has spent training has made her a stronger woman, both physically and mentally. It has been very good for her job as well."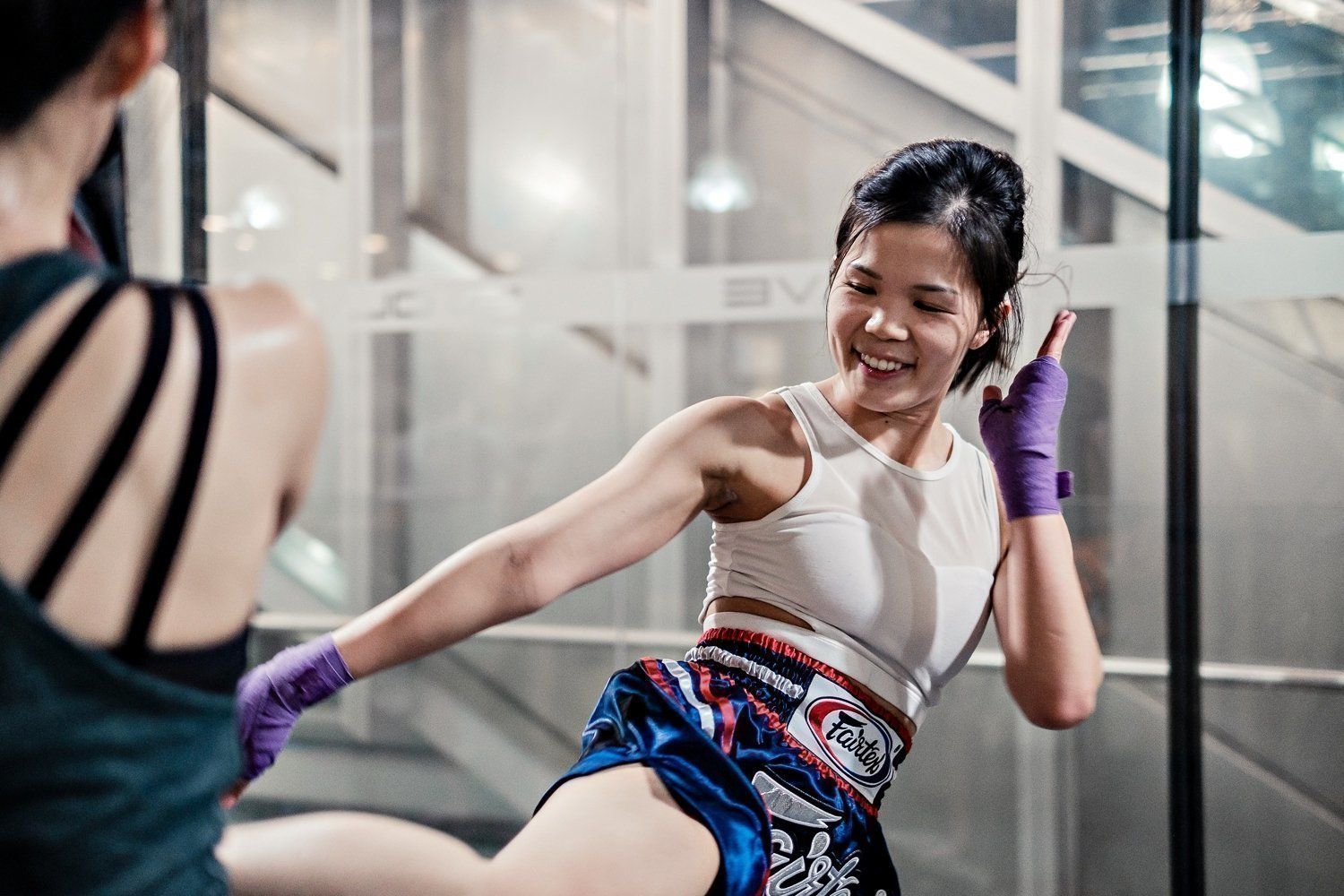 Training Muay Thai also helps you deal with stress. The intensity of the training leads to the release of feel-good endorphins and it also provides many ways for you to release pent-up frustration like hitting pads or kicking a bag. How well you manage stress often affects your personal and professional life.
"A career in healthcare is very stressful because you are dealing with patients that are anxious and you are also doing treatment under a small, controlled environment, so there is very little room for error," Su Wee says. "Training keeps me relaxed and also alert at work. It has also taught me a lot of humility, recognizing my own shortcomings and working hard to overcome them."
When you decide to start training a martial art like Muay Thai, it is up to you to find the right gym for you. You want to train with the best instructors available in your area, you want to find a gym that has classes throughout the day so you can fit the training into your schedule, and you want to train in an environment that is safe, fun, and clean. For Su Wee, Evolve MMA turned out to be exactly what she was looking for.
"We chose to train at Evolve because of the opportunity to train with World Champions," Su Wee adds. "The entire spirit at Evolve is very infectious, as well as the desire to learn."
With over two years of training under her belt, Su Wee is happy with her decision to start training martial arts with her husband.
"Since joining Evolve, I have found a positive outlet for the stress I have at work," Su Wee explains. "I also managed to lose five kilos in time for my wedding, so I am very happy with the way I looked at my wedding and I have managed to keep it off."
The training has also brought the couple closer together as they now share a passion for martial arts.
"For me and my husband, I think we have found something that we love that we have in common," Su Wee says. "In the past, I used to struggle to relate [to him] because I didn't do any sports. But now because we have Muay Thai and Brazilian Jiu-Jitsu together, I feel that we have more to talk about and also it is a beneficial activity for us to do together."
It's always nice to have something you and your significant other are equally passionate about. Su Wee plans to keep training Muay Thai for the foreseeable future and she hopes her story gives others the push they need to give training a shot.
"I hope that by sharing my story, I can encourage women like me to pursue martial arts in order to develop the resilience needed to rise up to life's challenges," Su Wee concludes.
Learning a martial art like Muay Thai can improve your quality of life just as it has done for Su Wee. It's something anyone can be a part of regardless of age or gender. It will teach you valuable life skills like confidence, discipline, perseverance and dedication, and it will also transform your body as your core muscles become stronger and your endurance improves.
Martial arts also give you an outlet to release stress. Life can get hectic nowadays and it's always nice to blow off some steam while having fun and improving yourself as a person.
Ready to start your journey as a martial artist?
Schedule a complimentary introductory class with World Champions at Evolve MMA today!
If you have any other questions regarding Evolve MMA and the programs we offer, you can get in touch with our membership executives at the following locations:
Evolve MMA (Far East Square)
26 China Street
Far East Square #01-01
Singapore 049568
Phone: (65) 6536 4525
Evolve MMA (Orchard Central)
181 Orchard Road
#06-01 Orchard Central
Singapore 238896
Phone: (65) 6536 4556
Evolve MMA (ONE KM)
11 Tanjong Katong Road
#02-52 ONE KM
Singapore 437157
Phone: (65) 6288 2293
Evolve MMA (PoMo Mall)
1 Selegie Road
#03-11 PoMo Mall
Singapore 188306
Phone: (65) 6337 0082