Those who decide to learn martial arts enjoy countless benefits but not just the more obvious ones, such as improved fitness and learning how to defend yourself. It goes much deeper than that.
Learning a martial art reveals many things about yourself that you might not even realize are there. It brings you closer to determining who you are, and you learn many important attributes that make your life more balanced.
That certainly holds true for 30-year-old Joseph Liauw.
It started from a simple desire to improve his overall fitness, but training Muay Thai has now taken him to new heights that he never imagined.
"I actually used to live a more unhealthy lifestyle," Joseph recalls. "After joining Evolve, I have become a much healthier person. I have better fitness. In the past, I couldn't even complete a 2.4-kilometer run, but now I can easily do a 5-kilometer run. I started martial arts with no special aim. I only wanted to keep fit and stay healthy. Instead of going for the routine gym life, I thought martial arts was something interesting, and it's a group exercise. I just wanted to lose weight and get healthy."
When looking for a martial arts gym to train at, it is very important that you do your homework and find one that has competent instructors and an environment you are comfortable with. The quality of instruction you receive often has a big impact on how your journey as a martial artist progresses. You also want to train with a school where the facilities and equipment are in top condition.
Use online resources and ask family members and friends for recommendations. Fortunately for Joseph, his friends recommended Evolve MMA, and it was an instant match.
"Evolve was actually recommended to me by a friend," Joseph explains. "He brought me [there], and we started training together. If you ask me why I continued to train with Evolve, it is because of the world-class instructors, the good facilities, the good vibes, everybody is friendly, and definitely the flexible timing. Martial arts training gives me good physical fitness and the healthy lifestyle I'm living now."
Joseph has been training for a few years, and his instructors couldn't be more proud of the progress he has made.
"Joseph is a good student. He learns techniques really well," Trainer of World Champions Yodkunsup Por Pongsawang says. "He is helpful. Joseph, he trains hard in class. I'm happy for him."
As was mentioned earlier, martial arts training also provides benefits that go beyond the obvious. For Joseph, his training has brought him improved focus, and it has also made him more persistent in his personal and professional life. His stress levels are also lower these days thanks to training Muay Thai.
These mental benefits are the result of the way martial arts are taught and practiced. The average martial art is a lot more cerebral than most people realize, and it puts you in situations where you are forced to make quick decisions. It isn't uncommon to hear people compare martial arts to strategy games, such as chess.
The active nature of martial arts training makes it a great way to relieve stress. Instead of holding your pent-up frustration inside, you get to take it out on heavy bags and pads. During that process, you work up a sweat, which causes your brain to release feel-good hormones. This puts you in a better mood afterward, lowering your stress.
Persistence is one of the most rewarding attributes a person can have, and it is a cornerstone of all martial arts. Students learn only a few techniques during each class, but over time, your arsenal of moves becomes quite large. Every technique that once seemed too difficult eventually becomes second nature to you. You get rewarded with different colored belts for each milestone you reach, and that serves as a reminder of how much you can accomplish when you are persistent. Anyone can be a black belt if they are persistent enough.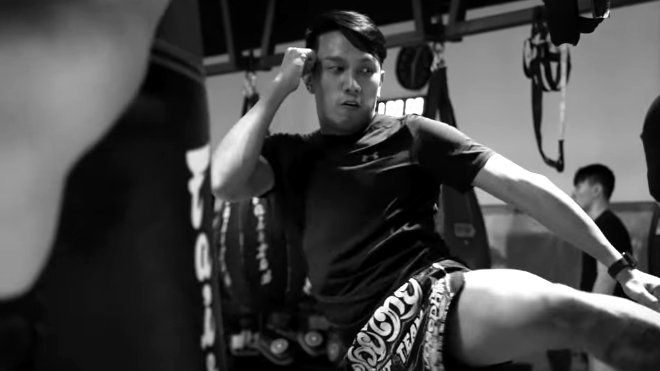 As the co-founder of a local car dealership in Singapore, Joseph is happy how learning martial arts has made him more rounded.
"Martial arts actually helps me to stay focused," Joseph says. "It also teaches me to be more persistent."
Joseph has been so persistent with his training that he has actually made it to level 4 in Muay Thai. He is now a member of the Evolve Competition Team and has even participated in an amateur fight.
"I'm at Muay Thai level 4 now," Joseph adds. "I've been through the competition team tryouts, and I'm training with the competition team now. I also recently went for an amateur fight, and I won the fight. I actually didn't expect that I could make it to level 4, and I could make it to the Evolve Competition Team tryouts, training with the competition team, or even going for a fight. It was never what I thought I would do, and it was never on my bucket list. It's just that while you progress, you want to go forward and try."
That's arguably the biggest benefit of learning a martial art. It teaches you to dig down and test yourself in ways you might not even think are possible right now. It helps you unleash your inner warrior.
Anyone can gain the strength Joseph now has when they dedicate themselves to learning a martial art. It comes down to finding a competent gym and being committed to your training. The rest just comes naturally.
As for Joseph, it's safe to say he is fully committed to his training and plans to continue pushing himself.
Thinking about starting your journey as a martial artist? Come check out one of Evolve MMA's complimentary introductory classes and find out what it's like to train with World Champions!
Book your complimentary trial class with our World Champions below!
If you have any other questions regarding Evolve MMA and the programs we offer, you can get in touch with our membership executives at the following locations:
Evolve MMA (Far East Square)
26 China Street
Far East Square #01-01
Singapore 049568
Phone: (65) 6536 4525
Evolve MMA (Orchard Central)
181 Orchard Road
#06-01 Orchard Central
Singapore 238896
Phone: (65) 6536 4556
Evolve MMA (KINEX)
11 Tanjong Katong Road
#02-52 KINEX
Singapore 437157
Phone: (65) 6288 2293
Evolve MMA (Clarke Quay Central)
6 Eu Tong Sen Street
#04-18 Clarke Quay Central
Singapore 059817
Phone: (65) 6226 2150