Jun Matsumoto first became interested in martial arts while watching K-1 events with his father. He started with karate lessons as a child, and by the time he was in college, he was training in mixed martial arts.
That's how Jun first heard of Evolve MMA. MMA Legend Shinya Aoki, one of his instructors, told him about the world-class facilities he had trained at while in Singapore, and Jun was eager to experience that level of instruction. He had a hard time finding quality Brazilian Jiu-Jitsu and Muay Thai instruction in his native Japan and longed for the opportunity to train with people who had competed at the highest levels of mixed martial arts, BJJ, and Muay Thai.
"When I entered university in 2010, I started to train MMA in Tokyo," Jun explains. "In the gym, Shinya Aoki taught the MMA classes. I learned MMA from him every Saturday. I learned about Evolve MMA when he joined them. He said there were amazing facilities, good coaches, and nice people in Singapore. In Japan, it is very hard to find a place to train both BJJ and Muay Thai, and, of course, it's difficult to be able to learn from Brazilian Jiu-Jitsu and Muay Thai World Champions."
Jun's curiosity eventually got the best of him, and he headed down to Evolve for the first time in 2012. It was everything he expected it to be and more. The equipment and facilities were top-notch, the coaches were extremely knowledgeable, and the people he trained with were very friendly. That led to a second and third visit, and by then Jun felt that he was part of the team. All the coaches knew him by name, and he had already made many friends. That was when he first thought about moving to Singapore to work and train.
"The first time I visited Evolve I was just a university student and a BJJ white belt," says Jun. "I had no friends other than Japanese people, but after my second and third visit, I made friends, and the coaches remembered my name. They said, 'Jun, you should live in Singapore.' I couldn't imagine that I would be living outside of Japan, but it sounded fun and exciting. After graduating from university, I decided that after three years I would move to Singapore and find a job so that I can train at Evolve MMA."
Learning a martial art comes with many benefits. It gets you in the best shape of your life, lowers your stress levels, improves your problem-solving skills, and teaches you how to defend yourself if you are ever in a situation where you are forced to do so.
The quality of instruction you get often dictates how beneficial your training is to you. An experienced instructor who has competed with some of the best competitors in their discipline can teach you a lot more than a less experienced martial artist.
The type of atmosphere the instructors promote can also affect how much you benefit from your training. Some instructors do not accept negative behaviors from their students under any circumstances, while others are willing to ignore it. As a general rule, it is often best to train at a facility where a positive atmosphere is nurtured. Your training ground should be a place where you feel comfortable, have fun, and learn new things. Most importantly, find a school that suits your personal taste.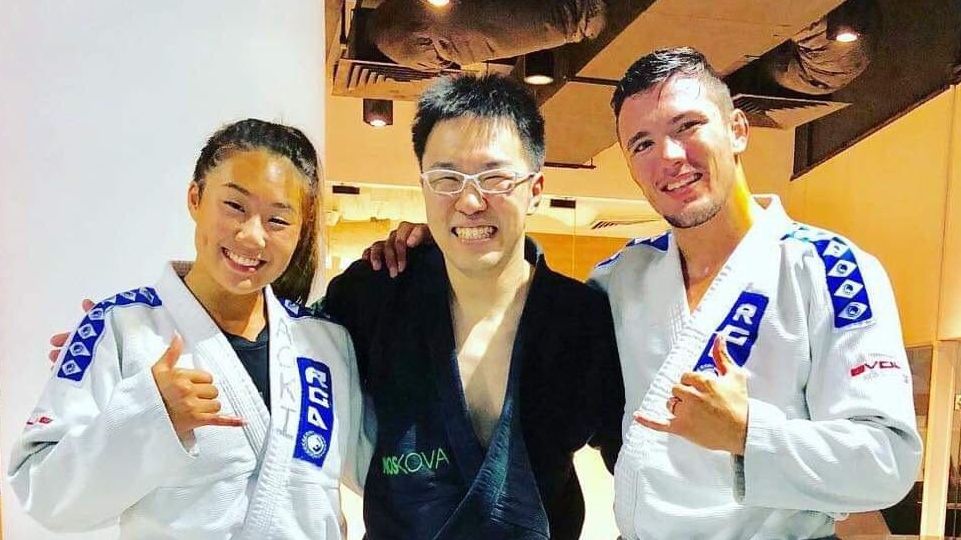 "What makes Evolve special are the instructors, the students, and the staff," adds Jun. "Everyone helps each other, and it feels like a family. You cannot find any other gym with this number of World Champions and this level of training partners."
Jun's positive attitude made him feel right at home at Evolve MMA, and his coaches love having him around. They appreciate his willingness to always help other students and his thirst to grow as a martial artist.
"When Jun came here for the first time, I saw his game," says BJJ World Champion Teco Shinzato. "Now, it's a bit different. He has improved a lot, and now he is a purple belt. He has gone to many competitions." Another one of his instructors, BJJ World Champion Leandro Issa, added, "One thing I like about Jun is that he is very hardworking. He tries to learn everything. He loves to train, and he likes Evolve a lot. I hope that Jun keeps training hard like he does. He puts a lot of hours on the mat and a lot of effort in during training. That's the way to get better, and he's on the right path."
Jun couldn't be happier with the improvements he's made on the mat since he started training with Evolve, and he feels learning martial arts has made him a more rounded person. It's no secret that learning a combat style comes with many benefits, such as being able to handle pressure better, learning how to come up with quick solutions to problems, and learning how important it is to be persistent.
"Martial arts taught me to survive under any circumstances," he says. "I would like to tell all my friends at Evolve, let's train hard together, help each other, and improve together."
For now, Jun plans to continue his journey toward getting a black belt in BJJ, and his coaches at Evolve MMA are confident that it's only a matter of time before he accomplishes his goals.
"I hope he one day gets his black belt, and he becomes a World Champion," says BJJ World Champion Teco Shinzato. "But for me, he's already a champion."
It's never too late for anyone to reap the benefits of learning a martial art. Thinking about giving one a try? Attend one of Evolve MMA's complimentary trial classes and see what it's like to train with World Champions. You have nothing to lose and everything to gain.
Book your complimentary trial class with our World Champions below!
If you have any other questions regarding Evolve MMA and the programs we offer, you can get in touch with our membership executives at the following locations:
Evolve MMA (Far East Square)
26 China Street
Far East Square #01-01
Singapore 049568
Phone: (65) 6536 4525
Evolve MMA (Orchard Central)
181 Orchard Road
#06-01 Orchard Central
Singapore 238896
Phone: (65) 6536 4556
Evolve MMA (KINEX)
11 Tanjong Katong Road
#02-52 KINEX
Singapore 437157
Phone: (65) 6288 2293
Evolve MMA (PoMo Mall)
#03-11 PoMo Mall
1 Selegie Road
Singapore 188306
Phone: (65) 6337 0082