A hectic workday can really do a number on your fitness routine. Between leaving work later than you would like and the sheer exhaustion of a long day's slog, a crazy work schedule can push your daily workout session to the bottom of your priority list.
There Are Supermodels Who Swear By It
You may find this hard to believe, but models have this exact same problem, especially those that are lucky enough to get a steady supply of bookings.
'But they look so good', you think. 'How do they do it?'
Contrary to popular belief, not all supermodels starve themselves to maintain their weight. Many of them simply eat healthily and look for interesting and inventive ways to work out and keep fit whenever they can. They find clever ways to take full advantage of their free time to compensate for the times when their schedules become all-consuming.
One of those clever ways is Muay Thai, a martial art discipline that has its origins in Thailand. This intensive sport is bound to keep you in good shape no matter who you are. It is the perfect motivation to hit the gym, even with an insane schedule.
Victoria's Secret Gracie Carvalho Does It For The Love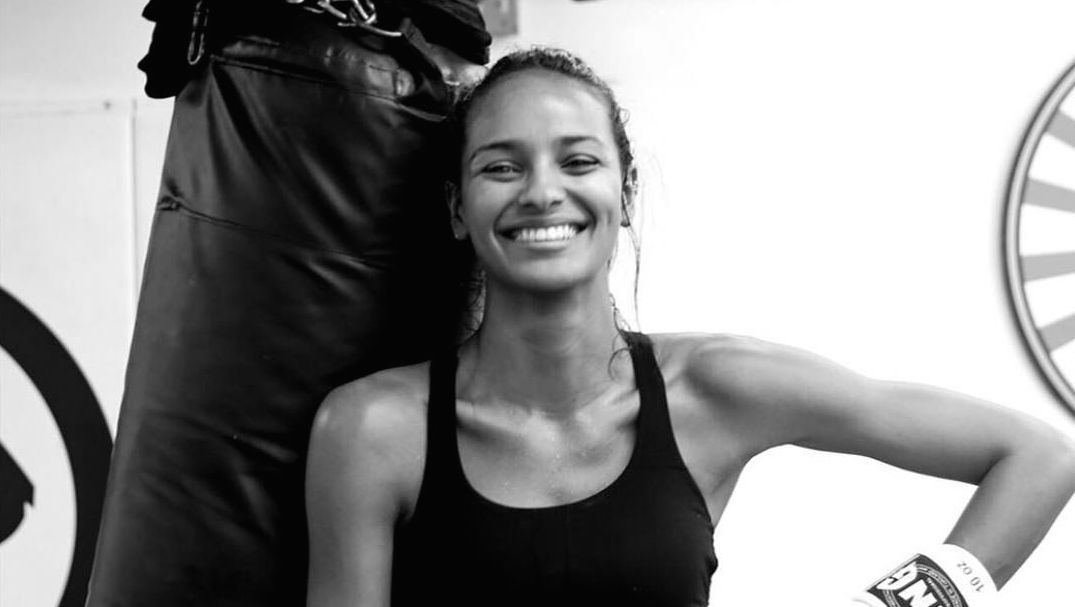 It seems that one of Victoria's best-kept secrets is that she is recruiting for her very own covert model ninja army.
However, Gracie Carvalho, a member of this secret army, had her cover blown. It turns out that this model does more than just strutting the catwalk. She is an avowed and passionate Muay Thai disciple, and she can probably take you down.
In a 2017 interview with Men's Health magazine, Carvalho revealed the career path she would have taken if she had not become a model. You guessed it! She would compete in Muay Thai.
"I love it," Gracie explained during an interview. "It's my passion. It's what I really want to do."
She thinks about competing all the time, but she has a day job. So, she does the next best thing: She trains a couple of days per week.
As part of her interview, she took Ebenezer Samuel, her interviewer, through the Muay Thai paces. He got drenched and winded, to put it lightly. Carvalho enjoyed herself. Here is why:
Muay Thai gives a full-body workout that gets the heart going and the muscles working to their limits
It is a great way to improve hand-eye coordination and sharpen the reflexes
This martial art is fun and exciting. Even though it will leave you gasping for air, you will love every single minute and you will keep going back for more
It strengthens the core, which is a great way to get yourself some washboard abs
All these benefits have resulted in a stunning figure for Carvalho, which is great for her modeling career. How awesome would it be if doing something you loved helped with your career?
After hanging up her angel wings, she wants to compete and excel in this martial art.
Martial Arts And The Psyche
There are many unseen benefits of martial arts. One of them is a sense of self. Martial arts make you learn who you are and give you the tools you need to surmount your limitations, whatever they may be.
Another benefit is the sense of self-worth and pride that you feel when you master a new technique. Muay Thai is a martial art that will boost your confidence as you master some cool moves, let go of stress and sculpt your body.
Muay Thai Gave Mia Kang The Confidence She Needed To Work As A Swimsuit Model
Mia Kang struggled with insecurity and body image issues for a sizable part of her life. Thankfully, she discovered Muay Thai. The sport allowed her to take pride in her progress as she mastered one technique after another. That is how she became self-confident.
She practices Muay Thai whenever she has time off from her photo shoots, which are often in faraway locations.
With the help of Muay Thai, Kang took some bold steps in her life. She quit smoking and got a master's degree in finance and financial law. All while she continued to train and work as a swimsuit model.
Apart from developing a positive self-image, Kang has started taking part in (and winning) Muay Thai competitions, and she is hooked.
Needless to say, Muay Thai has given Mia Kang an enviable physique and the ability to defend herself. Here are some other benefits that Mia has reaped:
An amazing sense of balance and a supple body
Improved self-control: Martial arts work both as a replacement therapy and a tool that teaches a person to delay gratification. Muay Thai helped Mia to quit smoking, which is nothing to sneeze at
Stress reduction and therefore improved sleep: Punching and kicking is a healthy way of dealing with stress. An intense workout will leave you pleasantly tired, which makes Muay Thai a natural sleeping aid
High energy levels that will get you through a challenging day
Muay Thai is exactly what you need to get through a demanding day. It is a seemingly magical martial art that expends energy and boosts energy levels, all at the same time.
Whenever you think that you are too busy and tired for a workout, squeeze some Muay Thai into your morning routine, your lunch break or the end of your day.
You will be amazed at how fast your body will recharge itself. Your mind will even provide a pair of rose-tinted glasses that will help you have a great day or at the very least a sense of perspective.
Just ask a model.
Book your complimentary trial class with our World Champions below!
If you have any other questions regarding Evolve MMA and the programs we offer, you can get in touch with our membership executives at the following locations:
Evolve MMA (Far East Square)
26 China Street
Far East Square #01-01
Singapore 049568
Phone: (65) 6536 4525
Evolve MMA (Orchard Central)
181 Orchard Road
#06-01 Orchard Central
Singapore 238896
Phone: (65) 6536 4556
Evolve MMA (KINEX)
11 Tanjong Katong Road
#02-52 KINEX
Singapore 437157
Phone: (65) 6288 2293
Evolve MMA (Clarke Quay Central)
6 Eu Tong Sen Street
#04-18 Clarke Quay Central
Singapore 059817
Phone: (65) 6226 2150