Who says mixed martial arts is just about fighting? Love can blossom in the cage, too.
When reigning ONE Women's Atomweight World Champion "Unstoppable" Angela Lee met Brazilian Jiu-Jitsu World Champion Bruno Pucci as members of the Evolve Fight Team, there was an instant attraction.
Not long after, they started a relationship, and now, they're married. Needless to say, it was a match made in heaven.
While the cage isn't exactly the first place that comes to mind when thinking of a romantic date, martial arts has played a significant role in their relationship. It has allowed them to take a look deep into each other's inner being and discover who they really are as individuals, and who they are as a couple.
Martial arts, it seems, has the power to bring people together. Let's take a look at how martial arts adds a spark to Angela and Bruno's marriage.
1) Couples that train together, stay together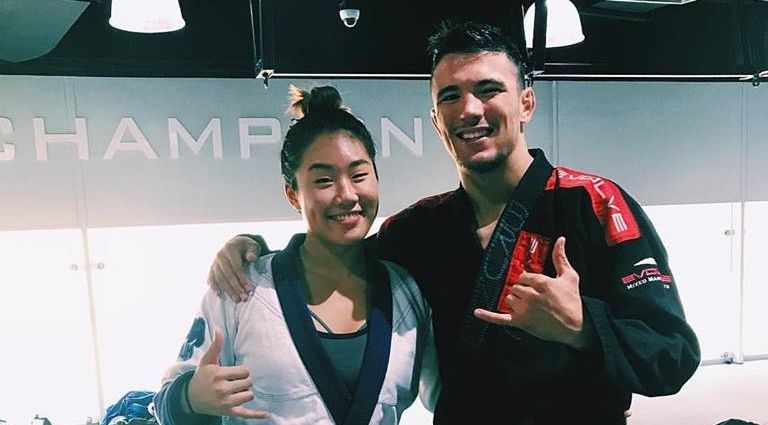 Since they first met at Evolve MMA, Angela and Bruno have been training together. Over the course of their training, the two got extremely close. They say couples that train together, stay together.
Of course, it helps that they share the same profession. One of them is an accomplished grappling World Champion making his way up ONE Championship's featherweight ranks. The other is one of mixed martial arts' fastest rising stars who became the youngest World Champion in history when she won the title at age 19.
Angela and Bruno regularly train with each other. She says it is one of the things that make their relationship unique and extra special. They push each other hard and to the limit, but at the end of the day, they know they have each other's best interests in mind. And that's how they are able to train the way they do together. "Bruno is my number one person to talk to about everything that I'm feeling and our plans for the future," says Angela.
2) They discover each other's strengths and weaknesses
One advantage of training and spending so much time together in the gym is that they begin to discover each other's strengths and weaknesses. In a way, their distinct martial arts styles compliment each other perfectly, in the same way their personalities do in their relationship.
Martial arts training doesn't just allow one an insight into physical strengths and weaknesses, training offers a look into an individual's mental and spiritual makeup. By constantly training together, Angela and Bruno have discovered each other both inside and out. They know each other very well and understand how to best develop their skills and personalities. "Sharing the same passion helps us to connect and understand each on another level. We understand what the other person is going through," explains Bruno.
Couples who train in martial arts together can attest to a similar experience. Angela and Bruno both agree that there is no better way to get to know each other than by grappling on the mats.
3) They understand each other's needs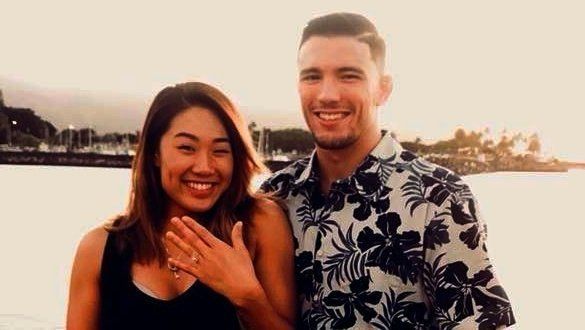 A crucial part of every relationship is understanding each other's wants and needs and how each individual can fulfill this in a given relationship. For Angela and Bruno, training in martial arts has helped them get in touch with their own needs.
Angela is one of the world's best mixed martial arts talents. As such, the demand on her time is immense, and she spends most of her time training in the gym to make sure she is in prime condition. On top of it all, being one of the sport's biggest stars, Angela is often away on media obligations. While time apart can certainly take a strain on any relationship, the two understand how to work through it.
For the most part, Angela and Bruno love to travel and experience the world together. They are inseparable. But when it comes down to it, being martial artists, they understand the sacrifices it takes to reach the top of the sport and they are able to fulfill each other's varying needs in their relationship. "Being in the same profession makes it easier for us to understand each other. Bruno is so understanding when I prepare for my matches. Training and preparation are tough but we both know what it's like and can support each other," says Angela.
4) They are each other's greatest support system
When it comes down to it, having a solid support system in place is crucial to the success of any professional martial artist. What happens outside the cage is equally as important as what transpires inside of it. For Angela and Bruno, they have become each other's greatest support system.
Not only that, but the entire Lee family, from father Ken and mother Jewelz, right down to Angela's younger siblings, which includes ONE Championship featherweight standout Christian "The Warrior" Lee, are all martial artists. It's not just Angela and Bruno training together. In reality, the entire family trains together. "I couldn't ask for a better family. In my family I'm the only fighter, so I managed to find Angela, and she's the love of my life, and now I've got a family where everybody fights. We share the same passion, the same love," says Bruno.
When you have this sort of strong family bond, you not only maximize gains in training but also gain confidence in yourself via who you are training with. Angela and Bruno have each other as a support system, but they also have their family together helping each other through everything.