Wrestling Champion Johnny "Johnny Boy" Nunez from the Evolve Fight Team is set to make his promotional debut this Friday, 25 October at ONE: Dawn of Valor.
Nunez recently made the thousand-mile journey from the United States to relocate to Singapore permanently and train out of Evolve MMA alongside his partner, women's mixed martial arts pioneer, UFC World Champion, and Evolve Instructor Miesha Tate.
The former Bellator standout is acclimating well to the Asian climate and says he's discovered more than just a new experience in living in the Lion City. He's found an incredible opportunity working with the world's top martial arts talent at Evolve MMA to further develop his game.
Above all, Nunez says he has found a new home.
"Training in the warm weather in Singapore is great. It doesn't take much of a warm up to get your blood pumping. I'm getting world-class Muay Thai training here at Evolve MMA. We have many legends and World Champions, and they sure do push you," said Nunez.
"This fight camp has been awesome. It's great that I don't have to stress and worry about my weight because there is no weight cutting here in ONE Championship. I just have to eat the right things, and in Singapore a lot of the food here is fresh and clean with nearly no preservatives."
It's been a year since Nunez was last seen in action. But after months of hard work in training, adapting to his new life, and rededicating himself to his craft, Nunez is ready to step back into the cage and get to work.
Before he climbs back through the cage doors, however, Nunez recalls how he got to this point and where he is headed.
"Last year about this time in September, I had just been approached about fighting for Bellator, and at the same time, Miesha saw an opportunity to move to Singapore with Evolve MMA.
"She asked what I thought about moving to Singapore to train and maybe fight for ONE Championship? I said, yes," said Nunez.
Nunez and Tate didn't come to Singapore alone. They brought along their baby daughter Amaia to experience the new culture and lifestyle.
Focusing on a fight career while trying to raise a human being is no doubt a daunting task. But for the 34-year-old American fighter, being a father and a martial arts athlete has had a positive effect on his training outlook.
"Being a father has helped my mental aspect, I don't take things as seriously, and I am more relaxed, especially when I get to come home and see baby Amaia," said Nunez.
"It doesn't matter how hard of a practice I've just had, the smile I get to see when I come home after training is simply priceless, and I wouldn't change that for anything in this world."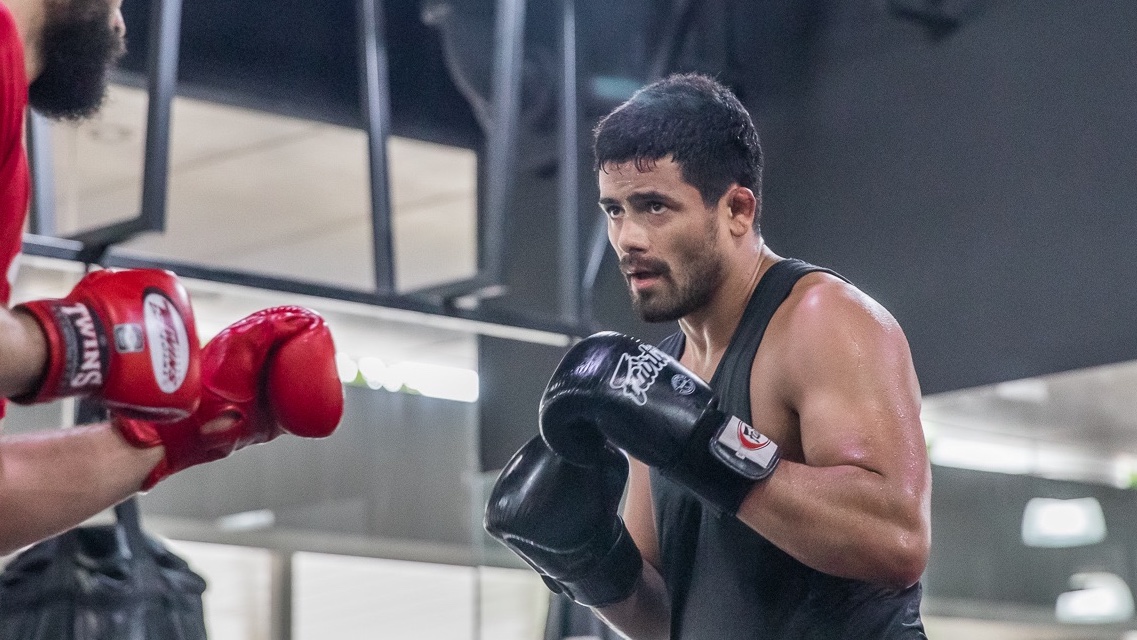 Nunez is one of the world's best lightweights. He holds a professional record of 7-1, including two wins by knockout and one win by submission. He is currently riding a two-fight winning streak and is scheduled to face Japanese veteran Kazuki Tokudome in a three-round bout.
He's hands down one of the toughest guys on the planet. Still, moving halfway across the world is indeed a major life change.
And although Nunez said it was bittersweet to leave a lot of his friends and family behind in the United States, he is fully focused on his career and is gunning for the ONE Championship World Title.
"I've been excited for my ONE Championship debut since I moved to Singapore. It was kind of hard leaving all my family, friends, and training partners to come out to Singapore with my daughter and her momma, but I feel like we have adapted fairly quicker than I anticipated," said Nunez.
"I would say that I simplified my life a bit, and now I can totally dedicate myself to my goal of being a ONE World Champion."
Above all else, Nunez is just excited to get back into action and make a run at the ONE World Title. After a much-needed break, he's ready to make a splash in the ONE Championship lightweight division and announce his arrival on the world's biggest stage for martial arts competition.
"I'm really excited to get back in there and tear things up. I want to see how I match up against other fighters from all over the world, especially in Asia. My opponent now is from Japan, so I'm excited to see how I match up against those styles," said Nunez.
"I'm ready. I've been ready for the last four or five months. I'm ready to get in there and mix it up. What fans can expect from me is a lot of pressure, a lot of styles and looks that guys are really not used to. I think that's how I'm going to shine."