Sometimes, MMA fighters don't fight, they fall in love instead. They are kickboxers, grapplers, and bonafide action stars in the cage, but outside of it, they have huge hearts too, just like everyone else.
While the cage isn't exactly the first place that comes to mind when thinking of a romantic date, these fighters enjoy "fighting" with their partners. Martial arts, it seems, has the power to not only bring people closer together but also to ignite the fires of passion.
On this special day of Valentine's, let's take a look at a handful of couples who met their significant other in the unique ambiance of the martial arts gym.
These six real-life MMA power couples found success in the cage, and ultimately found each other, proving that love strikes anywhere — even in the unlikeliest of places.
Today, Evolve Daily shares five real life MMA power couples who found love in and out of the cage.
1) Rose Namajunas and Pat Barry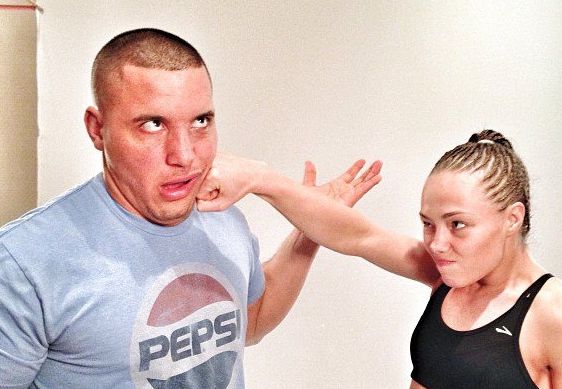 "Thug" Rose Namajunas has emerged as one of the UFC's top female fighters. In her most recent fight at UFC 217, she defeated Joanna Jedrzejczyk to become the UFC Women's Strawweight Champion, capping off an incredible rise through the ranks. Her fiancé Pat Barry is also a UFC fighter, although he retired from MMA and now competes in kickboxing.
The two are one of the most genuinely loved couples in the sport due to their incredible chemistry and similar fighting styles. Barry has helped Namajunas throughout her entire career, cornering her for most of her fights while honing her skills in training. You will rarely see one without the other.
2) Miesha Tate and Johnny Nunez
Expect to see a little "Cupcake" soon as former UFC Women's Bantamweight Champion Miesha Tate and MMA fighter Johnny Nunez are expecting. Tate announced and confirmed their relationship earlier this year, posting on Instagram at the turn of the New Year that they were having a baby daughter.
"There's this man who has brought joy and happiness into my life in a way I've never known before, Johnny thank you for that," Tate wrote. "I'm proud to announce we are expecting a beautiful baby girl."
Tate retired after losing to Raquel Pennington at UFC 205 in November 2016. She won the bantamweight title by submitting Holly Holm at UFC 196 but lost it to Amanda Nunes in her first defense at UFC 200.
3) Paige VanZant and Austin Vanderford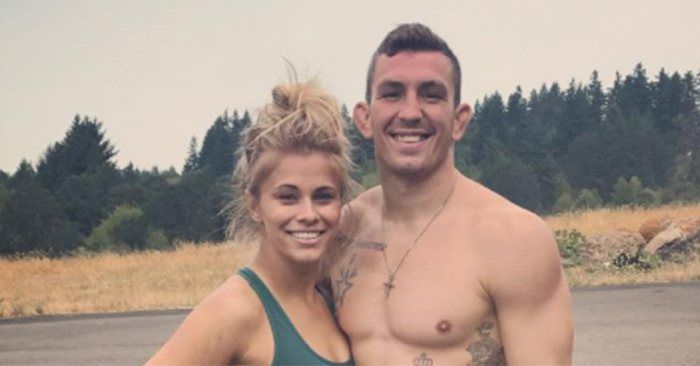 Paige VanZant is one of the top UFC women's fighters on the roster, but although she hasn't been able to capture the belt, she has been able to capture fellow MMA fighter Austin Vanderford's heart.
The couple recently announced their engagement on Instagram, and social media just exploded. The two have been dating for nearly a year now, and it looks like they are a perfect match.
VanZant posted a photo of Vanderford getting on one knee to propose. In the caption, VanZant wrote: "I said yes!!!"
VanZant is a UFC women's flyweight and model. She also regularly appears on TV, which includes a stint on popular dancing reality show Dancing with the Stars and Food Network's Chopped.
4) Angela Lee and Bruno Pucci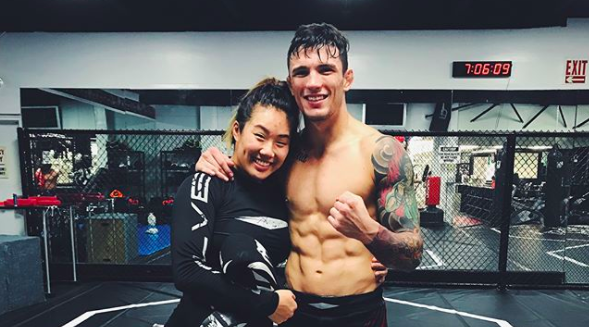 Reigning ONE Women's Atomweight World Champion "Unstoppable" Angela Lee and Brazilian Jiu-Jitsu World Champion Bruno Pucci met as members of the Evolve Fight Team. Over the course of their training together, the two had gotten extremely close.
Soon, they began dating, and sparks immediately flew between the two. Pucci proposed to Lee in October of 2017, and now they are engaged to be married.
Lee is one of MMA's fastest rising stars who became the youngest MMA world champion in history when she won the title at the age of 19. Today, she is the undefeated and undisputed atomweight champion. She regularly trains with Pucci and says it is one of the things that make their relationship special.
5) Ronda Rousey and Travis Browne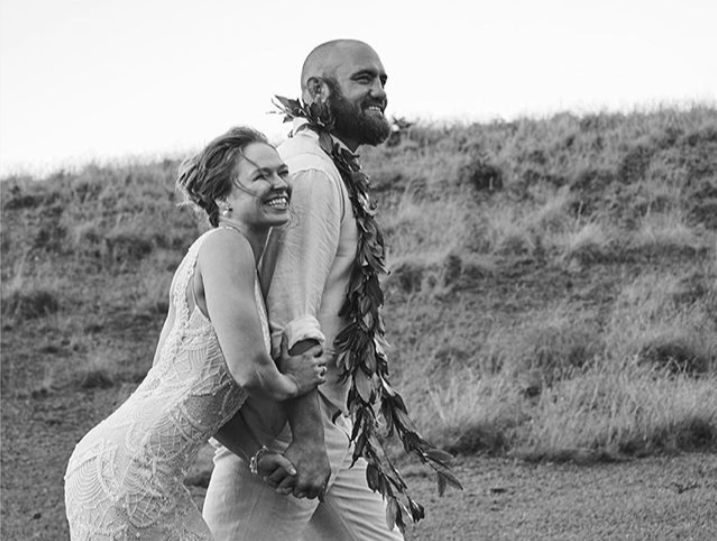 Former UFC Women's Bantamweight Champion "Rowdy" Ronda Rousey confirmed that she began dating UFC heavyweight Travis "Hapa" Browne in October of 2015. Although Rousey has since retired from the UFC and is now focusing on a career in professional wrestling with the WWE, her relationship with Browne remains as strong as ever.
The two began seeing each other after Rousey lost to Holly Holm at UFC 193. On April 20, 2017, Rousey and Browne announced their engagement with Browne proposing under a waterfall in New Zealand.
A few months later on August 28, 2017, just two days after the blockbuster Floyd Mayweather – Conor McGregor boxing match that had the whole world buzzing, Rousey and Browne were quietly married in Hawaii.
Rousey and Browne have since shared photos of their special day on social media. In one of her pictures, Rousey said it was the "happiest day of my life".