Not long ago, it was announced that Muay Thai Champion Tukkatatong Petpayathai from the Evolve Fight Team had joined the prestigious ONE Super Series, which brings together the world's greatest fighters in striking martial arts.
A large contingent of big-name athletes had already been signed, and Tukkatatong's addition only served to bolster ONE Championship's elite ranks.
This Friday, 29 June, on the main card of ONE: Spirit of a Warrior, which will be held at the Thuwunna Indoor Stadium in Yangon, Myanmar, Tukkatatong makes his highly-anticipated ONE Super Series Kickboxing debut against ISKA & WBC World Champion Mehdi "Diamond Heart" Zatout of France.
Following a wildly successful career in Thailand's biggest and most prestigious Muay Thai stadiums, Tukkatatong now enters the global arena looking for even more glory.
But before he steps into the cage in Myanmar, let's take a closer look at his colorful journey from a young boy with big dreams, to today, a legend in the world of striking martial arts.
Growing Up As A Young Boy In Rural Thailand
Tukkatatong was born on 23 August 1987, in Thailand's northeastern province of Buriram.
He was raised by his father, a member of Buriram's local government, and his mother, a homemaker who cared for him and his two younger siblings.
"The village I grew up in is like any other small countryside village in Thailand – a quiet place where everyone knows each other," said Tukkatatong. "My life was a normal country kid's life. I spent my time playing with friends and being naughty. I was quite misbehaved as a kid."
Not long after, Tukkatatong discovered martial arts, like many of the young kids his age. He was introduced to Muay Thai by his father, who was a huge fan of the sport. The two would watch Muay Thai fights together on television, Tukkatatong recalls, until one day, his father would bring home a gift that would change his life forever.
"My dad bought some gloves and a bag for us to mess around with," Tukkatatong said. "As time went by messing around punching and kicking, I decided I wanted to give Muay Thai a proper go and try fighting."
Becoming A Muay Thai Fighter
At just 10-years of age, Tukkatatong began training in Muay Thai and instantly fell in love with it. What started as playful punching and kicking of his father's heavy bag quickly transitioned into more than just a hobby. Shortly after, Tukkatatong would begin competing in local tournaments.
He won his first title in the provinces before he moved to Bangkok, Thailand's bustling metropolitan capital city, where he would compete in more tournaments and take home even more wins.
"I started training at home at first, and then moved to a gym nearby called Sitkawee," the 30-year-old remembers.
"I had my first fight when I was 10 – I was in the fourth grade. After fighting for a few years in the provinces, I relocated to Bangkok at the age of 13 and moved to the Kiatpetch Gym."
Tukkatatong became known for his versatility in the ring, being able to switch between a technical style and an aggressive style. His favorite techniques are his left knee, left elbow, and left roundhouse kick.
That unique style would later help him become regarded as one of the best Muay Thai fighters in the world today.
Later on, Tukkatatong would win the Channel 7 Muay Thai Championship twice, a North East Thailand Championship, and an Andaman League Tournament Championship.
"I am most proud of my Channel 7 Stadium belts," he says. "My proudest win would be when I beat Ninmongkon, as he was a top fighter."
Overcoming Adversity Through Martial Arts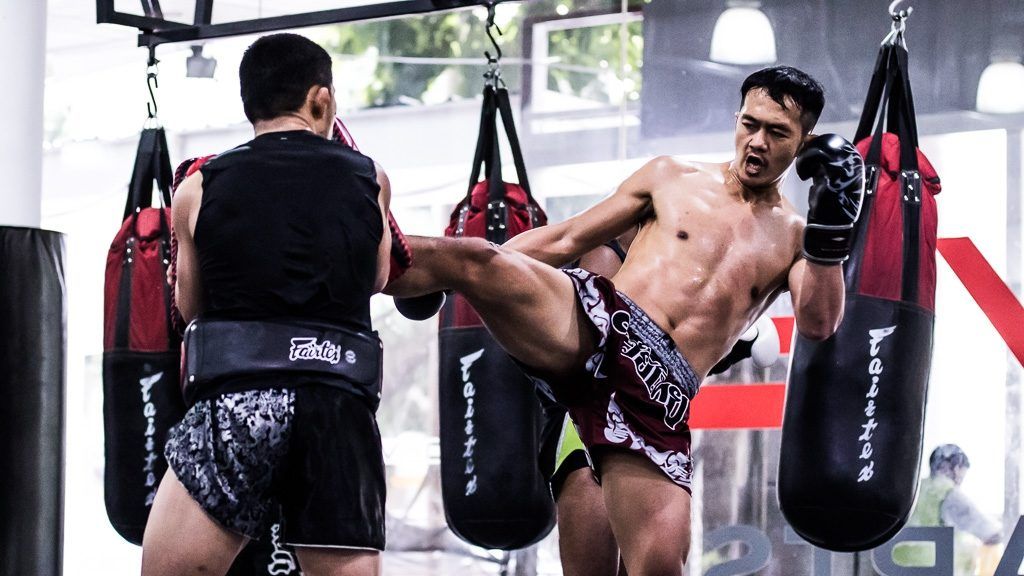 But things weren't always on the right path for Tukkatatong. Like many others in Thailand who had gone through a financial crisis, the 30-year-old had to overcome adversity.
A few years after moving to Bangkok, Tukkatatong returned home to Buriram, and tragedy struck his family.
"The hardest time of my life was when my family lost all our money," said Tukkatatong. "My dad was up for re-election for the local government. He spent a lot of money on his campaign but lost the election. We were left penniless. It was extremely difficult for everyone."
"Once my family went bankrupt, I decided I had to return to fight and help the family out with money."
The adversity renewed his focus on his martial arts career and gave him a different kind of motivation. He wanted to help his family, bring them out of the trenches, and give them a better life.
The lessons he learned during this time, especially those from his father whom he describes as his greatest inspiration, would stick with him, even throughout his Muay Thai career.
"We got through this hardship by fighting and never giving up," said Tukkatatong. "Seeing my dad continue to fight and refusing to give up taught me that you can overcome anything, as long as you keep fighting. I carry this with me today. I refuse to give up."
A New Chapter
Just a day from now, Tukkatatong will make his ONE Super Series debut and will attempt to conquer a new arena.
A member of the Evolve Fight Team and widely considered in Thailand as one of its finest Muay Thai fighters, Tukkatatong will travel to Myanmar to claim his first victory inside the ONE Championship cage.
Despite already competing in some of Thailand's biggest stadiums, Tukkatatong feels that this new start is an important juncture in his career because it will be the biggest platform he has ever competed on.
"ONE Championship is the biggest stage I have ever fought on," he says. "There are so many people following ONE around the world."
"I am confident going into this bout. All my Muay Thai World Champion teammates at Evolve MMA have performed so well so far in the ONE Super Series. I look forward to putting on a show too."