Known as the 'Art of Eight Limbs', Muay Thai is one of the most addictive martial arts you could ever try. It also happens to be one of the most effective striking arts. Muay Thai fighters often fare well when matched up against equally experienced opponents from other striking-based combat styles.
Many people who decide to give Muay Thai a go end up being hooked on it for the rest of their lives. This article will explore why there's a good chance you'll quickly fall in love with Muay Thai if you do so.
Exploring why learning Muay Thai is addictive
Let's take a look at some of the reasons why Muay Thai often becomes a way of life for those who have decided to give it a try:
1) Incredible workout
Muay Thai gives you a mixture of aerobic and anaerobic exercises that target muscles all over your body. You start noticing improvements to your physique as the months go by. Your muscles become more ripped and toned, while your cardiovascular endurance is pushed to limits you might have never reached in the past.
It makes you start to wonder just how far you can take your training as you start to feel like a significantly improved version of your former self. Your friends, co-workers, and family members start to notice these changes as well, and their feedback adds fuel to your fire.
The muffin top you had when you first started training disappears after a while. You might even notice some odd, muscle-looking bulges on your stomach. These are called a six-pack, and they're perfectly normal. No need to panic; you're just in shape.
The physical transformation that goes on when a person starts training Muay Thai is a thing of beauty. A single hour spent training Muay Thai can burn up over 1000 calories, and your body will be strong enough to train for two hours as your training progresses. That's enough to transform most physiques even without making any changes to your diet. Cut out unhealthy foods from your diet, and you should be in the best shape you've ever been in your entire life.
2) Practical fighting skills
Another awesome thing about Muay Thai is its straightforward approach to fighting. If you're looking for flashy techniques you can impress your friends with, you might be better off learning Taekwondo or Capoeira.
Muay Thai is not about throwing flamboyant punching or clinching techniques. Based on ancient techniques used by the Siamese army on battlefields, Muay Thai prioritizes the effectiveness of techniques over scoring style points.
The techniques you'll learn during your training are techniques that would be effective in real self-defense scenarios. The more you train, the more confident you become in your ability to defend yourself, and that becomes an addiction on its own. It's a great feeling to know you are more than capable of defending yourself and those you love if you ever need to.
Your increased ability to defend yourself fuels your passion to train more. It comes from a natural survival instinct to be ready for any obstacle life throws your way.
3) Unleashes your inner warrior
Most people walk around without knowing how much unused potential they have inside them before starting a martial art like Muay Thai. Training allows you to discover different aspects of your personality that you didn't even know were there.
For example, MMA legend Georges St. Pierre described himself as a shy, unathletic kid growing up. Yet, he became one of the greatest champions in the history of mixed martial arts, and he proved to be a remarkable athlete during the process.
It's normal to feel a little unsure about yourself when you first start training a combat style like Muay Thai, but that quickly goes away. Moves that are challenging to you at first start becoming part of your muscle memory over time. You start moving around like a real fighter, leaning and stepping out of the way of attacks without even having to think about doing it.
Training partners that once toyed around with you become beatable as you progress through the ranks, and you might even begin to get the best of them. All of a sudden, you realize you've had all this inside you your entire life; you just needed the warrior inside you to be unleashed. Muay Thai is effective at doing that. You might even become confident enough to square off against equally experienced opponents in competitive settings.
4) Widens your social circle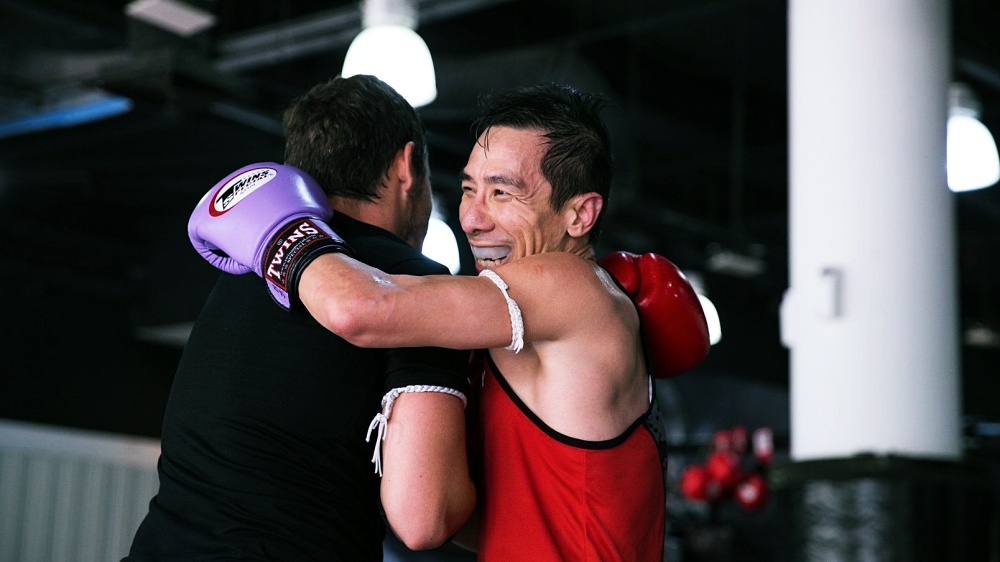 Many people sign up for Muay Thai classes for reasons like improving their fitness, learning practical self-defense skills, or a desire to learn a new martial art. Making new friends is often not on the list, but that doesn't stop life-long friendships from developing on the mat.
Your passion for training bonds you with your training partners, and the class provides a positive environment for friendships to brew. You get to watch your training partners as they develop as martial artists, and you serve as each other's support system. At times, you might even find yourself looking forward to your interactions with your training partners more than your training.
5) Gives you various life skills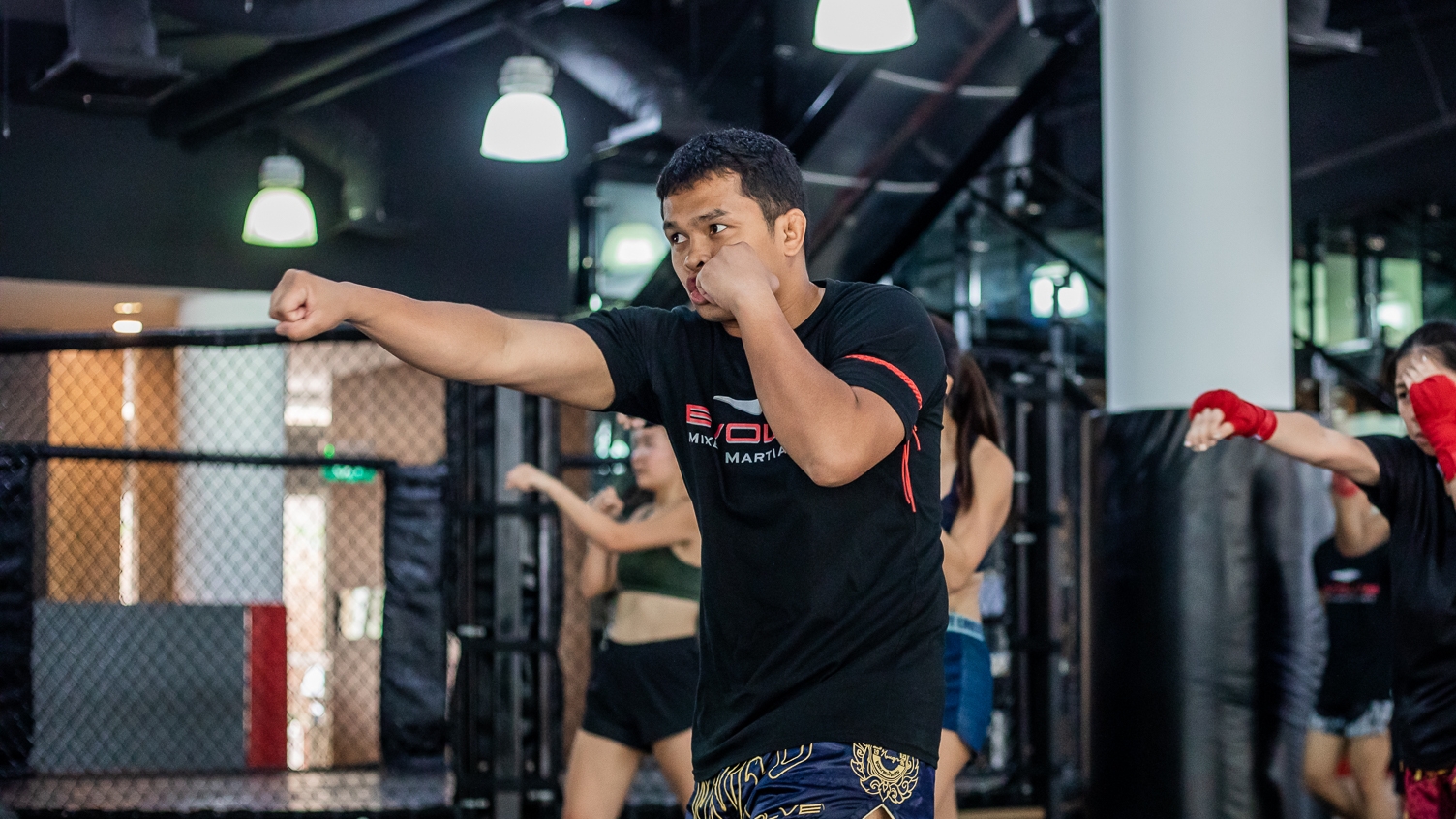 Martial arts like Muay Thai teach you many values that carry over to other aspects of your life. For example, you learn the importance of perseverance since you often have to practice techniques many times before you learn how to execute them correctly. Training also improves your problem-solving skills and your ability to stay calm under pressure. Muay Thai is a thinking person's sport. You're constantly reading your opponent, predicting their next moves, and looking for holes in their armor during sparring matches and competitions. It teaches you how to use your brain even when your body is tired.
Muay Thai is a healthy addiction
Muay Thai is a positive addiction that enriches your life while teaching you one of the most effective combat systems. Stop by one of Evolve's complimentary introductory classes to see what Muay Thai training looks like!
You may also like:
Here's Why More People Than Ever Are Benefitting From The Power Of Muay Thai
Book your complimentary trial class with our World Champions below!
If you have any other questions regarding Evolve MMA and the programs we offer, you can get in touch with our membership executives at the following locations:
Evolve MMA (Far East Square)
26 China Street
Far East Square #01-01
Singapore 049568
Phone: (65) 6536 4525
Evolve MMA (Orchard Central)
181 Orchard Road
#06-01 Orchard Central
Singapore 238896
Phone: (65) 6536 4556
Evolve MMA (KINEX)
11 Tanjong Katong Road
#02-52 KINEX
Singapore 437157
Phone: (65) 6288 2293
Evolve MMA (Clarke Quay Central)
6 Eu Tong Sen Street
#04-18 Clarke Quay Central
Singapore 059817
Phone: (65) 6226 2150