BJJ Seminar With Mikey Musumeci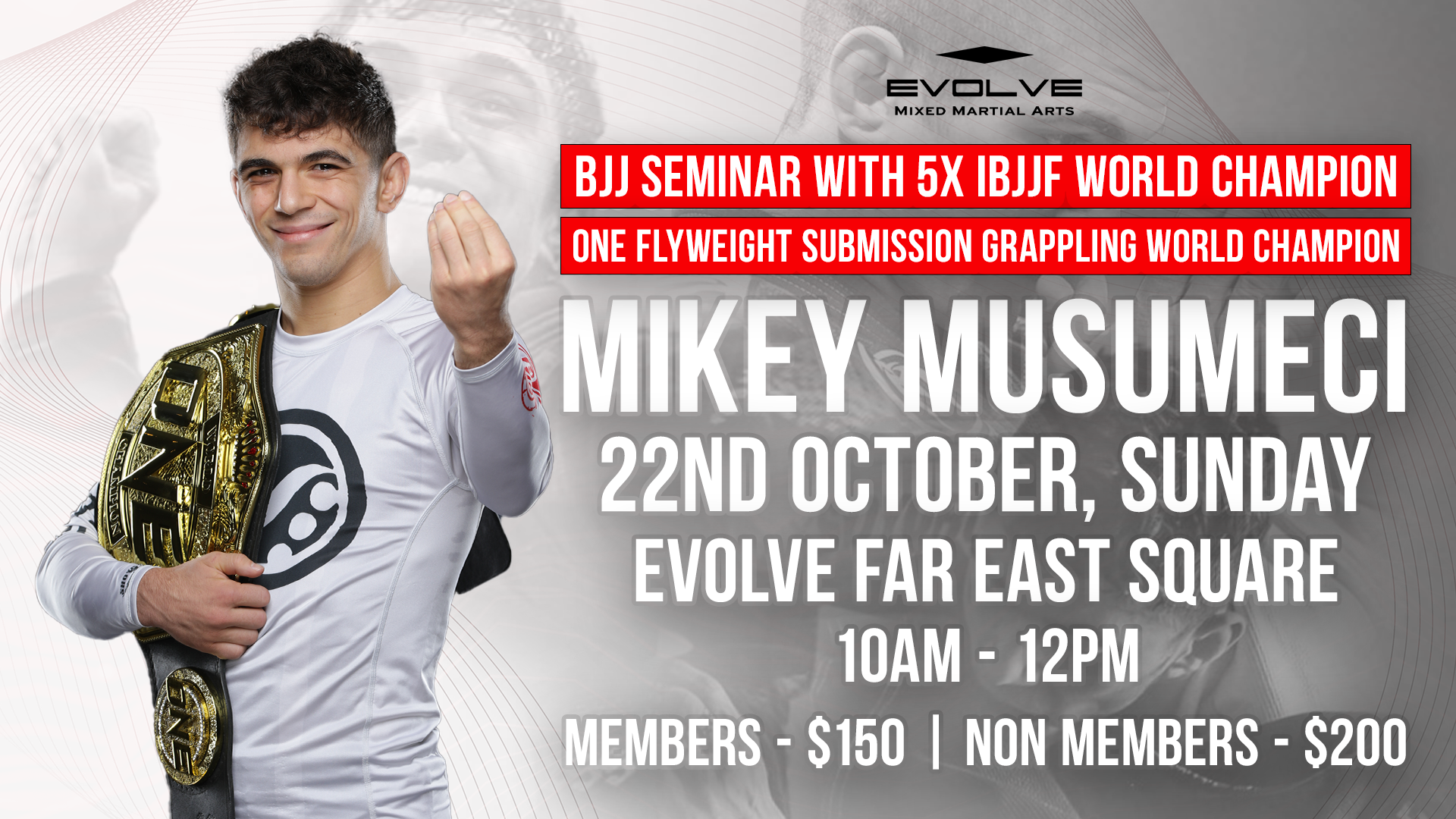 Thank you for your interest in attending the BJJ Seminar with Mikey Musumeci at Evolve MMA!
Mikey started practicing BJJ at the young age of 4 and has amassed a well-recognised list of accolades in the grappling scene, notably being a 5x IBJJF World Champion as well as the inaugural ONE Submission Grappling Flyweight World Champion. 
Mikey performed well in competitions. After winning numerous IBJJF World Championships at the juvenile and colored belt ranks, he was awarded his black belt at the age of 18. Mikey is known for his modern style of grappling, utilising the berimbolo, crab ride, and particularly his trademark straight ankle lock which he used to secure his victory at the final of an IBJJF World Championship in just 12 seconds.
The young prodigy is also one of the most technically sound grapplers on the planet, being an innovator of the famous "Mikey Lock" which revolutionised the sport and inspired a new generation of BJJ practitioners.
Who: 5x IBJJF World Champion "Darth Rigatoni" Musumeci
Current ONE Flyweight Submission Grappling World Champion

5x IBJJF World Champion

First American to win the IBJJF World Championship in the male black belt division twice
2x IBJJF Pan American Champion
AJP Abu Dhabi World Pro Champion
IBJJF European Champion
Date: 22nd Oct 2023, Sunday
Time: 10AM-12PM
Venue: EVOLVE Far East Square in Singapore
Investment*: $150 for EVOLVE members, $200 for non-members
This special one-time seminar with 5x IBJJF World Champion Mikey "Darth Rigatoni" Musumeci is guaranteed to be SOLD OUT due to limited available slots. Grab your spot NOW!