Kickboxing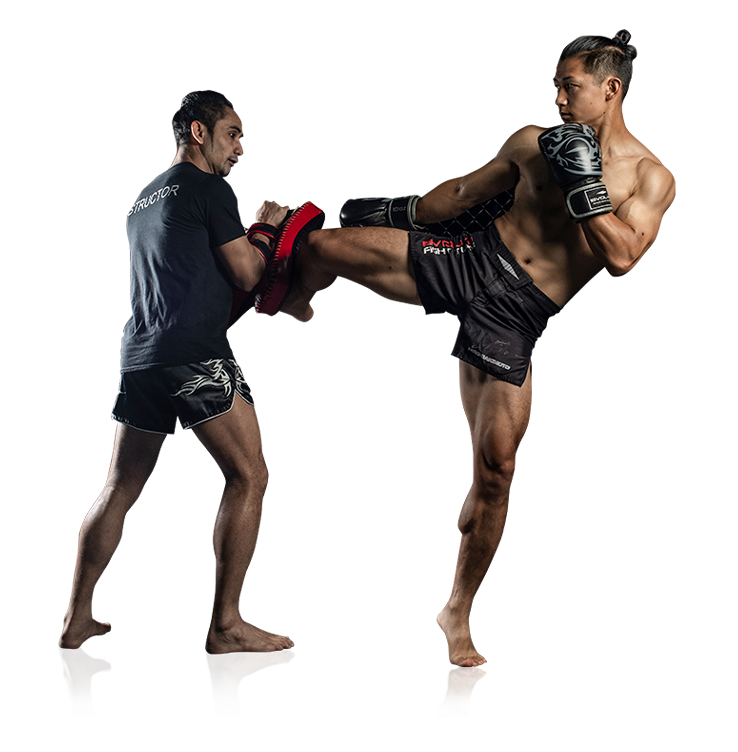 At Evolve MMA, our kickboxing program is based on the disciplines of both Muay Thai and K-1 Dutch-style kickboxing. Muay Thai is one of the oldest and most effective forms of kickboxing. While many forms of modern kickboxing are limited to punches and kicks such as K-1 Kickboxing, Muay Thai is unique in allowing punches, kicks, knees, elbows, clinch fighting, throws, and takedowns.
Muay Thai is widely considered to be the most comprehensive form of stand-up striking, and its techniques have been widely adopted internationally. In the modern sport of Mixed Martial Arts (MMA), Muay Thai kickboxing is widely practiced and trained in combination with ground fighting disciplines to make for a complete fighting style. Our Muay Thai curriculum is designed by our renowned World Champion Instructor Team and offers world-class authentic kickboxing training. It is widely considered by experts to be the best program for learning kickboxing in Singapore.

Benefits Of Kickboxing
Learn from real World Champion instructors
Attend exclusive seminars by World Champions
Learn real world self-defense
Achieve official certification for your progress
Attend unlimited classes 7 days a week
Compete in local and international competitions
Achieve peak fitness in a fun environment
Build confidence and make new friends
What Makes Kickboxing At Evolve Different
Evolve MMA has the most number of authentic Muay Thai World Champions in the world. It is also the largest Muay Thai Program globally for any gym, camp, or school, including camps in Thailand. Muay Thai legends at Evolve include Nong-O Gaiyanghadao, Dejdamrong Sor Amnuaysirichoke, Penek Sitnumnoi, Sagetdao Petpayathai, Chaowalit Jocky Gym, Nonthachai Sit O, and many other Lumpinee Muay Thai World Champions. Evolve MMA has the highest quality instructor team available anywhere in the world.  If you want to learn world class kickboxing in Singapore, then you need not look further than Evolve MMA.
Kickboxing For Beginners
At Evolve MMA, we strive to lay out a solid foundation for all students so that they can build on it. At this level, students can expect to learn and grasp the fundamentals of kickboxing – while getting into great shape, both physically and mentally.
Kickboxing For Intermediate And Advanced Students
Seasoned practitioners who wish to take their kickboxing training to the next level can do so at the intermediate and advanced level classes. Based on a carefully planned curriculum created by our World Champions, students will learn offensive and defensive techniques, which they can add on to their arsenal of kickboxing techniques.
Those who wish to elevate their game can participate in sparring sessions, which will be conducted in a fun and safe environment.
Book Your Trial Class Now!
Kickboxing Competition Team
Members of the Evolve Muay Thai Competition Team will be trained to compete in local amateur Muay Thai competitions as well as to travel to the birthplace of Muay Thai to compete at the highest professional levels in Thailand. Our ultimate goal is to see our most promising students fight at the legendary Lumpinee Stadium.
Book Your Trial Class Now!
More Information On Kickboxing
Kickboxing is a term that can be used broadly to describe all forms of stand-up combat sports or in a very specific sense to describe disciplines such as Muay Thai, K-1 Kickboxing, Dutch-style Kickboxing, Savate, Sanda, and many other regional variations of striking based martial arts.
Book Your Trial Class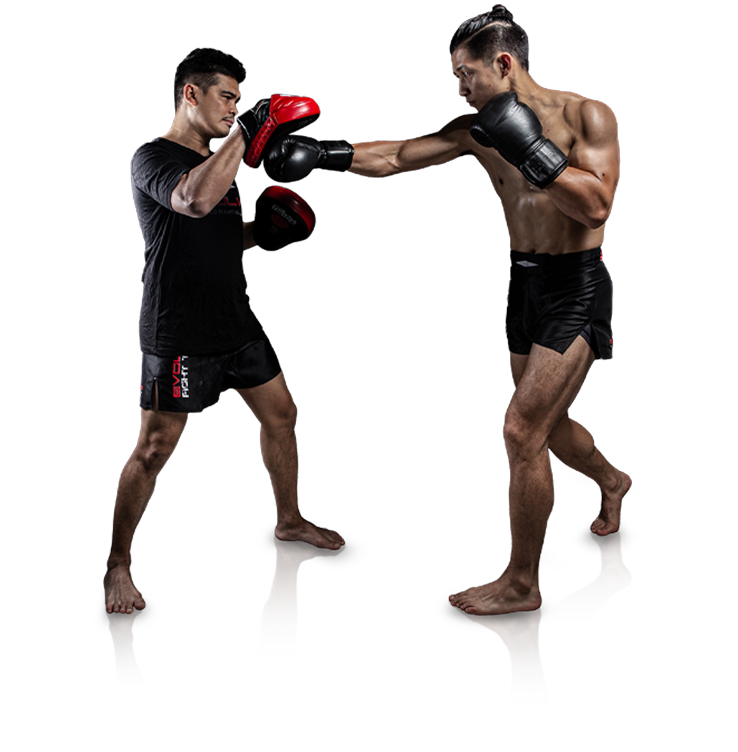 Test drive the Evolve experience with a 30 minute Complimentary Introductory Class with a World Champion! Classes are available for all ages, skill levels, and genders.
Kindly leave your contact information and we will get back to you ASAP.