Yoga for MMA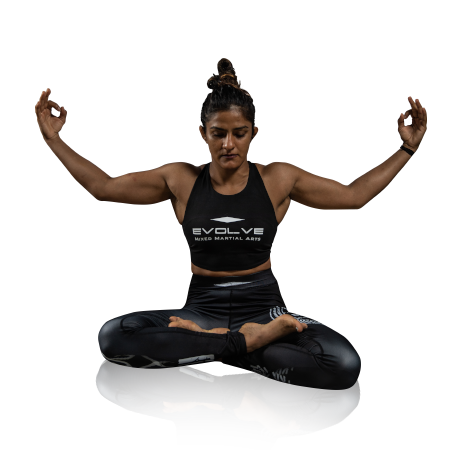 The Yoga Program at Evolve MMA is tailored specifically as a core supplement to mixed martial arts training. At Evolve, the yoga course is based on the fundamentals of Hatha Yoga with an emphasis on breathing, asanas (postures), relaxation, and meditation. It is designed to improve the cardiovascular system, enhance overall flexibility, and increase mental focus. It is also designed to reduce the risk of injury from sports through proper body alignment and flexibility.
Benefits Of Yoga for MMA
Excellent supplement to your regular training routine
Reduce overall risk of injury
Learn to relax and meditate to help with your performance
Increase your mental focus
Improve your cardiovascular system
Get rid of nagging health issues
Enhance overall flexibility and balance
Build strength and develop your core
What Makes Yoga for MMA At Evolve Different
At Evolve MMA, we want our students to reach their full potential. Whether you are an athlete or someone who is looking to achieve overall fitness, our yoga program will provide you with an excellent supplement to your regular training routine. Through the postures that we teach, we will concentrate on improving your flexibility and balance, giving you a greater range of motion and body awareness. We will also help you build strength and develop your core, which is essential in any sport.
More Information On Yoga for MMA
The word yoga, is derived from the Sanskrit word yuj (which means "to yoke" or "bind") and is often interpreted as "union" or a method of discipline. The word hatha means willful or forceful and refers to a set or sequence of physical exercises (known as asanas or postures) designed to align your skin, muscles and bones.
Hatha Yoga is an increidble tool to develop a balance of strength and balance. It also brings the practitioner's attention to their breaths, which helps to still the fluctuations of the mind, increasing focus and mental strength.
That is why Hatha Yoga is an excellent supplement for martial arts. It enables you to create a strong base to support every aspect of your training, increasing your ability to perform better and decreasing the risk of injury.
Book Your Trial Class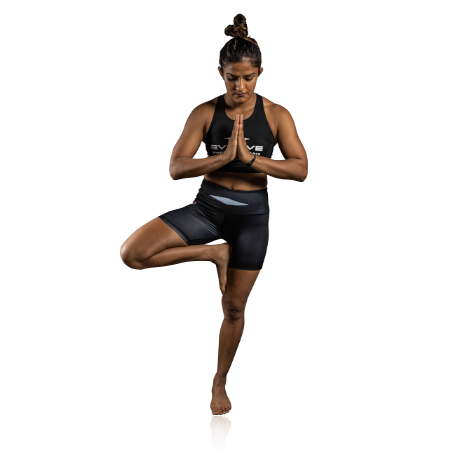 Test drive the Evolve experience with a 30 minute Complimentary Introductory Class with a World Champion! Classes are available for all ages, skill levels, and genders.
Kindly leave your contact information and we will get back to you ASAP.