Evolve MMA x Wellness Festival Singapore 2023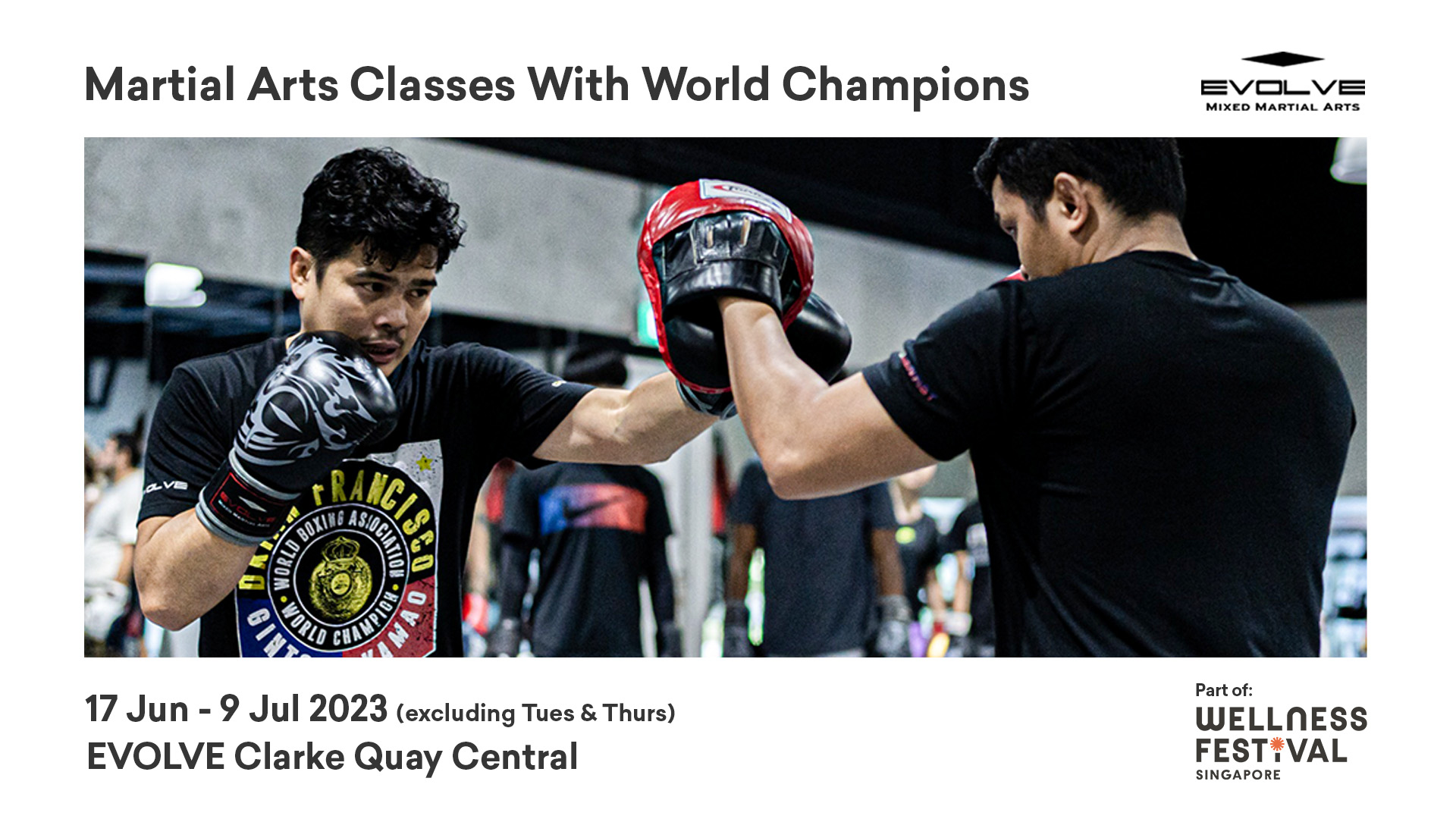 In partnership with the Singapore Tourism Board (STB) and Wellness Festival Singapore 2023, Evolve MMA is proud to present "Martial Arts Classes With World Champions"!
Pick up the basics of the world's most effective striking combat style in our beginner's Muay Thai class and grasp the fundamentals of the sweet science in our Boxing classes! Learn to control and submit your opponent through grappling in our introductory Brazilian Jiu-Jitsu and Wrestling classes.
The Evolve Instructor Team is the largest and most experienced martial arts instructor team in Asia, with over 1,000 years of accumulated world championship experience under its belt. At our beginners' classes, our Instructors ensure that you get a full-body workout while focusing on proper technique. Safety is our number one priority and our 5-star, state-of-the-art facilities ensure that you will be training to maximize your potential. Our beginners' classes have no prerequisites and are open to everyone of every fitness level. Whether you are looking to kickstart your fitness journey or are a seasoned athlete, our martial arts classes will be your first step toward unleashing your greatness. Sign up now!
Date: 
17 Jun – 9 Jul (excluding Tues and Thurs)
Venue: 
Sessions:
Mon: 10:15 am (Muay Thai), 1:45 pm (BJJ), 2:00 pm (Muay Thai)
Wed: 10:15 am (Muay Thai), 1:45 pm (BJJ)
Fri: 10:15 am (Muay Thai), 1:45 pm (Submission Grappling), 2:00 pm (Muay Thai)
Sat: 6:15 pm (Boxing), 7:00 pm (Wrestling), 8:00 pm (BJJ)
Sun: 7:00 pm (BJJ), 8:00 pm (BJJ), 8:15 pm (Muay Thai)
Investment:
$55.50 per session
Terms and conditions:
1) Valid for first-time customers only
2) Valid for select classes only