This Friday night, 19-year-old Christian "The Warrior" Lee from the Evolve Fight Team has the chance to become the youngest world champion in mixed martial arts history, if he can get past reigning ONE Featherweight World Champion Martin Nguyen of Sydney, Australia. The two fighters lock horns in the co-main event of ONE: Unstoppable Dreams, set for 18 May at the Singapore Indoor Stadium.
For the young featherweight standout, winning the title is more important than avenging his only loss, which incidentally has come at the hands of Nguyen himself.
"For me, it is the world title, without a doubt. It is going to be really sweet redeeming my one loss to Martin, but it is going to be even sweeter to win that world title," said Lee.
"So if I had to choose one that means more to me, the belt is definitely more important."
But going up against Nguyen will be a stern challenge. Nguyen is the current featherweight and lightweight champion, a rare two-division simultaneous titleholder. He also owns a victory over Lee when the two met for the first time back in 2016. At the time, the more experienced Nguyen put Lee to sleep care of a modified guillotine choke.
Fortunately, Lee says he has learned so much in that one loss in his career. This time, Lee stresses that he will not be playing it safe against Nguyen, and will be looking to end matters early.
"I am going to figure out how to finish him. That is what is going to happen. I know my time will come," said Lee. "I don't really care too much about the spotlight or the fame. I just love to compete. I am just going in there loving what I do."
If Lee can defeat Nguyen, he will become the youngest male mixed martial arts champion in history, joining the record set by his very own sister, "Unstoppable" Angela Lee who is the youngest female champion in history. Furthermore, the siblings become the first ever brother-sister MMA world champions.
Before he steps into the ONE Championship cage this Friday night for the fight of his life, let's take a look at how he has fast become a beacon of light for the next generation of martial arts superstars. Today, Evolve Daily shares five reasons why Christian Lee represents the future of mixed martial arts.
1) He has a unique, fan-friendly style
He's explosive, aggressive, and unrelenting. That's the style showcased by Lee in 10 professional fights. Even in the lone blemish on his otherwise pristine record, Lee was formidable in defeat, fighting to the very end despite getting finished by Nguyen.
When Lee has an opponent hurt, he goes after them hard and doesn't offer any quarter. Within the cold steel confines of the cage, Lee transforms into a fearsome knockout puncher, and a wily grappler, capable of submitting opponents with a variety of techniques.
From the sound of the opening bell, fans can only expect Lee to go full throttle, every minute of every round. It's truly a sight to behold.
2) At just 19-years of age, his best years are still ahead of him
Most critics point to Lee's inexperience and age as being his greatest weakness, but according to mixed martial arts analysts, Lee's youth actually serves as a huge advantage for the Singaporean featherweight.
Furthermore, Lee believes that age is nothing but a number and that martial arts competition all boils down to how good you are, not how old you are.
"It is not a factor of age, it is a factor of skill," said Lee. "If I am able to achieve the same level of skill that it took someone 30 years to accomplish, then that is fine. Your ability is based on how fast you learn and grow. It is not a matter of age."
Lee has shown tremendous poise at just 19-years of age, and he has the chance to showcase his maturity this Friday night against his toughest opponent yet.
3) All his victories have come by exciting finish
Despite his young age, Lee has shown the maturity of a seasoned veteran. With a record of 9 wins with only 1 loss, Lee has shot through the ranks with his relentless pursuit of highlight-reel finishes. His fan-friendly style has produced a plethora of memorable moments.
All 9 of his victories have come either by submission or by knockout, giving him a 100% finish rate and a ONE Championship record of 9 finishes, the most in the promotion's history, through all weight classes.
That is a remarkable feat no matter which way you look at it. In this game, fans and observers alike can appreciate a guy who doesn't wait until the last minute to put on a show. Lee constantly seeks the highlight-reel finish at every opening, like a true action star.
4) He never quits
In his loss to Nguyen in 2016, Lee showcased a level of toughness not usually seen in fighters his age. After Nguyen locked in the fight-ending submission, Lee refused to surrender, and as a result, got put to sleep.
This is the sort of dedication and never-quit attitude that makes superstars. Lee has that intrinsic, champion mentality that refuses to be defeated. And it's what will guide him to immense success later on in his career.
"There are moments where I definitely feel the pressure. I am only 19 years old," Lee revealed. "But at the end of the day, I am confident in my abilities, and I am confident in my training. I know this is my time. I know this is my time to win the title, and nothing is going to stop me."
5) He has a tremendous support system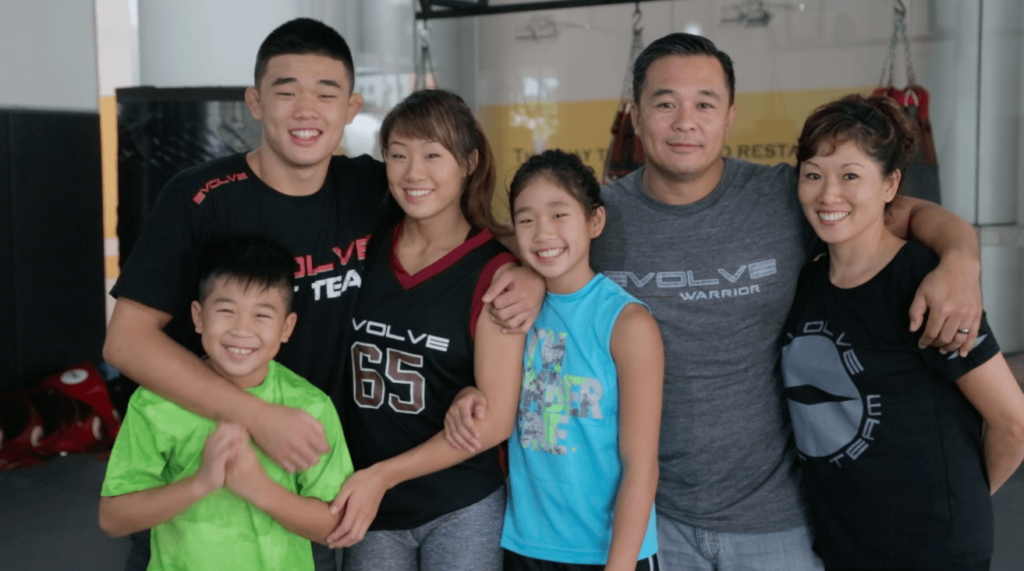 Behind Lee's incredible success at a young age is, of course, his tremendous support system. He comes from a family of martial artists, with his father Ken serving as his head coach and mentor, while his mother Jewelz, also a highly-decorated martial artist, offers words of wisdom and experience.
Angela, of course, is already arguably ONE Championship's biggest star. Her fiance Bruno Pucci is a Brazilian Jiu-Jitsu World Champion. His two younger siblings are already poised to follow in their footsteps.
Together, the Lee family live, breathe, and eat martial arts, and rely on one another for support and skill development.
"I give major props to my dad because he will not only be there emotionally supporting us as a father, but [also] as a coach. I feel like the most stress will lay on him on fight night," said Lee giving credit to his father.
"Me and Angela are training our butts off together right now, and I know it is going to be a good night."
This Friday night, Lee returns to action. Don't miss the return of "The Warrior" Christian Lee at ONE: Unstoppable Dreams! Catch the action live at the Singapore Indoor Stadium, or download the recently launched ONE Super App on Android and iOS.