After a spectacular performance in his ONE Super Series debut last January, Kyokushin Karate World Champion Hiroki Akimoto from the Evolve Fight Team promises to deliver yet another scintillating performance when he returns to action in his home country of Japan this 31 March at ONE: A New Era.
The 26-year-old WFKO Karate World Champion announced his arrival on the biggest global stage of martial arts competition when he thoroughly defeated Australia's Josh Tonna earlier this year.
Now, competing at the iconic Ryogoku Sumo Hall deep in the heart of Tokyo, Akimoto wants to put on another exciting show in front of his own countrymen.
"I am excited to be able to compete in front of the Japanese fans in Tokyo," said Akimoto.
"I always can't wait to get into the cage to compete, but this is even more special. I want to show everyone my improved game."
Standing across the ring from the Japanese striking ace will be Italy's Joseph "The Hurricane" Lasiri, who is known for his aggressive come-forward style.
Lasiri, a former WBC Muay Thai Super Bantamweight World Champion, was one of the very first martial artists to join ONE Super Series when the promotion launched its striking-only league in early 2018.
While Akimoto is equipped with the skills and tools necessary to take on any style at the highest level, the Evolve representative is quick to point out the specific risks he faces against Lasiri.
"Lasiri is aggressive and relentless. He's always moving forward and doesn't give up easily. That's what makes him a dangerous opponent," Akimoto added.
Nevertheless, Akimoto will himself be looking for a finish if the opportunity presents itself. However, against an opponent the caliber of Lasiri, the Japanese stalwart will most likely need to tread carefully while creating openings to unleash his offense.
The two kickboxers feature incredibly explosive skill sets, and it won't be a surprise if this bout fails to go the distance.
As Akimoto showcased in his most recent outing, he isn't the type to shy away from a good scrap and is more than willing to dive headfirst into a heated exchange if only to excite the crowd.
"It isn't easy to knock out a top-level opponent. I always go for the knockout though as it's the most definitive way to win. Against Lasiri, it will be the same," said Akimoto.
"I'll do my best to go for the knockout and put on a show for the fans."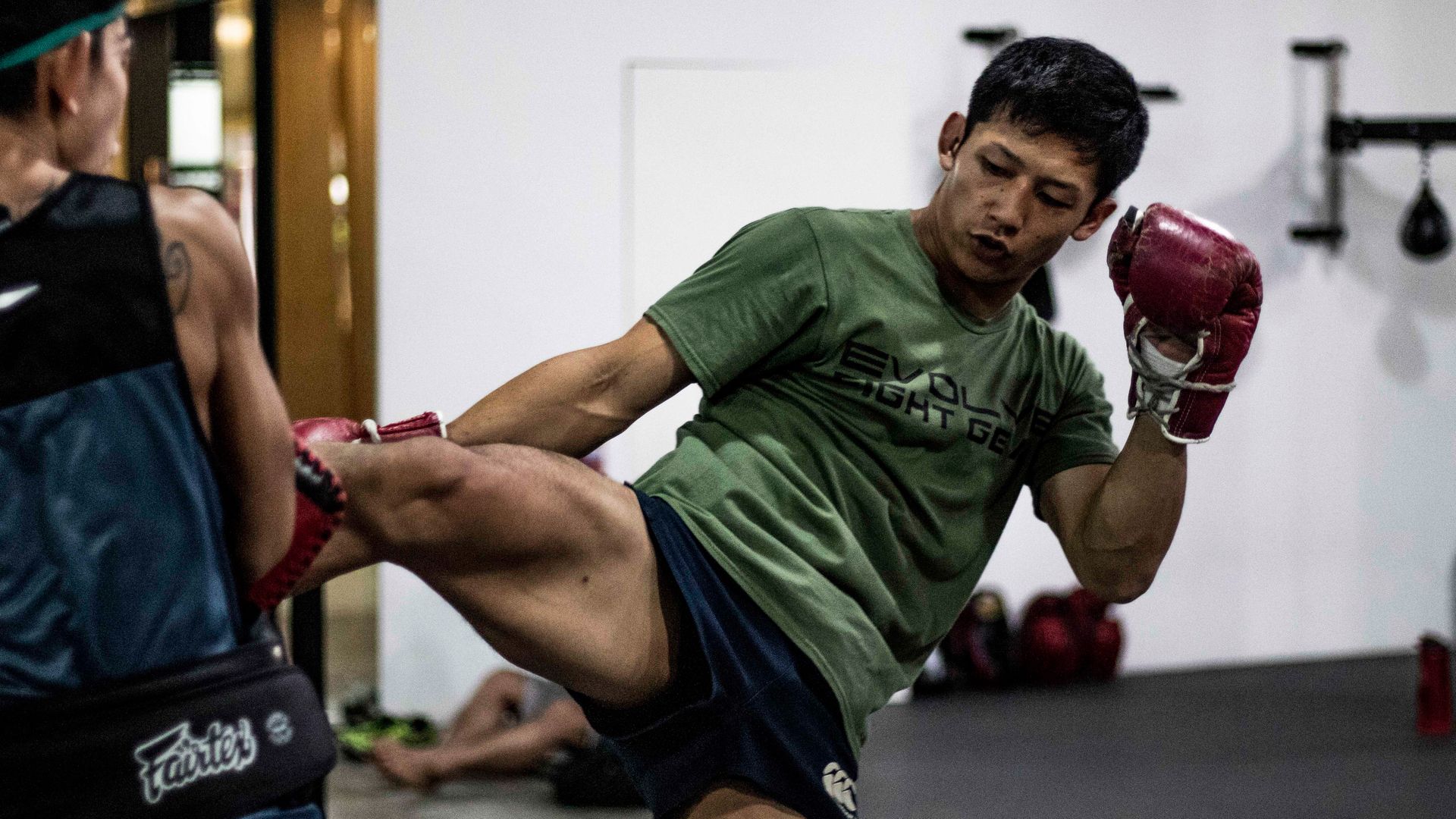 A win for Akimoto in what is hands down the biggest card in ONE Championship history will no doubt send shockwaves throughout the competition.
It will also catapult Akimoto's stock to the skies, as an emphatic victory will no doubt bring him closer to what he craves the most — a shot at the ONE World Title.
Honing his skills under the team of Muay Thai World Champions at Evolve MMA in Singapore, Akimoto is sharpening the tools he will bring into battle. With less than a week to go until fight night, he is completely fixated on the biggest bout of his career thus far.
"I love martial arts and am very lucky to be able to pursue my dream to win a ONE Championship World Title, that's my ultimate goal," Akimoto concluded.
"I enjoy everything about being a professional martial artist, from training to competing. I've been training and working hard with my World Champion teammates at Evolve MMA and can't wait to show off what I've learned. My motivation comes from my wanting to always improve and become a long-term World Champion."
ONE: A New Era also features Akimoto's Evolve Fight Team colleagues, including "Unstoppable" Angela Lee who challenges China's Xiong Jing Nan for the ONE Women's Strawweight World Title, Garry "The Lion Killer" Tonon who takes on Dutch-Indonesian featherweight Anthony Engelen, and 12-time UFC Flyweight Champion Demetrious "Mighty Mouse" Johnson who makes his ONE Championship debut against Japan's Yuya Wakamatsu.
In the main event of the evening, the legendary Shinya "Tobikan Judan" Aoki takes on the Philippines' Eduard Folayang for the coveted ONE Lightweight World Title.