In the world of Brazilian Jiu-Jitsu, few names have risen as quickly and impressively as Mikey Musumeci. Known affectionately as "Darth Rigatoni" in BJJ circles, Musumeci has made a name for himself through his technical prowess, innovative techniques, and passion for the sport. This article will delve into the life and career of Mikey Musumeci, exploring the genius behind the man who has become a modern legend in BJJ.
Early Life And Introduction To BJJ
Born on June 7, 1996, in Marlboro, New Jersey, Mikey Musumeci was introduced to martial arts at a young age. His parents enrolled him and his sister, Tammi, with coach Fernando "Cabeça" at Fatijo's Martial Arts Academy. This was the start of their Jiu-Jitsu journey, and from a young age, Mikey and Tammi showed a lot of promise.
At age 10, Mikey and the Musumeci family moved to Florida; from there, they tried various gyms. This is also where Mikey got introduced to Rafael and Guilherme Mendes of the famed Art of Jiu-Jitsu academy. For the uninitiated, the Mendes brothers are by far one of the most dominant brothers in the history of Jiu-Jitsu, with both winning multiple world championships. Even today, The AOJ team is a hotbed of talent across all belt levels, from juniors to black belt competitors.
Mikey started competing, and it was pretty clear he had all the talent you could possibly ask for, winning IBJJF world championships in the coloured belt levels. His exposure to competition at a young age helped shape Musumeci's competitive spirit and instilled in him a deep love for the sport.
The Journey To Black Belt
Musumeci's journey to the black belt was a testament to his dedication and love for BJJ. He trained tirelessly, often spending hours on the mat honing his techniques and strategies. His hard work paid off in 2015 when, at the age of 18, he was awarded his black belt by Gilbert "Durinho" Burns, becoming one of the youngest Americans to achieve this feat.
Achieving the rank of black belt is a significant milestone in any BJJ practitioner's journey, but for Mikey, it was just the beginning. He continued to train and compete, pushing his limits and constantly seeking to improve his skills.
Competitive Career
Mikey Musumeci's career in competition is nothing short of spectacular. Despite regularly facing adversaries much older and bigger than him, he has taken part in countless esteemed tournaments, often overcoming these formidable challenges. His skill and tenacity have shone through each time, earning him a plethora of titles and accolades.
In a significant turn of events in 2022, Musumeci made the move of signing with ONE Championship, shaking up his routine and moving his training base to Evolve MMA in Singapore and joining the acclaimed Evolve Fight Team.
Notably, as of the time of this writing, Musumeci is a five-time IBJJF black belt World Champion and currently holds the prestigious title of the ONE Flyweight Submission Grappling World Champion.
On top of the accolades mentioned above, he is also a two-time IBJJF Pan American Champion, IBJJF European Champion, and AJP Abu Dhabi World Pro Champion. These achievements are a testament to Musumeci's technical mastery, strategic thinking, and relentless determination.
In this recent video, Mikey shared the ring with ONE Strawweight MMA World Champion Jarred Brooks. As expected, it was a banger of a match and was an absolute treat to watch.
Techniques And Strategies
What sets Mikey apart from many other BJJ athletes is his creative approach to the sport. He is known for his technical wizardry and ability to create and adapt techniques to suit his game. His amazing berimbolo game, and development of leg lock techniques (known as the "Mikey Lock") have revolutionised the sport and inspired a new generation of BJJ practitioners.
Musumeci's approach to BJJ shows his deep understanding of the sport's principles and mechanics. He is not just a competitor; he is a student of the game, constantly learning, evolving, and pushing the boundaries of what is possible. His innovative approach to BJJ has not only earned him numerous titles but has also contributed to the evolution of the sport.
Teaching And Legacy
In addition to his competitive career, Musumeci is also a dedicated teacher. He is passionate about sharing his knowledge and love for BJJ with others, and he regularly conducts seminars and workshops around the world. His teaching style reflects his way of practicing BJJ, focusing on technical details, typical pathways and developing a deep understanding of the sport's principles.
Musumeci's impact on BJJ extends beyond his achievements on the mat. His dedication to the sport, coupled with his world-class skills and love for teaching, have left an indelible mark on the BJJ community. He has inspired countless BJJ practitioners to push their limits, think outside the box, and pursue their passion for the sport.
The Future Of "Darth Rigatoni"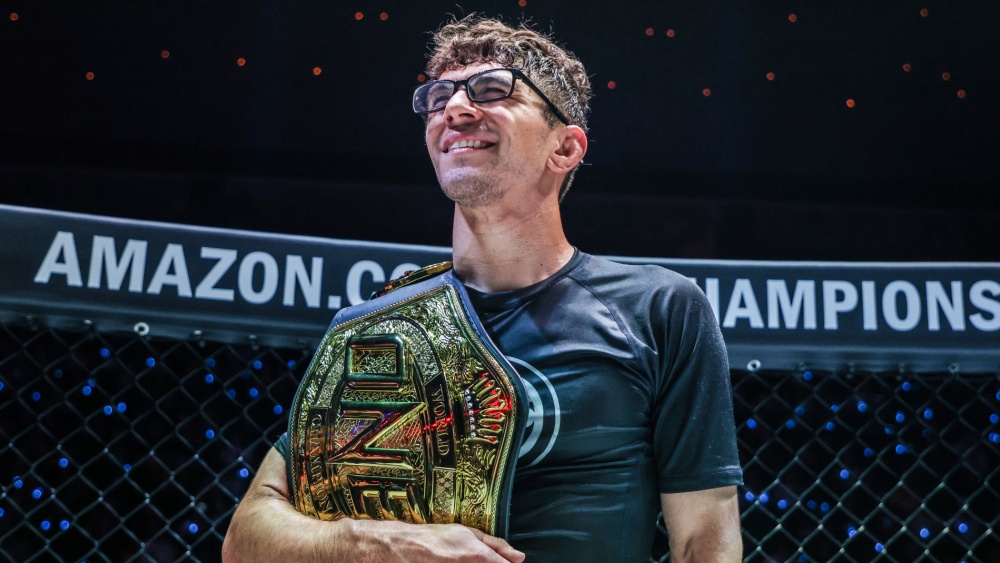 At just 27 years old, Musumeci has already achieved more than most BJJ practitioners could dream of. However, knowing his relentless determination and passion for the sport, it's clear that he is far from done. As he continues to train, compete, and teach, there's no doubt that he will continue to shape the future of BJJ.
"Darth Rigatoni", Mikey, or whatever you want to call him, one word will always define him and his legacy — champion. Musumeci's BJJ game is always beautiful to watch, and with his recent success in No-Gi grappling, it is very clear that he wants to be the best at what he does regardless of the grappling ruleset. As he continues to evolve, the BJJ community eagerly awaits to see what new innovations he will bring to the sport.
Conclusion
Mikey Musumeci's journey in BJJ is a masterclass in the power of dedication, passion, and persistence. From his days of training as a child to his impressive competitive career and his contributions as a teacher, Musumeci has proven time and again that he is a force to be reckoned with in the BJJ world.
Even today, it is safe to say that Mikey Musumeci is a bonafide Hall of Famer after all is said and done. There's no doubt that he will continue to shape the future of grappling. His passion for the sport, relentless pursuit of excellence, and willingness to share his knowledge make him a great competitor and a true ambassador for Brazilian Jiu-Jitsu fans worldwide.
You may also like:
20 Best Submission Grapplers of the Modern Era You Must Know