It's hot out there, and if you're like most people in Singapore, you want to get your workout in before the sun peaks. That's one reason why Evolve MMA Singapore has classes as early as 6.30 am at many locations. While working out in a cool, air-conditioned martial arts gym in Singapore is one way to exercise without being in the heat, sometimes you feel like lacing up your track shoes for a slow leisurely run. Active rest between fierce mixed martial arts sessions is an excellent way to let your muscles recover!
So what's one way to beat the heat and take a leisurely run? Well, if you want to get in a quick sweat without worrying about the weather, these three public sheltered running trails are just what you need!
1) Tampines Indoor Hub
The Tampines Indoor Hub is great for Easties who want an indoor running track. The running trail at level 5 is elevated, giving runners a good challenge. The track measures 1.1km and goes around the mall. Because the track is located within the Hub, it's sheltered 24/7, and you can train rain or shine from 7 am to midnight. There are also lockers that one can rent free of charge. Tampines Indoor Hub is accessible via Tampines MRT and Tampines Bus Interchange.
Apart from a running track, the Hub has plenty of other facilities if you want to try different sports. For instance, there are six swimming pools on the rooftop of the Hub. Children will love its interactive pool and wading pool. There is a 2-meter-deep indoor multipurpose pool for serious swimmers. There's also a jacuzzi pool for those who want to sit back and relax in the water. We think this is perfect for a day off from your boxing, Muay Thai, BJJ or MMA sessions! You can jog around the track before plunging into the pools.
After that, dine at the Kopitiam on the first floor or check out the various cafes and restaurants scattered around the Hub. Another option is to borrow books at the spacious Tampines Regional Library, also located at the Hub. The first floor overlooks the indoor soccer field of Tampines Hub, so you'll get an up close and personal look at the action going on there.
2) 100Plus Promenade
You can access the 100Plus Promenade by heading to the third floor of Kallang Wave Mall and following the signs to the track. It's a fully-sheltered, free-to-use space that connects all major facilities within the Singapore Sports Hub. Measuring 888 meters, it's open 24 hours daily. That means you can always head down to run whenever you want.
It's also located beside Stadium MRT, accessible via the Circle Line. Runners can appreciate panoramic views of Singapore's skyline, with the majestic Singapore Flyer and Marina Bay Sands outlined against the sky. Free lockers are available for public use in the OCBC Arena building from 7 am to 10 pm. Post-run, grab a bite at the food court or fast food restaurants in Kallang Wave Mall. Plus, there's an indoor climbing wall operated by Climb Central for those who want to try climbing or bouldering.
3) Fort Canning Park
Unlike the other two, this running trail is not an indoor track. However, the tranquil Fort Canning Park in the middle of Orchard has an easy running path with plenty of shade from the sun to get shelter. It is a beautiful park with trails that wind through the gardens and trees. Most people should complete the 1-kilometre easy hike, although some parts contain rocky terrain. The weather at the hilltop park is mostly cool and breezy.
While it's not entirely sheltered, this is a path that offers lush greenery all-round. You'll also get a gorgeous view of downtown Singapore. For the history buffs, you can jog to the various historical artifacts left in Fort Canning, such as the remnants of the old fort wall built by the British in 1861. You can also stop by on your way back at the Visitor Centre, where they have information about the history of Fort Canning Park and maps showing other interesting things nearby. Best of all, it's located just 5 minutes from Clarke Quay MRT and Clarke Quay Central, where Evolve MMA (Clarke Quay) is also situated.
How Important Is Running If You Train In Martial Arts?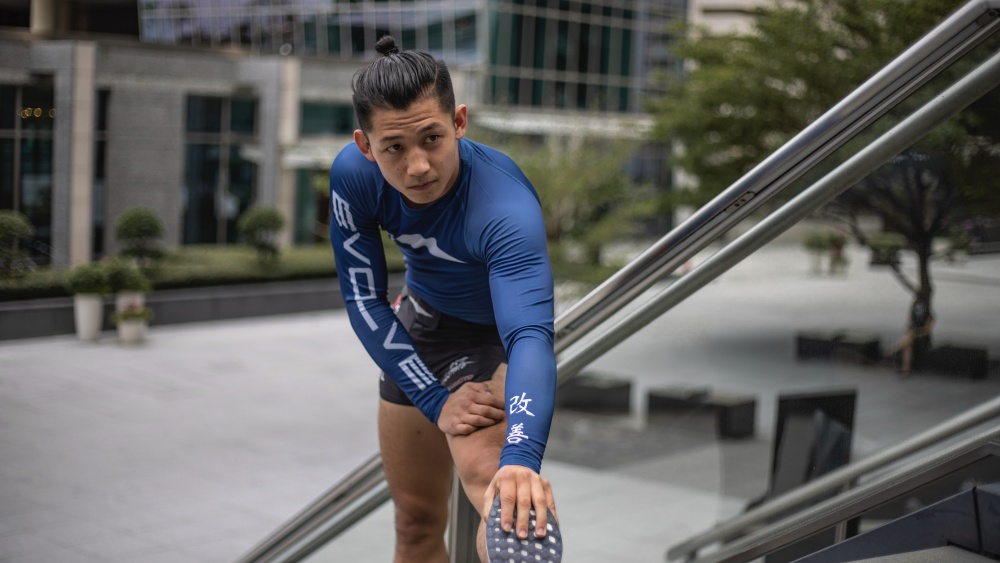 Running is a great way to get in shape for martial arts. It gives you endurance and strength and helps your body adjust to the stresses of impact and repetition. So, consider these tips before you start running if you're doing martial arts (be it Muay Thai, boxing, BJJ or MMA in Singapore).
First of all, running is excellent for your cardiovascular system. Running regularly helps your lungs work more efficiently since it strengthens and trains your heart to work harder for longer periods. It helps with your breathing as you run more and lets you take in more air. If you are training intensely, this comes in handy in those boxing, BJJ or Muay Thai sessions when you need to recover and continue!
However, running puts a lot of wear and tear on the joints in your lower body – your knees, ankles, hips, and feet. If you already have an injury or pain in these areas, it's best not to run until you've healed from it completely.
If you add running to your workout program alongside martial arts sessions, try alternating between walking or jogging for short distances at first. You should also stretch thoroughly before and after each workout session and during breaks between sets, so you do not get sore muscles (or worse!).
Join Us At Evolve MMA To Train Under Experienced Instructors
Sticking to a workout routine you do not enjoy is difficult. Runners, if you are bored with just running, try Muay Thai, boxing, Brazilian Jiu-Jitsu or MMA in Singapore! Train hard, and rest hard at one of the top martial arts gyms in Singapore. Just 30 minutes may get you hooked.
Evolve MMA has martial arts programs for complete beginners to advanced competitors who aspire to become champions. All are welcome, male or female, whether you're 6 or 60. With the highest standards of excellence, expect top-quality martial arts instruction when you train at our gyms.
Book your complimentary trial class with our World Champions below!
If you have any other questions regarding Evolve MMA and the programs we offer, you can get in touch with our membership executives at the following locations:
Evolve MMA (Far East Square)
26 China Street
Far East Square #01-01
Singapore 049568
Phone: (65) 6536 4525
Evolve MMA (Orchard Central)
181 Orchard Road
#06-01 Orchard Central
Singapore 238896
Phone: (65) 6536 4556
Evolve MMA (KINEX)
11 Tanjong Katong Road
#02-52 KINEX
Singapore 437157
Phone: (65) 6288 2293
Evolve MMA (Clarke Quay Central)
6 Eu Tong Sen Street
#04-18 Clarke Quay Central
Singapore 059817
Phone: (65) 6226 2150
Evolve MMA (Star Vista)
1 Vista Exchange Green
#02-26A The Star Vista
Singapore 138617
Phone: (65) 6539 9590