We get it. Sweating it out at your favorite boxing gym in Singapore is a lot of fun, but sometimes you want to enjoy nature at a slow pace. So whether you've been boxing, doing Muay Thai, or Brazilian Jiu-Jitsu at our studios, we recommend taking time to rest.
But rest does not mean just sleeping it off. A great idea is to take a slow walk or go hiking in Singapore's plentiful nature parks. Active recovery is often considered more beneficial than resting without movement since it can maintain blood flow and support muscle recovery. So if you've been hitting it hard at your mixed martial arts gym, it's time to try a short hike for your next active rest day.
Why Is Active Rest So Important?
Anyone who participates in sports knows that regular training is necessary for optimal performance and improvement. However, rest and recovery are also essential since you need to give the body time to repair and strengthen itself between workouts. At Evolve MMA, we think spending time in nature is a great way to work in recovery time between high-octane martial arts classes.
Our Top 3 Lesser-Known Places To Walk And Hike In Singapore
Singapore has many fantastic jungles, parks, coastal walks, and reservoirs open to the public. But it might be hard to avoid crowds, especially on the weekends. These three lesser-known hiking places may offer a respite for those trying to avoid the crowds but still want to get out and enjoy nature's gifts. While the terrain in these spots is generally flat, steep inclines and muddy grounds are still present. Do wear a pair of good shoes, and put on your sun protection as it can get really sunny. There might be insects too, so remember your insect repellent.
You might also encounter wildlife as these spots are their natural habitat. Remember not to approach them: instead, try to back away calmly and avoid the area. If you're lucky, you might also come across gentle monitor lizards, turtles, and even otters basking in the sun!
1) Labrador Park Walk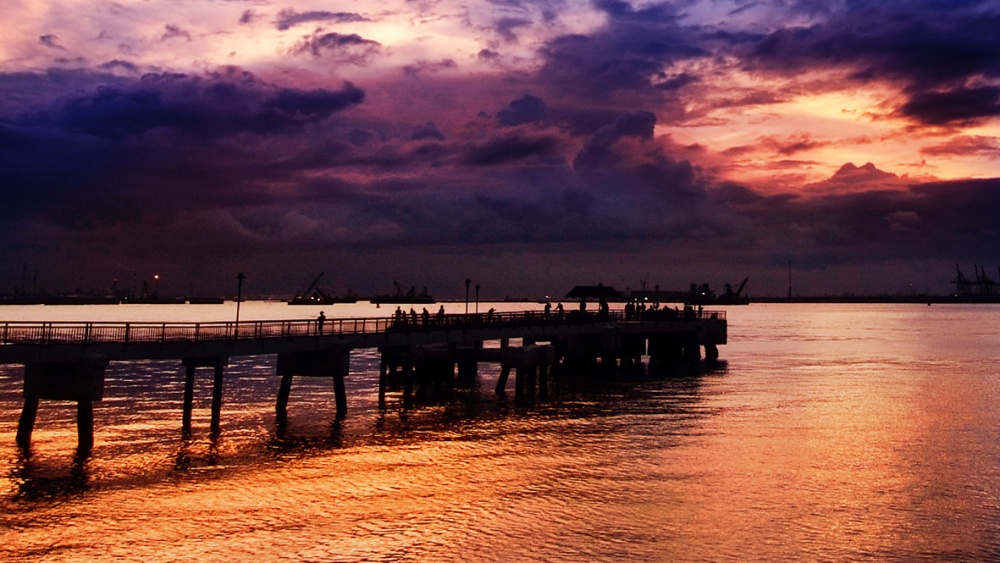 Labrador Park gives spectacular views of the coastline and sea on the edge of a secondary forest. The park is near VivoCity, so if you need to prepare snacks and drinks or head to the mall to cool down, it's easily accessible. The nearest stop is Labrador Park MRT Station for those traveling via MRT.
If you start from there, the 2.1 km trail comprises three distinct segments – Alexandra Garden Trail, Berlayer Creek mangrove trail, and Bukit Chermin Boardwalk. Follow the path to witness marshes brimming with wildlife and find the only rocky sea cliff on Singapore's main island at Bukit Chermin. If you want, you can enter the mangrove and coastal areas.
This tranquil nature spot contains 40% of Singapore's endangered and vulnerable plant species. For history buffs, you can also walk through the smaller pathways when you've reached Labrador Nature Reserve. The trails lead to historic bunkers, tunnels, a fort, machine gun posts, and artillery remains that date back to 1892. You'll spend about 45 minutes completing the entire route, but if you keep walking downhill, you can reach The Southern Ridges, which is also gorgeous.
2) Thomson Nature Park Walk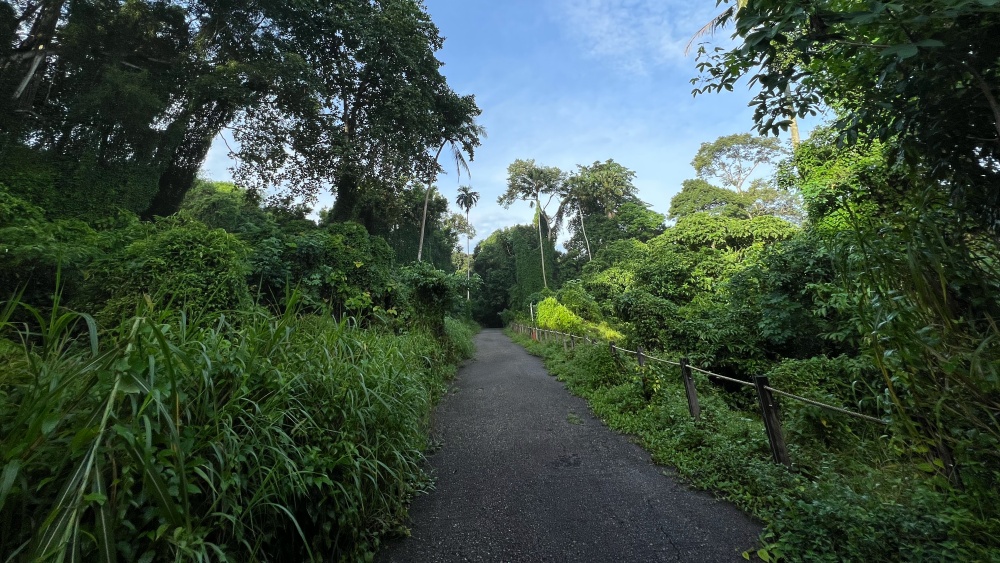 This trail is located between Old Upper Thomson Road and Upper Thomson Road. Opened in late 2019, it's relatively new and unknown for now. If you're arriving by MRT, stop at Lentor MRT and walk 2.3 km via Yio Chu Kang Road before you turn right into Upper Thomson Road. Another way is to enter via Old Upper Thomson Park Connector (enter via Macaque or Langur Trail).
This site used to be a former Hainanese village, so the park is designed to give visitors an experience of kampung life before the 1980s. There are five trails that you can take. If you like to see the remains of the Hainanese village, explore the Ruins and Figs Trails, which will lead you past building foundations, a well, and stone walls of the former village.
There's also a wide variety of floral and fauna. Take the Stream and Ferns Trail, which lets visitors appreciate the freshwater habitat in Thomson Nature Park and observe the diversity of ferns and aquatic animals.
If you are reasonably fit, this 50-hectare park will not take more than an hour to explore. But seeing that it's near the famous Casuarina Prata at Upper Thomson and a few MRT stops from Springleaf Prata, perhaps it's not a bad idea to 'balik kampung' (Malay for going home) and enjoy a well-deserved roti prata.
3) Windsor Nature Park Hike
Another hiking trail near Thomson, Windsor Nature Park Hike is larger at 75 hectares compared to the Thomson Nature Park walk. The park is also more secluded. Visitors must walk from Upper Thomson MRT station and turn into Venus Drive.
It's a Central Catchment Nature Reserve buffer park and features three hiking trails. If you prefer to walk on pavement, this trail suits you. But there are also jungle tracks for those who enjoy being fully immersed in nature.
The three trails offer a different experience. The short Hanguana Trail has rare native plants, while the Drongo Trail is a 150 meters sub-canopy walk on a raised boardwalk. Visitors can admire the understorey of the secondary forest and enjoy the cool sheltered air. If you can continue, take the left turn at the end of Drongo to conquer the MacRitchie Treetop walk.
But for the daring, take a right turn into Venus Loop, the marsh habitat of Windsor, with several freshwater streams. It's relatively isolated since it can get muddy, but it's a beautiful photo spot.
In total, it'll take you about an hour to explore Hanguana and Drongo! But if you continue, you can walk past MacRitchie Treetop Walk and to Bukit Timah. That'll take you an additional two hours.
There are many other spots in Singapore to be enveloped by nature. But if being in nature isn't your cup of tea on your rest days, we recommend these low-impact active rest activities. Active rest, particularly those that are low-impact, can help the body adapt, rebuild muscle and provide time for body tissue to repair itself.
New To Working Out And Don't Know What To Try?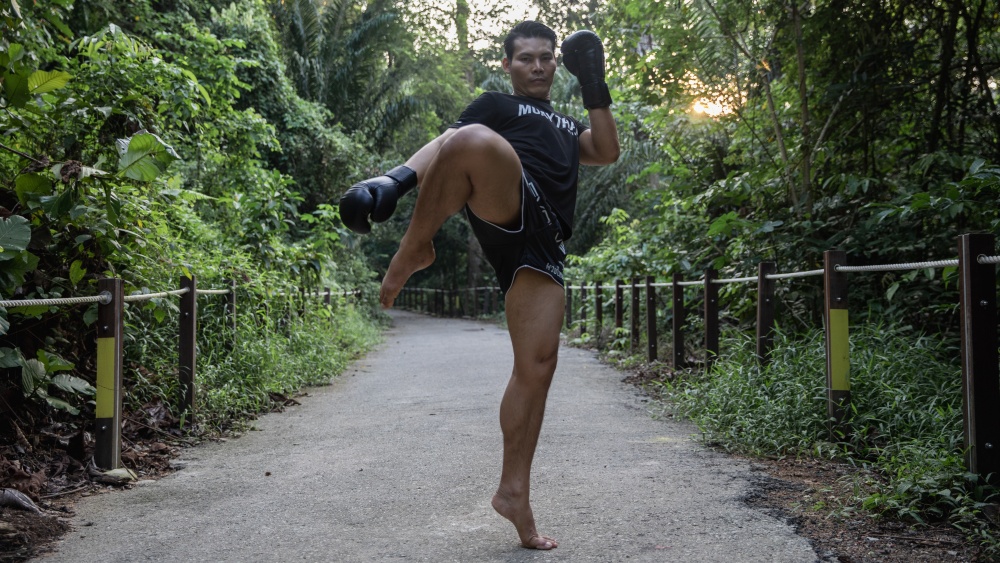 If you're looking for something that's packed with adrenaline and just downright fun, try Muay Thai, boxing, or Brazilian Jiu-Jitsu in Singapore! Martial arts does not just give you a chance to learn new skills, but you can also work out and make friends in a safe environment. Train hard, and rest hard at one of the top martial arts gyms in Singapore. Just 30 minutes may get you hooked.
Evolve MMA has martial arts programs for complete beginners to advanced competitors who aspire to become champions. All are welcome, male or female, whether you're 6 or 60. With the highest standards of excellence, expect top-quality martial arts instruction when you train at our gyms.
Book your complimentary trial class with our World Champions below!
If you have any other questions regarding Evolve MMA and the programs we offer, you can get in touch with our membership executives at the following locations:
Evolve MMA (Far East Square)
26 China Street
Far East Square #01-01
Singapore 049568
Phone: (65) 6536 4525
Evolve MMA (Orchard Central)
181 Orchard Road
#06-01 Orchard Central
Singapore 238896
Phone: (65) 6536 4556
Evolve MMA (KINEX)
11 Tanjong Katong Road
#02-52 KINEX
Singapore 437157
Phone: (65) 6288 2293
Evolve MMA (Clarke Quay Central)
6 Eu Tong Sen Street
#04-18 Clarke Quay Central
Singapore 059817
Phone: (65) 6226 2150
Evolve MMA (Star Vista)
1 Vista Exchange Green
#02-26A The Star Vista
Singapore 138617
Phone: (65) 6539 9590