Did you know that cross-training helps martial arts practitioners work out more efficiently? Cross-training involves mixing other sports activities that increase your fitness levels between your boxing, Muay Thai, BJJ, or mixed martial arts sessions in Singapore. To cross-train, one sport you can try is cycling.
Cycling is both an excellent way to cross-train and a great way to explore a new place. Singapore is so compact, you can easily bike from one end to another in just a few hours. In addition, there are plenty of park connectors and scenic routes. It's also an affordable sport since all you need to do is rent a bicycle! In this article, we've put together our five favorite cycling routes in Singapore!
Here are five routes that are easy enough for beginners but still offer plenty of opportunities for exploration:
1) Eastern Coastal Park Connector Network (ECPCN) Cycling Trail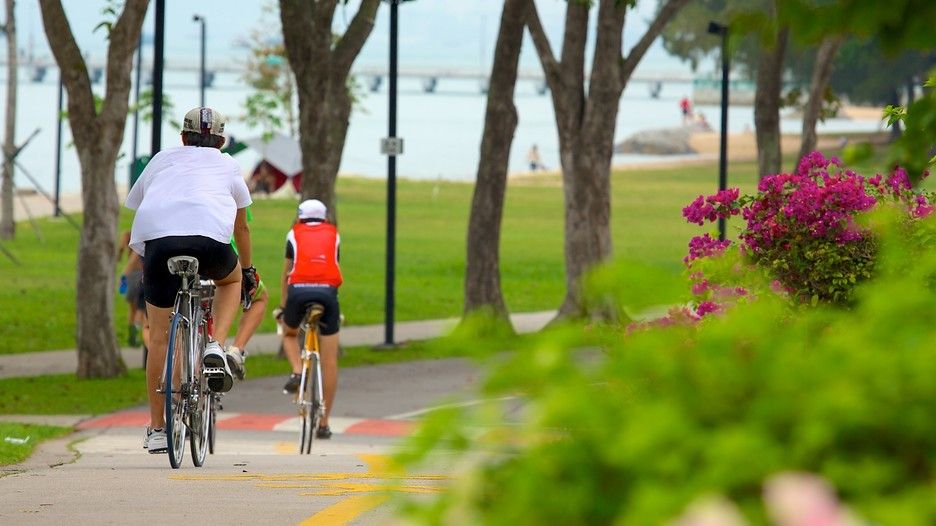 Whether you're a seasoned cyclist or just looking for a way to see the sights, the ECPCN cycling trail is the perfect way to tour Singapore's most popular beach parks.
The 42 km extended park connector network links up seven hot spots for cyclists and rollerbladers, including East Coast Park, Changi Beach Park, and Pasir Ris Park. It also makes for a perfect running route for those who want to make their workout more interesting with some scenic views.
The ECPCN is well-shaded and offers easy access to car parking facilities and toilets along its route. In addition, you can rent bikes from one of seven pit stops along the way if you don't have your own sports bike; alternatively, drop off your bike at any of the other pit stops without having to backtrack if you choose this option.
If you plan on taking public transport rather than driving yourself, there are plenty of MRT stations near most of these parks with PCN pitstops (Telok Kurau Park, Sun Plaza Park, and Pasir Ris Town Park).
2) Jurassic Mile
Jurassic Mile is a fairly new cycling/walking path that opened in October 2020. But it has a lot more to offer than just a relaxing ride. It is part of the Changi Airport Connector, a 3.5 km stretch that begins at Changi Airport Terminal 4 and ends at Tanah Merah Coastal Road.
The Jurassic Mile is Singapore's newest and most extensive permanent outdoor display of life-sized dinosaurs. The exhibition consists of over 20 different prehistoric creatures from nine species stretching over 1 kilometer of cycling and jogging paths.
At the Changi Jurassic Mile, children and adults alike will be wowed by the realistic dinosaur exhibits, such as the towering Tyrannosaurus Rex and colorful dinosaur eggs. Best of all, it's open 24 hours, which is great for night owls who enjoy night cycling to enjoy the breeze and solitude.
If you get there by car, drop off at the Terminal 4 Arrival Pick-Up point. You can also park at Car Park 4A. Signs are available to guide the way to Jurassic Mile. You can rent bicycles from the pit stop opposite the Hub & Spoke Car Park. For those who are taking a public bus, stop at the Terminal 4 bus stop, then follow the directions to Jurassic Mile. You can also alight at Changi Airport MRT Station and follow signs towards Terminal 2, then to the trail.
3) Marina Bay Loop
For cyclists who want to enjoy the view of the city as the sun sets, consider Marina Bay! The 11-kilometer track starts at Marina Bay Sands and crosses the Helix Bridge. After that, you can cycle towards the Esplanade and Merlion. It's a nice, easy ride for those who want to unwind after tough boxing, Muay Thai, or Brazilian Jiu-Jitsu sessions in Singapore.
Another option is to detour and stop by the Gardens by The Bay and leave your bicycle parked outside. Unfortunately, the Gardens does not allow cycling, but it's a quick pit stop to refill your water bottle while enjoying the stunning Supertrees.
You can extend this route into a double loop by heading in the opposite direction and further down to Marina Barrage. This path is an excellent option for those who are new to Singapore. The track brings you around Marina Bay and Singapore Flyer and takes three hours to complete. Here is a detailed map of how to travel around Marina Bay Loop.
4) Mandai Loop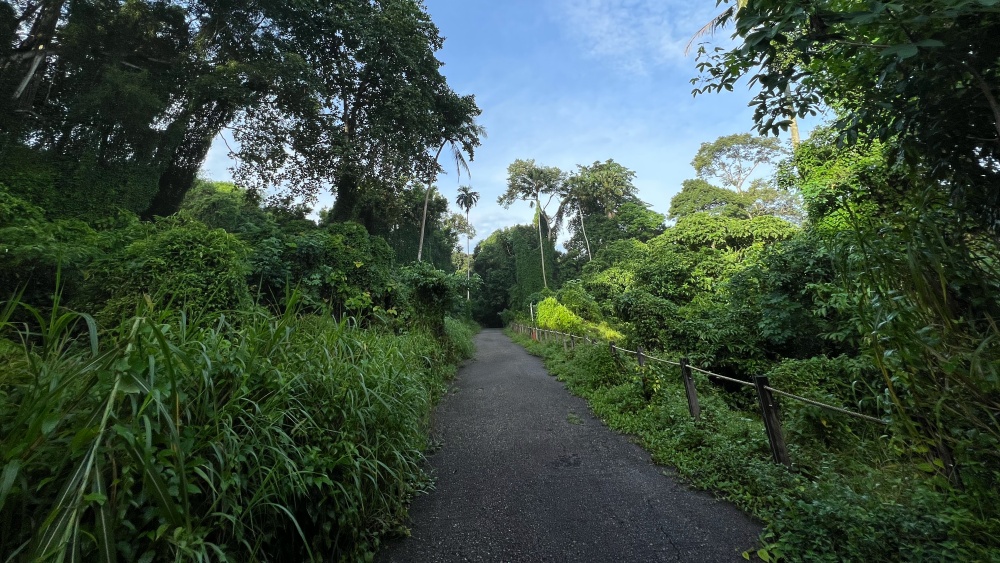 Mandai Loop presents a slightly tougher challenge. Mixed martial arts practitioners can consider this route if they are keen to improve their fitness so they can power through their sessions at mixed martial arts gyms in Singapore. Located right in the heart of Singapore, the 35 kilometers route will take you through some steep slopes around the Central Catchment Area. You will also go past some of Singapore's most beautiful green spaces, such as Thompson Nature Park, Dairy Farm Nature Park, and MacRitchie Reservoir.
This route is a three-hour ride that you can start from the Shell petrol kiosk along Upper Thomson Road. Or you can park at the MacRitchie reservoir entrance, which provides ample parking for those who live far away and intend to drive to the starting point. It's a scenic route around the island but relatively challenging, so night routes are unsuitable since it can get dark in certain areas. Save this route on Google Maps for your next active rest day!
5) Pulau Ubin
When you need a rest from your martial arts sessions, it's time to head to Pulau Ubin. It's a nine-hour cycling track around the 10 km island, so you might be at the island for most of the day. You'll first board the ferry from Changi Point Ferry Terminal to get to the island, and once there, you can rent a bicycle at one of the many bike rental shops.
The Ketam Mountain Bike Park is where most cyclists will head first. The western route takes you past Pekan Quarry, the famous Ah Ma Drinks Stall, Puaka Hill, and Ketam Mountain Bike Park.
A 45-ha park built by the National Parks Board for leisure and professional cyclists, the path skirts around the Ketam Quarry, a relandscaped mountain bike park. With over 2,000 native shrubs and trees, the place attracts a rich biodiversity of birds, butterflies, and dragonflies. If you're looking for a place to immerse in nature, Ketam Quarry is a great option.
The steep inclines of Ketam Mountain Bike Park enthrall many adrenaline fans who head there to speed downhill. But apart from that, there are several scenic routes you can take. For instance, if you go east on the island, you will reach Chek Jawa. Spanning an estimated 100 hectares in area, Chek Jawa Wetlands is one of Singapore's richest ecosystems. This wetland treasure might be one of the few places left where you can enjoy an unspoiled version of Singapore in all its natural glory.
Cycling As Part Of Active Rest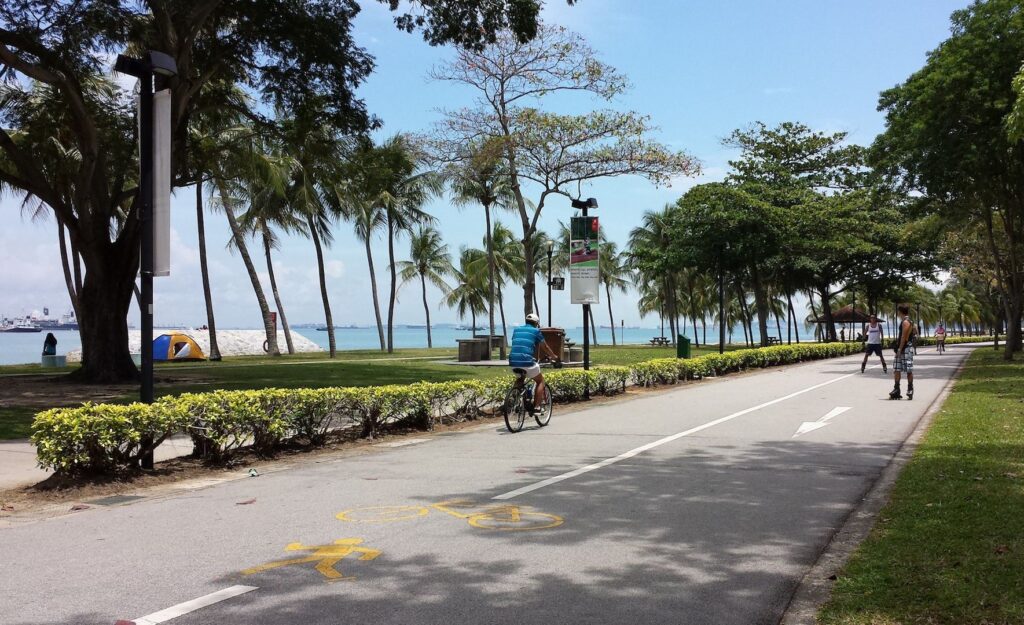 Besides cross-training to improve your fitness, it's also important to rest your muscles! But rest does not mean a complete stop – active rest is more advantageous. Regular training is necessary if you want to maximize your boxing, Muay Thai, or BJJ training sessions in Singapore. With rest and recovery, your body will not experience extreme fatigue, and you will be able to recover in time for your next session. Over time, overtraining may lead to burnout, and your gains will plateau. That is why we always encourage our students at Evolve MMA to schedule time for active rest.
Active rest, when an athlete takes up a lower-impact exercise, can help the body adapt, replenish muscle and provide time for body tissue to repair. If cycling is not something you enjoy, check out our Evolve MMA blog for more low-impact active rest activities that you can try.
But If You're New To Working Out And Don't Know What To Try…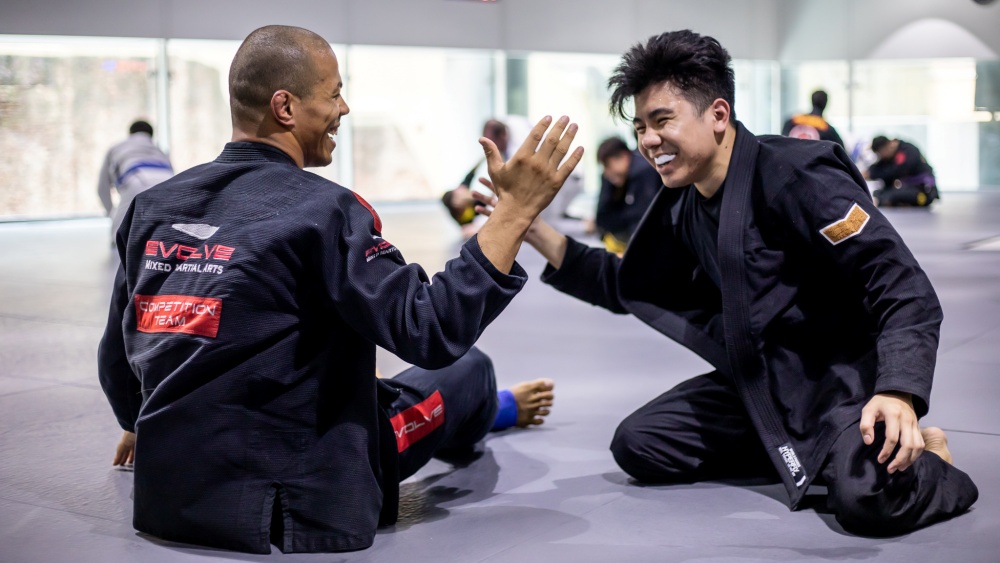 You have to find a workout you enjoy to get started. Try Muay Thai, boxing, or Brazilian Jiu-Jitsu in Singapore! Martial arts do not just give you a chance to learn new skills, but you can also work out and make friends in a safe environment. Train hard, and rest hard at one of the top martial arts gyms in Singapore. Just 30 minutes may get you hooked.
Evolve MMA has martial arts programs for complete beginners to advanced competitors who aspire to become champions. All are welcome, male or female, whether you're 6 or 60. With the highest standards of excellence, expect top-quality martial arts instruction when you train at our gyms.
Book your complimentary trial class with our World Champions below!
If you have any other questions regarding Evolve MMA and the programs we offer, you can get in touch with our membership executives at the following locations:
Evolve MMA (Far East Square)
26 China Street
Far East Square #01-01
Singapore 049568
Phone: (65) 6536 4525
Evolve MMA (Orchard Central)
181 Orchard Road
#06-01 Orchard Central
Singapore 238896
Phone: (65) 6536 4556
Evolve MMA (KINEX)
11 Tanjong Katong Road
#02-52 KINEX
Singapore 437157
Phone: (65) 6288 2293
Evolve MMA (Clarke Quay Central)
6 Eu Tong Sen Street
#04-18 Clarke Quay Central
Singapore 059817
Phone: (65) 6226 2150
Evolve MMA (Star Vista)
1 Vista Exchange Green
#02-26A The Star Vista
Singapore 138617
Phone: (65) 6539 9590