Singapore is one of the world's hidden gems for people looking to train Muay Thai. You've probably heard people talking about moving to Thailand to train Muay Thai if you eat, breathe, and sleep the art of eight limbs, and you might even have plans to make the move for yourself someday.
However, you should seriously consider Singapore before deciding since it also gives you access to world-class Muay Thai training, while allowing you to enjoy first-world comforts you might not find in Thailand. Wondering what the top reasons to train Muay Thai in Singapore are? Let's jump right into our list:
1) High Quality Of Living
Singapore is the perfect place for anyone who wants high-level Muay Thai training you can't get in the West but isn't willing to go down in their standard of living. Singapore has consistently been ranked as one of the best places to live for decades.
To give you a clear perspective, Singapore has a higher quality of living (according to the Mercer Quality of Life rankings) than cities like San Francisco, Boston, Calgary, Paris, and Milan. That means that most people's standard of living goes up when they move to Singapore, even if they're moving from first-world countries.
Thailand is an equally beautiful country with a rich culture, but it's nowhere as developed as Singapore. The city of Bangkok has the highest standard of living in Thailand, but it is over 100 spots below Singapore on the Mercer Quality of Life rankings. Examples of similarly ranked cities include Kuwait, Mexico City, and Bogota. That might be too much of a change for some people who are used to first-world standards.
2) Rich Muay Thai Culture
Singapore might not be Muay Thai's birthplace, but the sport has grown tremendously in recent years. Leading the pack is the #1 and top Muay Thai gym in Singapore, Evolve MMA, which has Muay Thai legends like Penaek Sitnumnoi, Kaoklai Kaennorsing, Sagetdao Petpayathai, Kiewpayak Jitmuangnon, Aikpracha Meenayothin and more, working with students.
There are also lots of local tournaments to compete at while you work your way up the ranks and top promotions like ONE Championship when you're ready to test your skills against the best. You'll also get all the competition you want as you train since it's common in Singapore for local gyms to hold inter-gym tournaments that allow you to test yourself against unfamiliar faces.
Singapore does not lack the same high-level Muay Thai training many people move to Thailand for, and many opportunities for professional fighters.
3) World Class Healthcare System
Here's another area Singapore does a better job at than most countries. Singapore was ranked the twelfth best healthcare system in the world in 2022 by the World Health Organization and provides affordable care to all residents. Inpatient medical procedures are covered by a program called Medisave, and healthcare providers are forced to compete for outpatient services, making prices affordable.
This means you can train Muay Thai in Singapore without having to worry about bankrupting yourself with healthcare costs. You also get a first-world standard of care to keep your body in tip-top condition as you train. The average person in Singapore lives 84.8 years, and the efficient healthcare system is a huge factor.
4) Low Crime Rates
Sure, the average Muay Thai fighter is more than capable of defending themselves in self-defense situations, but it's still nice to know that the odds of you being victimized by predators are extremely low in Singapore.
As of 2015, Singapore had the eighth lowest crime rate worldwide. That's mainly due to the prioritization of good morals and the no-nonsense approach to dealing with criminals. Violent crimes, corruption, and drug offenses are punished to the fullest extent, sending a clear message to criminals that such behavior won't be tolerated. Very few countries compare to Singapore regarding how well the government discourages crime.
To give you a clear perspective, 0.17 people per 100k people in Singapore were targeted by criminals in 2020, compared to 6.52 (per 100k people) in the U.S., 1.97 in Canada, and 1.35 in France.
Low crime rates mean you get to enjoy training and exploring Singapore without having to worry much about its criminal element.
5) Excellent Education
Training Muay Thai doesn't mean you should stop learning everything else, so you'll be happy to know Singapore boasts one of the best education systems worldwide. The National University of Singapore is currently ranked 11th worldwide for higher education. Prices are generally affordable thanks to government grants that are provided for local and international students. These grants make getting a higher education in Singapore cheaper than in many Western countries.
You can work your way up the Muay Thai ranks while pursuing your higher education goals as well. You can have an internationally recognized degree before you get your black vest.
6) Lots Of Travel Options
The Mass Rapid Transit and bus system in Singapore are easy to use and affordable, so you don't have to worry about getting a car to take you back and forth from the Muay Thai gym. There's also an efficient cab system for days you need to go to remote locations not covered by the transit system.
Singapore serves as Asia's central hub, which also makes traveling to surrounding Asia countries very affordable. You're only two hours away from Thailand if you feel a strong urge to go test your Muay Thai skills against the locals there.
Singapore being located right in the middle of Asia makes it an excellent base for anyone who wants to explore Asian countries. With 11 total public holidays per year, you'll have plenty of time for some exploration.
7) Low Tax Rates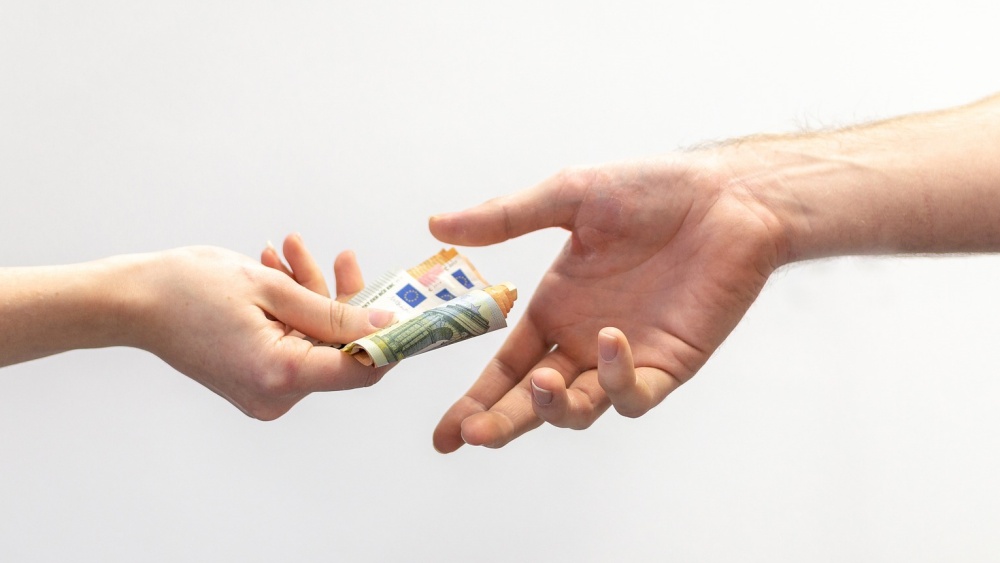 No one likes the tax man, so you'll be pleased to find out Singapore has low tax rates. You get to keep most of the money you earn while you're there. Tax rates in Singapore range between 0 to 22 percent based on your income. People who earn less than $20,000 per year don't pay any taxes, while those who earn over $320,000 only pay 22 percent of their income.
Singapore is one of the few countries that provide first-world-level infrastructure, education, and healthcare without having insane tax rates. To put things in perspective, countries like Denmark, which provide similar standards of living, have as high as 45 percent tax rates.
8) Lots Of Opportunities For Expatriates
Being a foreigner doesn't exclude you from the many business opportunities in Singapore. Singapore's workforce is highly educated and motivated so you won't have any trouble finding talented people to hire.
Finding work in Singapore is just as easy. While most Singaporeans are well educated, having a population of only 5 million people leaves many companies here hungry for foreign talent. All you need to do to get a work permit is to fill out an online form and wait a couple of days for a decision. The average expatriate in Singapore earns about $139,000 compared to a global average of $97,000.
9) Amazing Infrastructure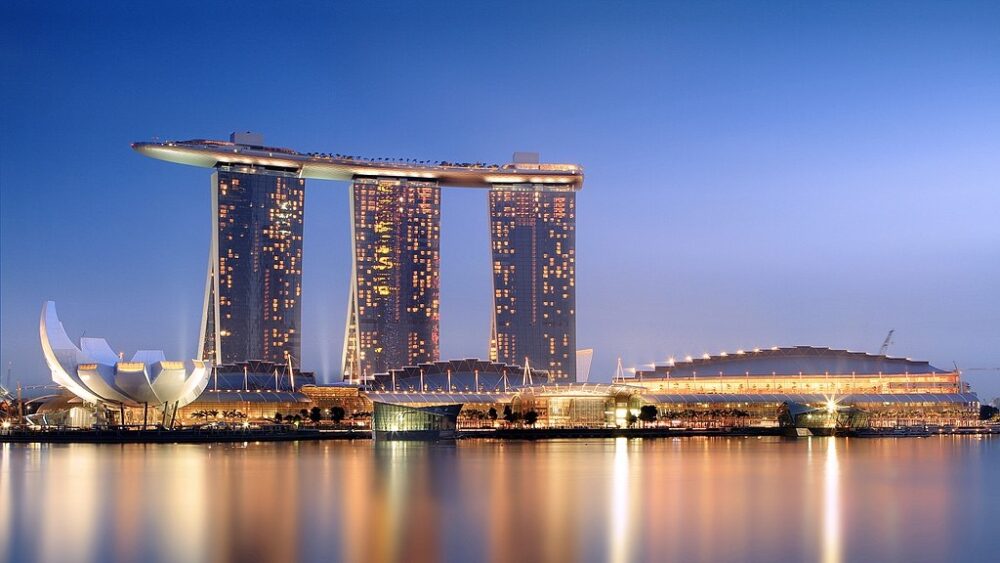 There's no lack of infrastructure in Singapore. The government continues to be a trendsetter when it comes to infrastructure projects from international trade ports to innovative high-rise structures. It's a highly modernized society and the global telecommunications hub in Asia.
You won't have any problems finding anything you need in Singapore from massive malls to world-class fitness centers. You get to train Muay Thai while enjoying all the comforts and infrastructure available to you in Western countries.
Singapore is about 50 kilometers from end to end, and the efficient transit system makes it easy to explore all corners of the country until you find your favourite one. All road and transportation signs are in English so English speakers won't have any problem navigating around the city.
10) Excellent Parks
There's a reason Singapore is often called the "Green City." There are parks around every corner and trees lining up every street. You get to enjoy all that and excellent air quality when you're outdoors. You get lots of green spaces for your outdoor workouts.
You also get to enjoy the beautiful scenery created by having so many trees and plants all over the city, like the Park Royal Hotel which has multiple gardens on each side of the building. You get to enjoy all the benefits of staying in a big city while enjoying scenery that looks more like what you would find in rural areas. It's a unique feature of Singapore you won't find in many other places. You'll be doing lots of running and cycling when training Muay Thai, so you might as well enjoy some beautiful sights while doing so.
11) Stable Government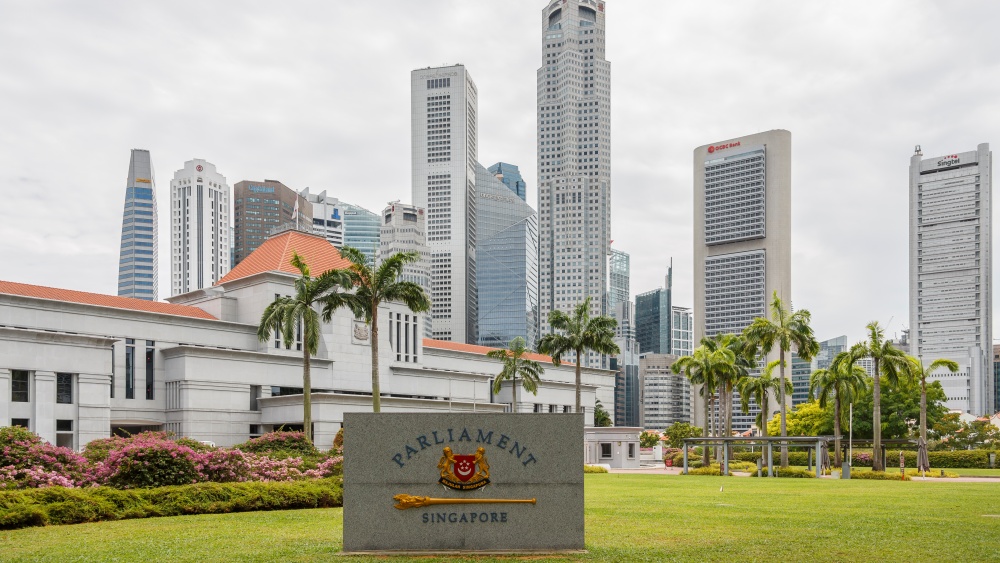 Singapore is in a class of its own in terms of nations that attained their independence in the second half of the 20th century. In less than a century, it has emerged as one of the best places to live, with a GDP per capita that exceeds nations like the United States.
The stable, transparent leadership has a lot to do with the many successes the country has enjoyed in recent decades. Generally viewed as the most stable country in South East Asia, the odds of local politics dampening your quality of life are pretty slim.
12) Warm Climate
Singapore's location keeps it hot and humid for most of the year. Expect most days to be sunny while you're here. You might even want to carry an umbrella with you on some days to give you some shade against the sun.
Fortunately, most buildings in Singapore have powerful air conditioning systems so you'll be nice and cool whenever you're indoors. Keep that in mind when getting dressed while you're in Singapore. You might be comfortable in shorts and a vest while you're outdoors, but you might need more clothing to be comfortable indoors.
13) Most People Speak English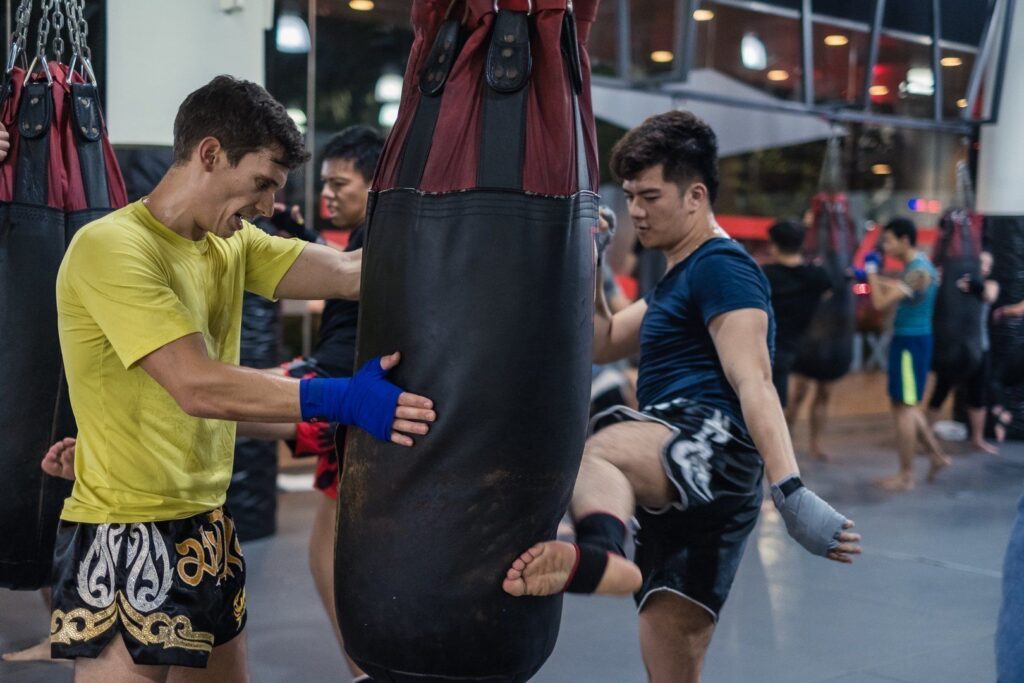 Singapore's official language is English and the people are educated in English as well, even though the national language is Malay. Road signs, government forms, and education are all done in English. You don't need to speak Malay or the two other official languages, Tamil and Chinese Mandarin, to make new friends or find your way around town in Singapore. This means you'll be able to communicate effectively with your Muay Thai instructors and training partners. Compare that to Thailand where only about 44 percent of the population speaks English. You'd probably have to learn Thai to be able to have meaningful conversations with most of your training partners and locals.
Most Singaporeans have been speaking and writing in English since they were school-aged children so many are as fluent as native English speakers. There's also Singlish, a popular English-based creole. Stay in Singapore long enough and you'll be speaking it as well as the locals.
14) Tasty Local Cuisine
You'll need lots of healthy, tasty, nutritious food to recover from your hard Muay Thai training sessions. Fortunately, you'll never have to spend much time looking for something appetizing given how diverse the local cuisine is.
Good food is so important to Singaporeans that a commonly used greeting translates to "Have you eaten?" The local cuisine is a mix of Chinese, Indian, and Malay food so there's something for everyone. Singapore being a diverse country also means it's not hard to find meals that cater to different belief systems that forbid some types or all meat. You won't have a hard time finding vegetarian options if that's your thing.
15) Amazing Place To Live, Work, And Train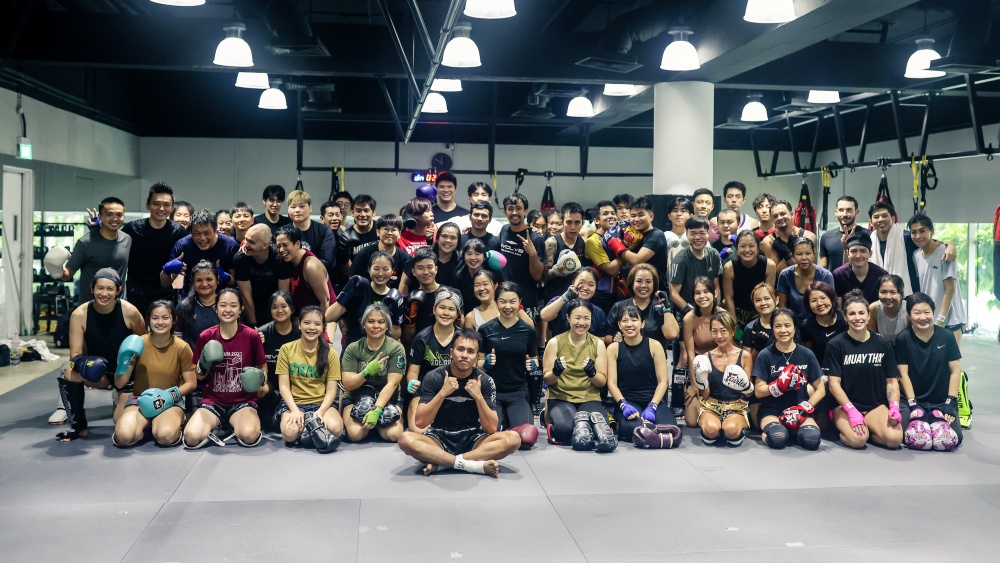 Singapore isn't just a great place to train Muay Thai, it's an excellent place to live, work, and play. It's one of the top Asian destinations for expatriates thanks to the culture's healthy work-life balance. There are many career and business opportunities and you're just a short flight away from other popular destinations in the region.
It's a multicultural society that gives you everything you could want from sporting events, art festivals, tourist destinations, fun parks, water sports, five-star hotels, modern residential buildings, affordable public transportation, and world-class shopping malls. You'll never be bored while you're in Singapore. The streets are clean, the locals are friendly, the local cuisine is delicious, the scenery is amazing, and the neighbourhoods are safe.
If you are already in Singapore and thought of giving Muay Thai a try, why not book a class at Evolve MMA and learn from our Muay Thai World Champions?
Book your complimentary trial class with our World Champions below!
If you have any other questions regarding Evolve MMA and the programs we offer, you can get in touch with our membership executives at the following locations:
Evolve MMA (Far East Square)
26 China Street
Far East Square #01-01
Singapore 049568
Phone: (65) 6536 4525
Evolve MMA (Orchard Central)
181 Orchard Road
#06-01 Orchard Central
Singapore 238896
Phone: (65) 6536 4556
Evolve MMA (KINEX)
11 Tanjong Katong Road
#02-52 KINEX
Singapore 437157
Phone: (65) 6288 2293
Evolve MMA (Clarke Quay Central)
6 Eu Tong Sen Street
#04-18 Clarke Quay Central
Singapore 059817
Phone: (65) 6226 2150
Evolve MMA (Star Vista)
1 Vista Exchange Green
#02-26A The Star Vista
Singapore 138617
Phone: (65) 6539 9590