If you're tired of revisiting the same running routes in Singapore, it's time to explore the island. The urban cityscape is an adventure, making running more of an experience than a chore. You may be a seasoned marathon runner or jogging to improve your fitness. Whichever it is, our island has something to entice everyone. From scenic waterfront paths to tranquil forest trails, redefine your running routine with our guide to the three best running tracks that cater to every fitness level and scenic preference.
For Lush Greenery And An Easy, Flat Running Route: Singapore Botanic Gardens
The Singapore Botanic Gardens is a UNESCO World Heritage Site known for its rich history, unique plant species, and beautifully landscaped gardens. As you jog through the winding paths, you'll be surrounded by a diverse range of plant life, from towering rainforest trees to delicate orchids, making it a feast for the eyes and a great running environment. Its charm lies in the lush flora and fauna and the myriad of paths that cater to all fitness levels, making it an ideal place for casual joggers and seasoned runners.
The gardens also feature serene lakes, undulating lawns, and themed gardens, providing diverse landscapes that can invigorate your run. The Swan Lake, for example, offers a serene backdrop for a calming jog, while the Evolution Garden takes you on a journey through time as you run amidst ancient plant species. The Run Society recommends this 4km route which takes more than 2 hours:
Start at the Botanic Gardens MRT station. Continue alongside the serene Eco Lake before winding your way through the lush Healing Garden, a trove of medicinal plants thoughtfully arranged for a peaceful ambience. The journey continues through the Evolution Garden, a living museum of primitive plant species from prehistoric times. As you move forward, wind past the Symphony Lake stage and slow down to admire the landscape. A detour through the National Orchid Garden offers a dazzling display of vibrant orchids, after which the spicy aroma of the Ginger Garden greets you. Following the Upper Ring Road, you'll pass the tranquil Swan Lake, where graceful swans glide across the water. The route culminates at Tanglin Gate, marking a picturesque end to a run that invigorates the body and soothes the mind.
If You Prefer Urban Cityscapes And A Road Terrain: Marina Bay Sands
A run route popular amongst white-collared professionals working around Marina Bay Sands, running around this area is a unique experience. You'll get some of the most spectacular urban views in the world. This iconic location offers a stunning backdrop of a futuristic skyline, elegant architectural wonders, and sparkling waterways.
The running route around Marina Bay takes you through some of Singapore's most celebrated landmarks. As you pace along the waterfront promenade, the majestic Marina Bay Sands complex forms a grand vista with its three towers and a stunning rooftop park. The entire area is illuminated at night, providing a captivating sight that could make you forget you're exercising.
The route is flat and well-maintained, making it suitable for runners of all levels. The cool sea breeze from the bay adds a refreshing element to your run, and the bustling atmosphere, with fellow runners and cyclists, gives you a sense of community. Beginning your journey from the iconic Marina Bay Sands, we recommend a scenic route that immerses you in the heart of Singapore's dynamic cityscape. From Marina Bay Sands, go past the Red Dot Design Museum, easily recognisable with its futuristic shiny red glass roof. Next, head towards The Promontory, a vibrant waterfront venue offering panoramic bay views. Your journey continues to One Fullerton, a historic location that now hosts a variety of gourmet dining options. From there, you'll encounter the iconic Merlion, a national symbol of Singapore. Cross either the Jubilee Bridge or Esplanade Bridge, both offering unique city perspectives. On the other side, the impressive structure of the Esplanade sits in majestic splendour. Continue to the Floating Platform, before reaching the Helix Bridge, a modern architecture marvel leading you towards the ArtScience Museum, a fusion of art, science, culture, and technology. From there, it's a straight run back to your starting point at Marina Bay Sands.
For An Uphill Challenge And Hiking Detours: MacRitchie Reservoir
Brimming with hiking trails and inviting boardwalks, running at MacRitchie Reservoir Park offers a tranquillity that few other places in Singapore can match. The park's lush rainforest provides an escape from the city's hustle and bustle, offering runners a serene and peaceful environment. The park's well-maintained trails wind through the mature secondary forest, letting runners experience a rich diversity of flora and fauna. It's common to spot long-tailed monkeys, monitor lizards, or even fly lemurs during a run. Be careful not to feed the monkeys, as they might get aggressive when there is food.
One of the key attractions for runners is the TreeTop Walk, a 250m suspension bridge that offers a stunning bird's eye view of the forest canopy. Reaching this point requires a challenging run, as you first need to go through the forest. Once you leave the walk, there are several stairs to conquer before leaving the area. The challenge provides a rewarding goal for those looking to push their limits. There are also plenty of boardwalk detours, perfect for those who like to go off the main track and explore. The reservoir itself adds to the park's beauty. The calm waters offer a soothing backdrop for your run. The boardwalks skirting the water's edge provide breathtaking views, particularly at sunrise or sunset, when the light shines on the water's surface.
If you're new to running, the park offers shorter, beginner-friendly routes such as the Chemperai Trail, Jering Trail, Petai Trail, or Prunus Trail. For those seeking a more challenging run, we recommend tackling the MacRitchie Loop. You will get rewarded with a breathtaking aerial perspective from the suspension bridge at the TreeTop Walk. We recommend runners start from Venus Drive, continuing onto the Windsor Nature Park trail. This flat, short-distance trail is perfect for leisurely walks on boardwalks and also serves as a gateway to the Tree Top Walk trail. You'll find it easy to navigate with plenty of signboards and direction posts. The initial part of the trail is relatively flat before you encounter a steep 150m uphill paved road leading to the entrance of the suspension bridge. This one-way bridge, spanning a length of 250m, offers an incredible aerial view of the surrounding rainforest and Upper Peirce Reservoir. Exiting the bridge, expect a series of board steps that take you up and downhill.
How Does Running Help With Martial Arts?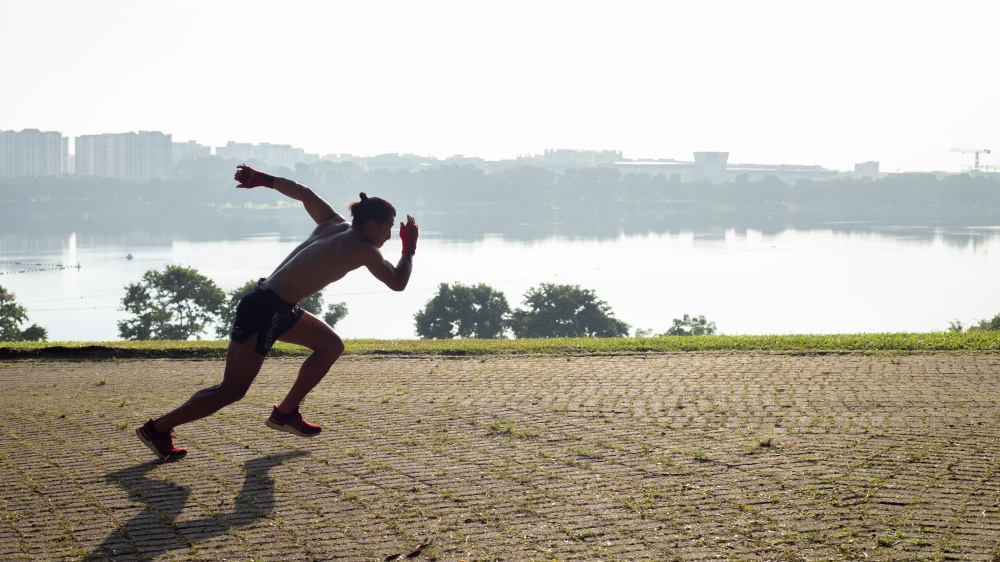 Running helps to enhance your proficiency and stamina in martial arts disciplines, including Mixed Martial Arts (MMA), Boxing, Brazilian Jiu-Jitsu (BJJ), and Muay Thai. It is a powerful tool to boost cardiovascular endurance, critical for maintaining energy levels and sustaining combat rounds in sports like MMA and Boxing. This improved stamina allows athletes to perform techniques with precision for extended periods. Similarly, in BJJ, the ability to keep moving and resisting an opponent's force, especially during groundwork, heavily relies on cardiovascular endurance, which running helps build. Moreover, for Muay Thai practitioners, the leg strength developed through running can add more power to their kicks and knee strikes. Thus, running enhances physical strength and endurance, and contributes to the strategic aspects of martial arts, aiding practitioners in outlasting and outperforming their opponents.
So, whether you're a seasoned martial artist or a beginner looking to step into the dynamic world of MMA, Boxing, Brazilian Jiu-Jitsu, or Muay Thai, incorporating running into your training regimen can be a game-changer. And there's no better place to start your journey than at Evolve MMA Singapore. We offer world-class training facilities and experienced instructors who can guide you on effectively merging your running routine with martial arts training for optimal results. Don't wait to boost your endurance, increase your strength, and elevate your martial arts skills to the next level. Join us at Evolve MMA Singapore today – where we help you unleash the warrior inside you!
Book your complimentary trial class with our World Champions below!
If you have any other questions regarding Evolve MMA and the programs we offer, you can get in touch with our membership executives at the following locations:
Evolve MMA (Far East Square)
26 China Street
Far East Square #01-01
Singapore 049568
Phone: (65) 6536 4525
Evolve MMA (Orchard Central)
181 Orchard Road
#06-01 Orchard Central
Singapore 238896
Phone: (65) 6536 4556
Evolve MMA (KINEX)
11 Tanjong Katong Road
#02-52 KINEX
Singapore 437157
Phone: (65) 6288 2293
Evolve MMA (Clarke Quay Central)
6 Eu Tong Sen Street
#04-18 Clarke Quay Central
Singapore 059817
Phone: (65) 6226 2150
Evolve MMA (Star Vista)
1 Vista Exchange Green
#02-26A The Star Vista
Singapore 138617
Phone: (65) 6539 9590