A powerful kick is at the top of most Muay Thai practitioners' list of skills to work towards and acquire. Fortunately, a powerful kick is achievable by anyone who wants to put in the work.
As a bonus, some of the methods that spark stronger kicks also create healthier and more resilient bodies for Muay Thai. If upping the power of your kicks is high on your priority list, give some of these tips a try.
1) Technique
This may seem like an obvious one, but sometimes, techniques can simply get overlooked when trying to gain power. Developing and honing in on proper technique will always veer toward more power than an incorrectly thrown kick.
Simple things, like your weight not being thrown into the kick properly or not allowing your arms to move properly while throwing the kick, will inhibit some of your power.
A good Muay Thai coach is an incredible resource in this area. From the outside, a coach can often see some of the small details that you can't, and they can give you much-needed feedback to start honing in on proper kicking technique.
Even if you have all the head knowledge for throwing a technical kick, an outside eye is sometimes the final thing to really help you grasp and throw a solid, technical, and powerful kick.
Within the scope of technique, you will find many small details to work on that will help you to increase the power of your kick as you refine each of them.
Hands:

Ensuring that your hands are moving properly will aid in adding power. Allowing your right hand to extend away from your face when you throw your right leg kick will help you to maintain balance as you throw more of your weight into the kick. Pinning both hands by your face, on the contrary, will stifle some of your power. Proper hand placement and movement are pivotal for powerful kicks.
Step And Pivot:

The initial step leading into a kick will greatly assist in power, as will allowing yourself to pivot on your planted foot. As you throw your kick, stepping out across your opponent's body and then pivoting on that foot during the kick will help you to throw your kick fluidly, moving through your opponent's body rather than just stopping at your opponent's body. This will increase your power greatly.
Use Your Whole Body:

When throwing kicks, ensure that your entire body is working together to produce the strongest, most powerful kicks. Everything from your head to your hips to your feet must work in unison to generate the most power. Don't neglect to work on each and every aspect of how your body is moving, and ensure that it is all working together.
If you are looking to increase the power of your kicks, be sure to dive into perfecting your technique.
If you have accessibility to a coach, be sure to ask for an outside eye to help you hone in on the technical areas that might need minor adjustments that will yield big impacts. Good technique will produce stronger kicks, so it's worth working on and refining your kicking technique.
2) Hip Mobility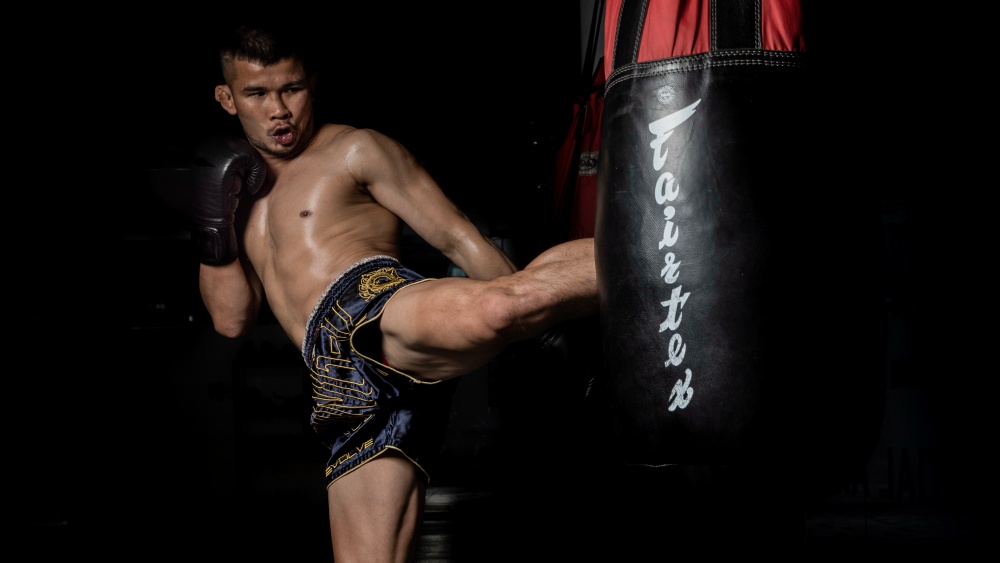 The ability to move your hips fluidly, turning them over when throwing your kick, is based on having solid hip mobility. If your hips lack mobility, even if you have good technique, you will have a difficult time executing a proper kick. Adding in a solid hip mobility routine, if even just a couple of minutes each day, will keep your hips mobile and lend towards stronger kicks that come from your hips being able to open and land solid kicks.
Hip mobility flow and/or animal flow movements are a great place to start when it comes to mobility for strengthening your kicks. A bonus to adding in these types of movements is that you will decrease your rate of injury or any hip-related tightness that may cause you to need to skip or miss workouts due to hip-related issues.
A lack of mobility will inhibit you from adding power to your kicks. If you are looking to increase your power, consider working on your hip mobility.
3) Plyometric Workouts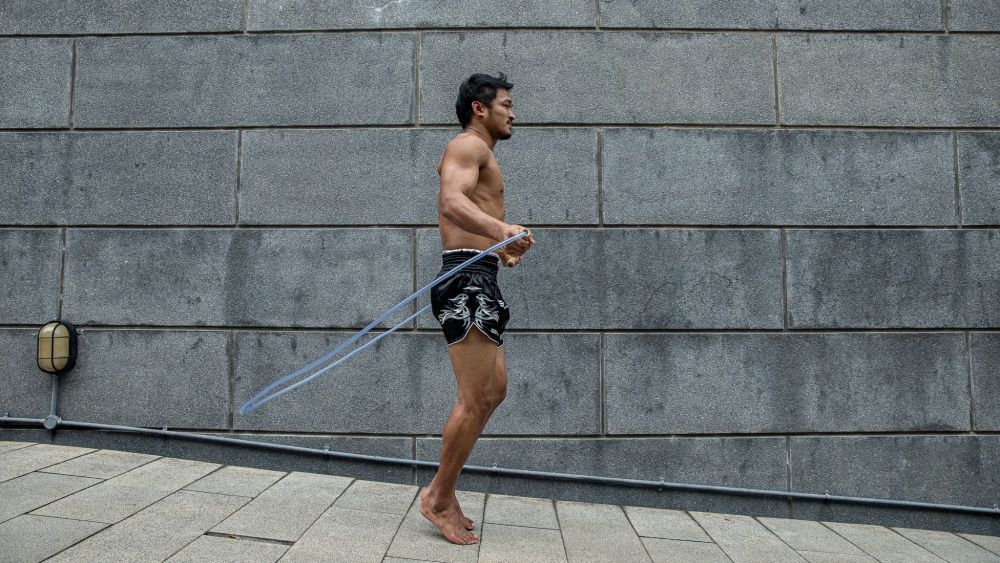 Plyometric workouts are ideal for increasing explosive strength. You need to develop muscles and endurance for explosive strength to land solid, powerful kicks.
Plyometric workouts are great for your entire body and will increase your overall cardiovascular health as well. They build muscle while strengthening your bones and joints, leaving your kicks stronger and more powerful, all while also lowering your risk of injury while throwing harder kicks.
Adding plyometric workouts to your weekly training regimen will result in an obvious increase to the power of your kicks. Some easy examples of plyometric movements that will help with explosive power in your kicks are:
Burpees

Jump Squats

Tuck Jumps

Jump Rope

Lateral Jumps
These simple, yet effective, plyometric movements will create stronger, more explosive kicks for your Muay Thai game. They will also improve your cardiovascular system, strengthen your bones and ligaments, and give you a solid burn and sweat.
Improve The Power Of Your Kicks
By leveraging the use of plyometric workouts, hip mobility, and fine-tuning your technique from head to toe, you will begin to find more and more power behind your kicks in Muay Thai.
Sometimes just a small adjustment in your technique or a little bit of added hip mobility will lend toward a significant increase in kicking power. Keeping your hips mobile is an important aspect that can often be overlooked but yields healthier, stronger bodies for Muay Thai athletes.
If you are looking for more ways to increase the power of your kicks, be sure to attend one of Evolve's complimentary introductory Muay Thai classes to learn from world-class coaches.
Book your complimentary trial class with our World Champions below!
If you have any other questions regarding Evolve MMA and the programs we offer, you can get in touch with our membership executives at the following locations:
Evolve MMA (Far East Square)
26 China Street
Far East Square #01-01
Singapore 049568
Phone: (65) 6536 4525
Evolve MMA (Orchard Central)
181 Orchard Road
#06-01 Orchard Central
Singapore 238896
Phone: (65) 6536 4556
Evolve MMA (KINEX)
11 Tanjong Katong Road
#02-52 KINEX
Singapore 437157
Phone: (65) 6288 2293
Evolve MMA (Clarke Quay Central)
6 Eu Tong Sen Street
#04-18 Clarke Quay Central
Singapore 059817
Phone: (65) 6226 2150