Boxing is one of the most effective martial arts disciplines for both training and self-defense. It is the art of pugilism, or the science of 'hitting while not getting hit.'
For those looking to lose weight and get into shape, there is nothing better than martial arts training, especially boxing. It is the perfect fitness program that not only helps you accomplish your specific fitness goals, but will also allow you to achieve your dream body.
Furthermore, it will teach you how to protect yourself from physical harm, as well as the people around you. Needless to say, boxing is one of the best martial arts for women to learn.
If you're on the fence as one of many contemplating whether or not to give boxing a shot, it's time you step inside the boxing gym. We've come up with a list of reasons why you should start your boxing training now.
Boxing is an incredibly fun and safe activity across any age, gender, or level of fitness. It's an all-around, engaging, and challenging physical activity that can be both enjoyable and beneficial to every modern-day woman.
Today, Evolve Daily shares five reasons why women should start training in boxing.
1) It's A Form Of Self-Care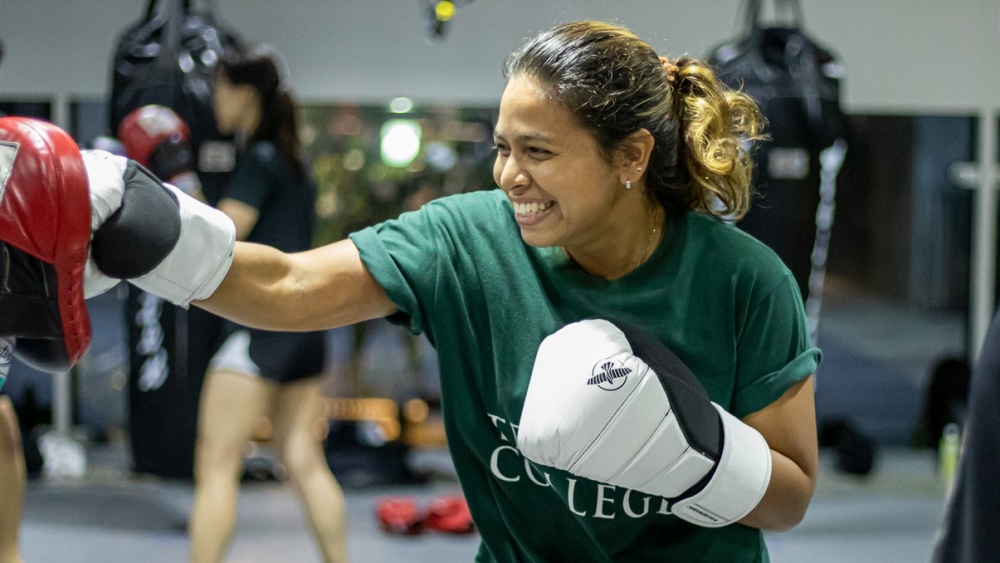 Self-care comes in many different forms. It doesn't just have mean a spa day with the girls. Enrolling yourself in a boxing class is one way to take good care of yourself because it gives you the chance to take control of your health and fitness.
Boxing also gives you that well-deserved "me time" after a long day at work, or even helps you to gain the momentum you need to start your day. It's an engaging workout and exercise program that helps your body produce and release endorphins – the happy hormone.
As the great Elle Woods from Legally Blonde once said: "Exercise gives you endorphins. Endorphins make you happy." Endorphins are known not only to make us feel good, but they are also scientifically proven to reduce pain and discomfort in our bodies, in addition to alleviating stress.
Your body and mind will thank you after a good boxing session. It helps you deal with any pent-up stress and frustrations in a healthy way. Boxing helps you become more attuned to your body and your emotions. You will get to know how your body and mind work together.
2) An Amazing And Holistic Workout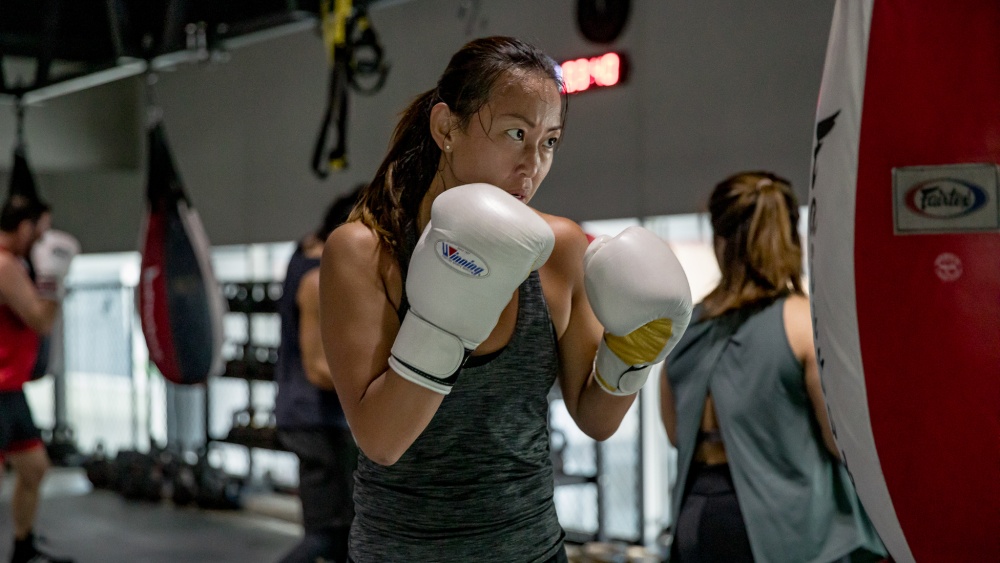 Whether you are looking to tone your body, build definition in your muscles, or just for a fun new physical activity, boxing will help you achieve your fitness objectives in no time at all.
There's no doubt that boxing is a wholesome all-round workout. From intense cardio to challenging resistance training, boxing has all the good stuff. It will help speed up your metabolism, which will then amp up your fat loss mechanisms.
Training features both aerobic and anaerobic routines that condition the whole body, inside and out. You can torch upwards of over 800 calories quickly and efficiently in just one hour of a boxing workout.
For many women who suffer from a variety of hormonal imbalances, there's nothing but good news for you here. When combined with a well-balanced and healthy diet, boxing can help you get your hormones under control. Through regular training, you can improve your endocrine system and overall health.
Boxing has many incredible physiological benefits that millions of people across the world can attest to. These benefits include improved sleep quality, posture, and coordination, as well as improved self-confidence, among others. In short, boxing training helps us lead better quality lives.
3) Boxing Is A Great Form Of Self-Defense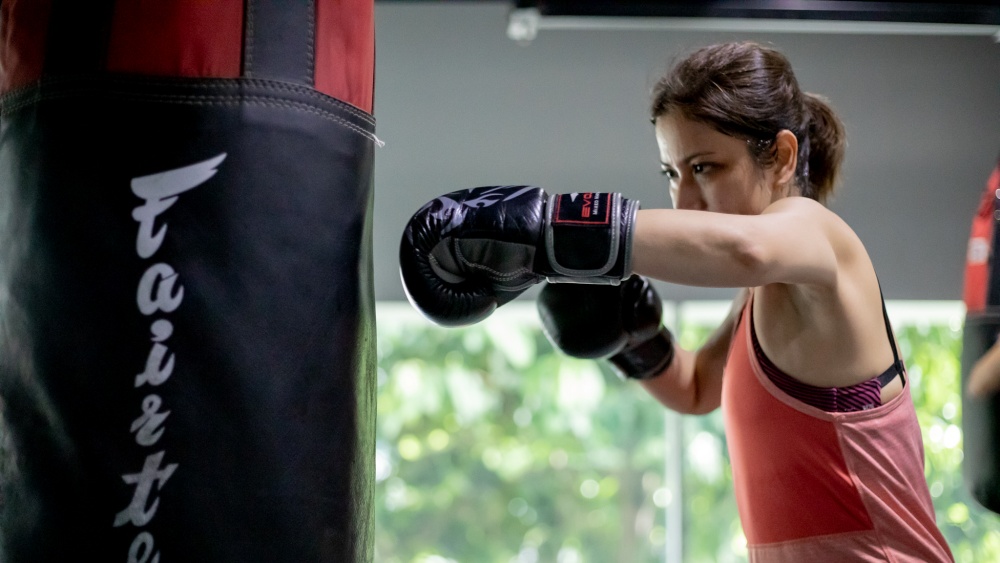 Boxing, as a martial art, consists of strategy and concentration, two vital skills that all boxers need to hone and strengthen. Within a few boxing training sessions, you will begin to gain confidence and learn new skills which are useful both inside and outside of the ring.
Not only does it make us feel more confident with our own bodies, but boxing also helps us feel secure, and have that self-confidence that we are able and ready to protect ourselves, as well as those around us. Boxing teaches us to focus and remain alert in a myriad of tricky situations. It helps to maintain reflexes and coordination, and take advantage of these where necessary, which are two salient factors in the art of self-defense.
Self-defense is a very important skill to have, and everyone should have access to this knowledge, especially women. Boxing teaches us how to defend against an assailant's attacks effectively, while teaching us how to end physical conflict swiftly and decisively if necessary. Furthermore, it gives us mental clarity and discernment in high-pressure situations, especially in the face of imminent danger.
4) Expand Your Social Circles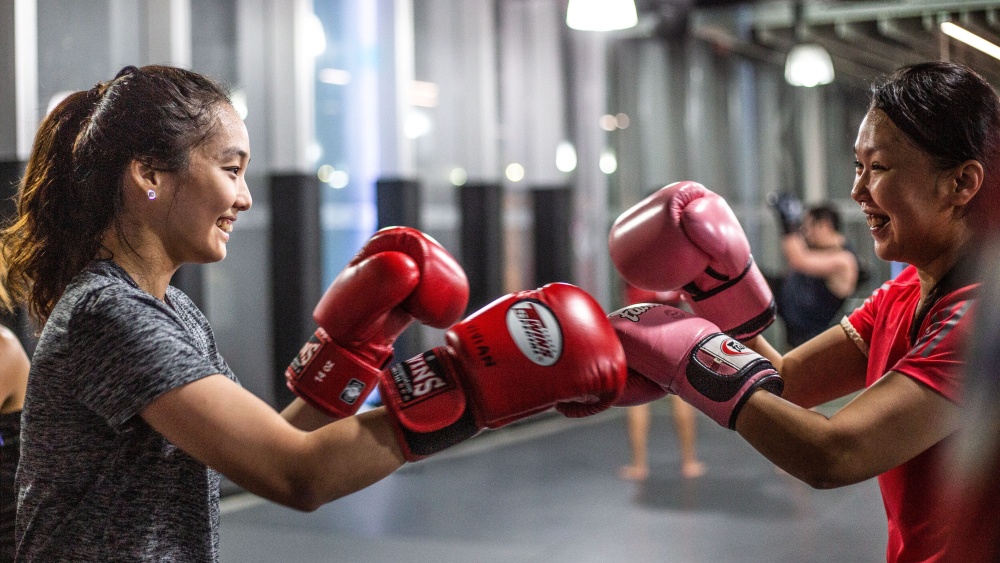 Another very important aspect of our lives, one that we often overlook, is our social health. Maintaining good, positive relationships with family and friends is a crucial part of our mental makeup.
Boxing can definitely help with that because training fosters building new and strong relationships with fellow gym mates. While boxing can no doubt be a challenging martial art in practice, it can be extremely enjoyable because of the people you train with.
You will meet different people who share the same passion and enthusiasm for the 'sweet science' as you do, and may even become your friends for life. It won't take long before you create lasting friendships with the people you train with, your trainers and coaches, and everyone on the same journey you will share every step of the way.
Still too shy to try training on your own? Bring a friend with you. Boxing is a great bonding experience and will bring you closer. Boxing is a fantastic and inclusive community of supportive people from all walks of life. Don't underestimate the social benefits that can fill various needs.
5) The Most Fun You'll Ever Have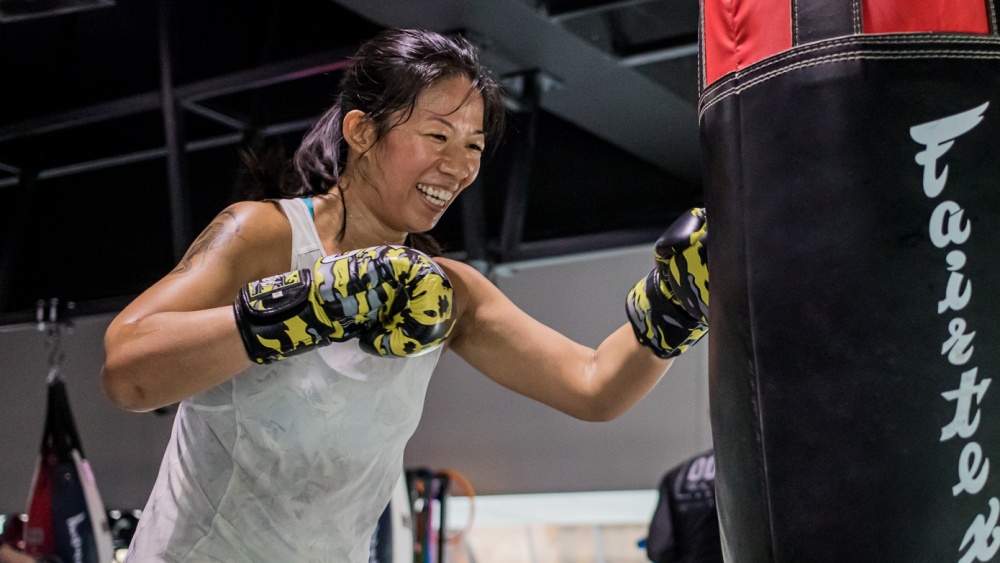 Last but not least, boxing training is just downright fun. Boxing is for absolutely anyone and everyone, no matter the age or gender.
Today, more and more women are signing up for boxing classes, and there is no doubt as to why. It's easy to fall in love with the sport because there is never a dull moment. You will be on your toes each session, literally and figuratively. There will always be something new to learn and master in every class.
Boxing features hundreds of techniques to learn, and skills to perfect that you can and sharpen as you progress through training.
It's not only a great fitness routine that will help you achieve the body of your dreams, but also a great way to relieve stress and strengthen your mind. It will help us become better versions of ourselves.
Finally, it's that fun factor that will keep you hooked and coming back for more.
Give Boxing A Try
Interested in learning how to box? Attend one of Evolve's complimentary introductory boxing classes to start your journey.
Book your complimentary trial class with our World Champions below!
If you have any other questions regarding Evolve MMA and the programs we offer, you can get in touch with our membership executives at the following locations:
Evolve MMA (Far East Square)
26 China Street
Far East Square #01-01
Singapore 049568
Phone: (65) 6536 4525
Evolve MMA (Orchard Central)
181 Orchard Road
#06-01 Orchard Central
Singapore 238896
Phone: (65) 6536 4556
Evolve MMA (KINEX)
11 Tanjong Katong Road
#02-52 KINEX
Singapore 437157
Phone: (65) 6288 2293
Evolve MMA (Clarke Quay Central)
6 Eu Tong Sen Street
#04-18 Clarke Quay Central
Singapore 059817
Phone: (65) 6226 2150
Evolve MMA (Star Vista)
1 Vista Exchange Green
#02-26A The Star Vista
Singapore 138617
Phone: (65) 6539 9590