The recently-concluded Singapore Brazilian Jiu-Jitsu Open IV, which took place last Saturday, 16 November at the Singapore Foochow Association hall, ended with Evolve MMA taking home the "Best Academy" honor.
Evolve MMA took home a bevy of accolades in various categories. In total, Evolve earned 10 gold medals, 14 silver, and 9 bronze, including 40 wins overall.
Led by BJJ World Championship Silver Medalist Almiro Barros, the Evolve MMA BJJ program has proven once again to be the best in the region. The Evolve competition team has led tournaments for the past few years and has emerged as Asia's premier training ground for the grappling arts.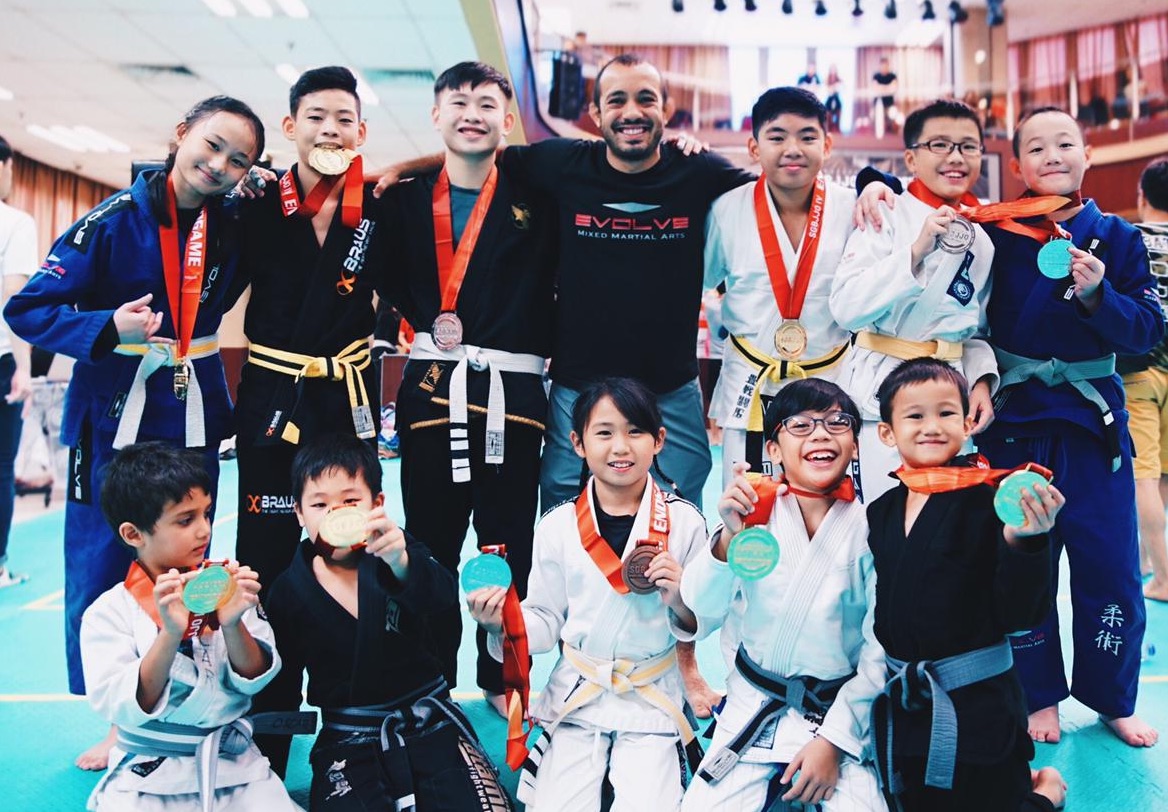 Barros, who holds a black belt, is a Professor and BJJ Champion. He is a Mundials World Championship Silver Medalist in BJJ with over 15 years of experience.
"I am extremely proud of our team and would like to congratulate everyone on their achievements. We showed incredible teamwork, and it is all well-deserved," said Barros.
"I am especially proud of our amazing kids, who exhibited poise and great sportsmanship in both victory and defeat. I see bright futures ahead for our youth."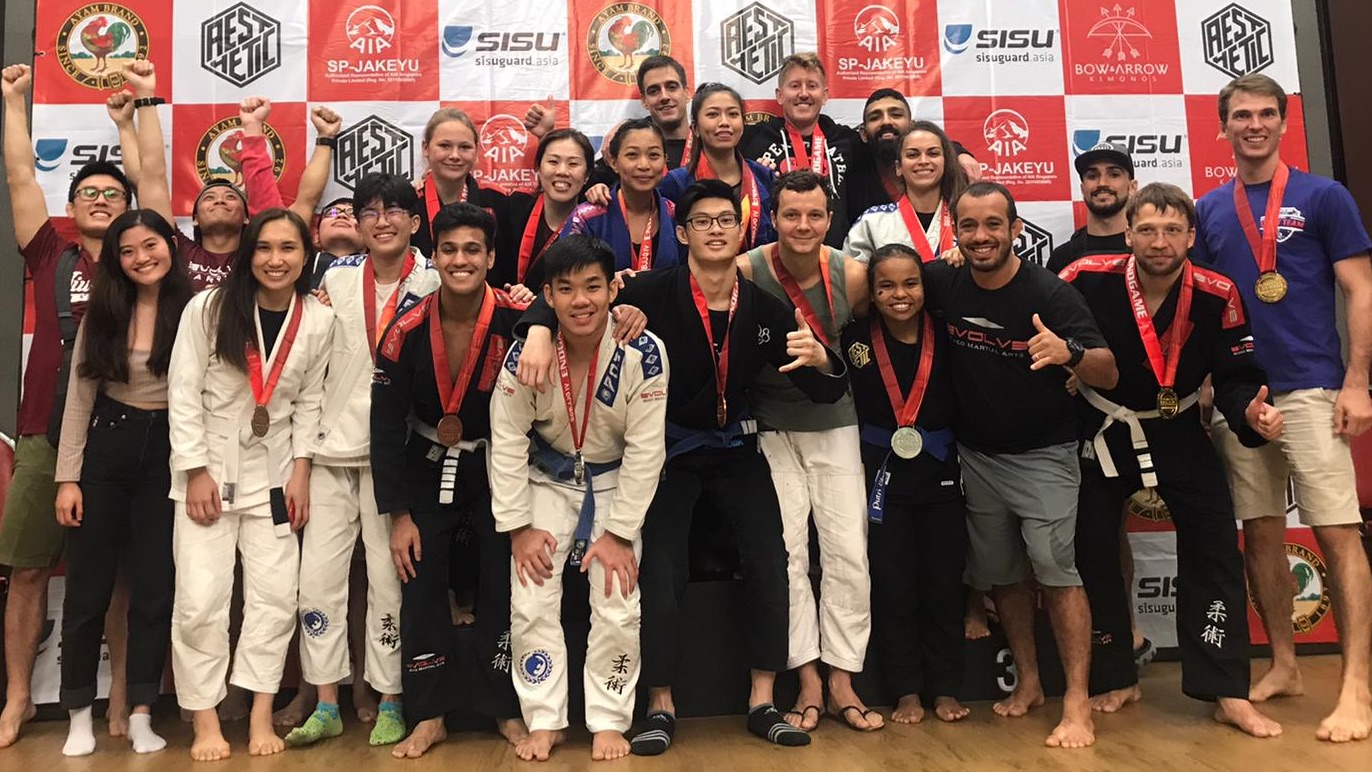 5-year-old Oscar Stassen took home a gold medal in the Starters division. Isa Harris, Apinhop Jutahkiti, and Malcolm Tyler Rivera, all bagged gold medals in the Kids division, while Alisha Harris, Stephen Andrew Cartagena, Zheng Hui Chew won gold in the Juniors.
In the adult's bracket, gold medals were awarded to Boris Pozin, Thomas Seymour, and Shermaine Chng.
Evolve has produced many World Champions across various martial arts disciplines, both in the amateur and professional ranks. ONE Bantamweight Muay Thai World Champion Nong-O Gaiyanghadao and the legendary Shinya Aoki both hone their skills at Evolve alongside many other martial arts World Champions.
Earlier this year, Evolve MMA student Constance Lien captured the women's blue belt featherweight (under 58.5kg) world title at the World IBJJF Jiu-Jitsu Championships in California. Last year, she nabbed a silver medal at the Asian Games.
"This is such a special treat to end the year," said Barros. "Our victory here at the Singapore BJJ Open is a victory for the entire Evolve family. It's a testament to all the time and effort we've put into training."
Here is the list of winners from Evolve at the Singapore BJJ Open:
Gold
Oscar Stassen (BOYS AND GIRLS GI (4 – 13 YEARS) / GREY / STARTERS (4 – 5 YEARS OLD) / -20KG)
Isa Harris (BOYS AND GIRLS GI (4 – 13 YEARS) / GREY / KIDS 1 (6 – 7 YEARS OLD) / -20KG)
Apinop Jutahkiti (BOYS AND GIRLS GI (4 – 13 YEARS) / GREY / KIDS 1 (6 – 7 YEARS OLD) / -30KG)
Malcolm Tyler Rivera (BOYS AND GIRLS GI (4 – 13 YEARS) / GREY / KIDS 2 (8 – 9 YEARS OLD) / -30KG)
Alisha Haris (BOYS AND GIRLS GI (4 – 13 YEARS) / YELLOW / JUNIOR (12 – 13 YEARS OLD) / -45KG)
Stephen Andrew Cartagena (BOYS AND GIRLS GI (4 – 13 YEARS) / YELLOW / JUNIOR (12 – 13 YEARS OLD) / +60KG)
Zheng Hui Chew (BOYS AND GIRLS GI (4 – 13 YEARS) / ORANGE / JUNIOR (12 – 13 YEARS OLD) / +60KG)
Boris Pozin (MALE GI MASTER / WHITE / MASTER 2 (35 AND ABOVE) / -70 KG (FEATHER))
Thomas Seymour (MALE GI MASTER / BLUE / MASTER 2 (35 AND ABOVE) / -76 KG (LIGHT))
Shermaine Chng (FEMALE GI / BLUE / ADULT / -48,5 KG (ROOSTER))
Silver
Arthur Kemler (BOYS AND GIRLS GI (4 – 13 YEARS) / GREY / KIDS 2 (8 – 9 YEARS OLD) / -30KG)
Brian Loo (BOYS AND GIRLS GI (4 – 13 YEARS) / GREY / KIDS 3 (10 – 11 YEARS OLD) / +45KG)
Hsian Kai Yeoh (BOYS AND GIRLS GI (4 – 13 YEARS) / YELLOW / JUNIOR (12 – 13 YEARS OLD) / -45KG)
Jared Lim (JUVENILE GI (14 – 15 YEARS) / WHITE/YELLOW / -60KG)
Kavi Rai (MALE GI / WHITE / ADULT / -82,3 KG (MIDDLE))
Isaac Yang (MALE GI / BLUE / ADULT / -57,5 KG (ROOSTER))
Kiok Yew Teh (MALE GI / BLUE / ADULT / -64 KG (LIGHT FEATHER))
Evan Chooi (MALE GI / BLUE / ADULT / -76 KG (LIGHT))
Tim Van Bijsterveldt (MALE GI MASTER / BLUE / MASTER 2 (35 AND ABOVE) / -76 KG (LIGHT))
Amardeep Johal (MALE GI MASTER / BLUE / MASTER 2 (35 AND ABOVE) / -82,3 KG (MIDDLE))
Dwi Ani Ayuningtyas (FEMALE GI / WHITE / ADULT / -64 KG (LIGHT))
Samantha Yap (FEMALE GI / WHITE / ADULT / -69 KG (MIDDLE))
Putri Siti Nur Farhani Shamsuri (FEMALE GI / BLUE / ADULT / -48,5 KG (ROOSTER))
Lilly Roessen (FEMALE GI / BLUE / ADULT / -74 KG (MEDIUM HEAVY))
Bronze
Natalie Yeo (BOYS AND GIRLS GI (4 – 13 YEARS) / YELLOW / KIDS 2 (8 – 9 YEARS OLD) / -35KG)
Shaikh Ahmad Zahid (MALE GI / WHITE / ADULT / -57,5 KG (ROOSTER))
Antoine Courbon (MALE GI / WHITE / ADULT / -70 KG (FEATHER))
Shaun Singh (MALE GI / WHITE / ADULT / -76 KG (LIGHT))
Ariel Valdehuesa (MALE GI / BLUE / ADULT / -64 KG (LIGHT FEATHER))
Davis Lee (MALE GI / BLUE / ADULT / -76 KG (LIGHT))
Sancia Sato (FEMALE GI / WHITE / ADULT / -58,5 KG (FEATHER))
Veronica Hernandez (FEMALE GI / WHITE / ADULT / -58,5 KG (FEATHER))
Shermaine Chng (FEMALE GI / PURPLE / ADULT / -53,5 KG (LIGHT FEATHER))
Complete results can be found here: https://smoothcomp.com/en/event/2799/results