Any true Muay Thai fan will know that Nong-O is, by any measure, a true-to-life, living, breathing Muay Thai legend. With an astonishing 263 victories, Nong-O is revered even among professional Muay Thai fighters for his power, precision and ring generalship.
With five title defenses stacked under his belt, Nong-O will face title challenger Liam Harrison, arguably the UK's best Muay Thai exponent and export, on 27 Aug at ONE 161: Moraes vs Johnson II. Here are the top five reasons why Nong-O's fight on 27 Aug will be the most lethal title defense ever.
1) Nong-O Warns Harrison That A KO Will Come His Way
In an interview with ONE Championship, Nong-O revealed that Harrison was his favorite Muay Thai fighter and kickboxer, and that he has been following him for a long time. The Thai legend said that they first met at the ONE Elite retreat in Phuket, where he walked up to Harrison and introduced himself. In an interesting turn of events, Harrison replied that he knew Nong-O well. Since then, the two have been on good terms.
Despite – or perhaps because of, one might wonder – holding each other in high regard, both men have stated publicly that they are more than ready to shut off the other's lights in the Circle.
"Liam, I will go all out in our upcoming fight. You should prepare yourself well because I'm about to knock you out, for sure."
2) Harrison Thinks He's The Man To Achieve The Unachievable
Liam, who pulled off a stunning comeback after being knocked down twice by Muangthai at ONE 156, is definitely a worthy challenger to Nong-O's crown. He also sees himself as the only man who could KO Nong-O:
"[…] If anyone could knock him out, it's me. Nobody he has fought with punches like I do. If I land clean then anyone in 4-ounce gloves will go."
So while both men may be admirers of each other, once they step into the Circle on 27 Aug, only one man is certain to stay awake for the finish.
3) A Clash Of Sixteen Deadly Limbs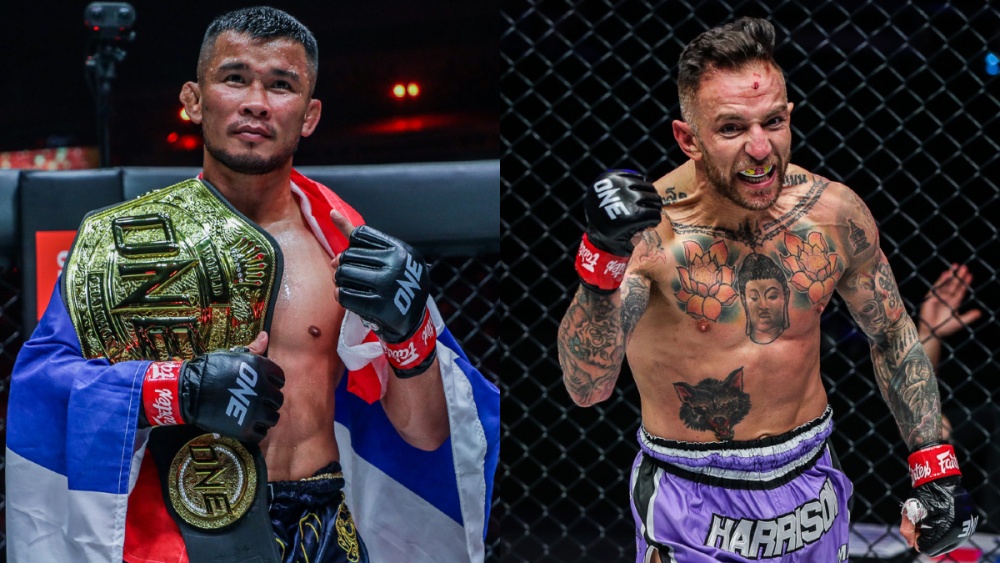 Harrison is renowned for his hard and heavy punches, which he unleashed to excellent effect when he faced Muangthai. Harrison was knocked to the mat first by a head kick, and again with a left straight. But Harrison unleashed a thoroughly furious barrage of punches just 23 seconds later, following it up with even more punches for a TKO and the Fight of the Night.
Nong-O is no slouch when it comes to having two certifiable lethal weapons for hands. Nong-O sent Rodlek packing with a huge right cross that came out of nowhere. That vicious right hand was again put to good use when he floored Felipe Lobo with a monstrous uppercut right up the middle.
Both men have acknowledged the other's arsenal of heavy punches and hard kicks, high fight IQ, and that they are each other's greatest opponents. Harrison said,
"I know what level of skill this man is on. I'm not an idiot, he's one of the most skillful fighters [of all time]. […] I'm about heart, grit, hard punches, hard kicks, and just coming to entertain and look for the knockout."
Nong-O replied in no uncertain terms either:
"If counting only foreign opponents, I would say yes, [Harrison] is the most dangerous opponent I've ever faced."
Without a doubt, when two fighters recognize the other as the greatest threat to their continued ascent and reign, you know that their inevitable clash will be one for the history books.
4) Anyone's Game
The Thai kingpin will be entering the Circle with an eight-win streak, with the last five being title defenses as well as standing undefeated since signing on to ONE Championship. Harrison, on the other hand, is fresh off a five-win streak. All things considered, their clash will come down to the smallest of details, appropriately summarized by Nong-O:
"Compared to me, our skills and experience are equivalent. [The result will] depend on our physical condition on the fight day and how well you prepare yourself, as well as our game plan in the Circle."
Harrison has a clear thirst to not only dethrone Nong-O but also to be the first man to knock the Thai legend out in the Circle – but he's going to have to first get past Nong-O's (in)famous right hand.
The instant the two men raise their guards against each other, the match may boil down to which man has a stronger yearning for the belt.
5) There Can Be Only One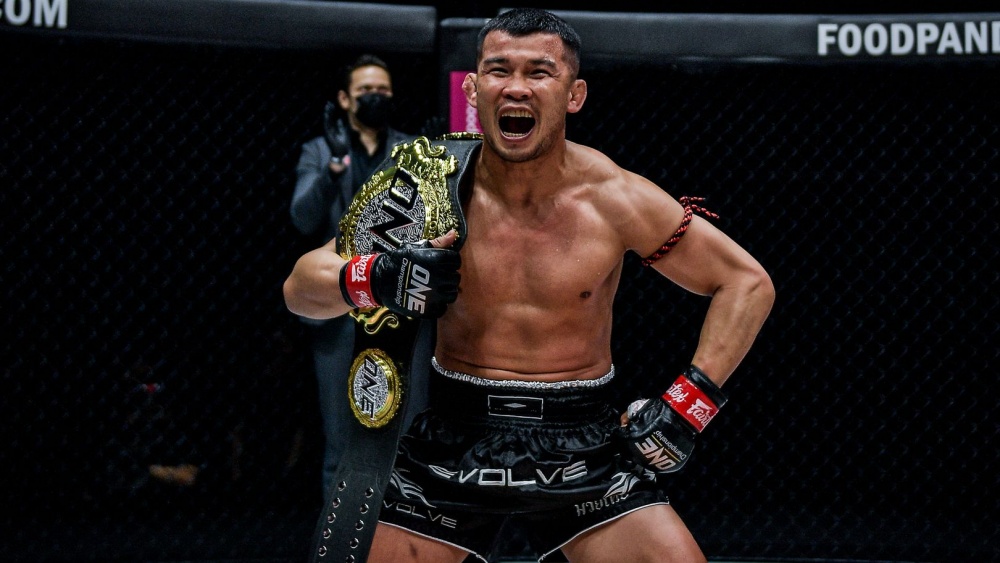 Two fighters. Two Muay Thai fighters embody not just the warrior spirit, but also showcase the utter lethality of Muay Thai at an unrivaled level.
Nong-O and Harrison, friends and admirers of each other, are seeking to separate the other from waking consciousness with barrages from their eight limbs.
But there can be only one.
Don't miss the knockout shot with the best seats in the house at ONE 161!