Legendary boxing trainer, the late Cus D'Amato and heavyweight boxing legend "Iron" Mike Tyson exemplified the incredible relationship between a fighter and his coach. They are an indelible representation of a bond that is forged only through the trials of combat in the ring.
D'Amato believed in Tyson the moment he laid his eyes on him, even when no one else would. He saw potential in a troubled teenager, and knew that with the proper guidance, Tyson could become a world champion.
In many ways, D'Amato saved Tyson from a life of crime and gave him an opportunity to build a bright future for himself.
"He has the ability. He has the potential. Most of all, he has the desire. He really wants to be a champion," said D'Amato.
Of course, Tyson went on to become the youngest heavyweight boxing world champion of all time, a record which remains unbroken to this day. His distinct fury in the ring, honed and polished under the technical guidance of D'Amato, will forever live on in memory, long after both men have left this world.
We celebrate the unbreakable bond between D'Amato and Tyson, and discover how the legendary coach was able to turn his beloved pupil into a cultural phenomenon.
Today, Evolve Daily shares how Cus D'Amato transformed Mike Tyson from troubled youth to heavyweight boxing world champion.
1) D'Amato Was All About The Rough Life
D'Amato was raised in an Italian-American household, in the rough inner-city neighborhoods of the Bronx in New York. He grew up learning how to fend for himself, and often got into fistfights on the streets. D'Amato was all about that rough life, so it came as no surprise that when he met Tyson, he knew exactly how to approach the troubled teen.
Tyson also fought on the streets. He was a very ill-tempered kid with a short fuse. Due to poverty and the lack of opportunity as a racial minority, Tyson resorted to a life of crime. He stole and robbed, and was often in and out of juvenile detention and corrections facilities.
D'Amato knew exactly how to rein Tyson in, and taught him how to translate that inner rage into his favor. He directed Tyson's aggression toward boxing, told the young firecracker that he had a future in pugilism, and was able to successfully channel "Iron" Mike's energy into training. The two worked together every single day in the gym.
Because D'Amato knew boxing was just as much a mental game as it was physical, he had Tyson study up on old boxing videos and read books in between training sessions. This helped calm Tyson's mind and trained him to think.
2) D'Amato Gave Tyson Shelter And Guidance
After a friend of D'Amato introduced a young Tyson to the boxing coach, the pair were almost instantly on the same wavelength. From that point on, D'Amato and Tyson were inseparable. D'Amato took the kid under his wing, bringing Tyson into his own home, providing him food and shelter. He practically raised Tyson from the age of 13.
Tyson had so much potential at such a young age. He was a physical specimen, with latent power in both fists. But growing up in poverty in Brooklyn, Tyson was exposed to the harsh realities of life very early.
He was an angry young boy who was easily offended by anyone and everyone. His demeanor only improved under D'Amato's guidance. Tyson never knew his biological father, so when he came into the D'Amato household, he often referred to D'Amato as his "white father."
By taking Tyson into his own home to live with him, and basically provide and care for him, D'Amato earned Tyson's trust. D'Amato raised Tyson as if he was his own flesh and blood.
3) D'Amato Taught Tyson His Unique Technique And Boxing Philosophy
D'Amato was a fistic genius. Apart from Tyson, D'Amato was also credited for having trained former world champion and Olympic gold medallist Floyd Patterson, as well as Puerto Rican world boxing champion José Torres.
D'Amato's boxing philosophy banked heavily on utilizing speed and leverage in order to deal maximum damage. Tyson's trademark peek-a-boo style of boxing, where the gloves hover right above both cheekbones and the head moves laterally, is a product of D'Amato's genius.
This style had his fighters remain active on the feet, using momentum to swing from side to side like a pendulum, and was very unique and hard to decipher. The very distinct movement took advantage of various explosive slopes and dives, putting kinetic weight behind every punch. The most powerful punches from this style were hooks and uppercuts, which Tyson became known for.
Perhaps the most important lesson D'Amato taught Tyson, however, was that only obsession could lead to immense success. D'Amato instilled in Tyson an insane work ethic, and he always outperformed his opponents in the gym.
4) He believed In Tyson When No One Else Would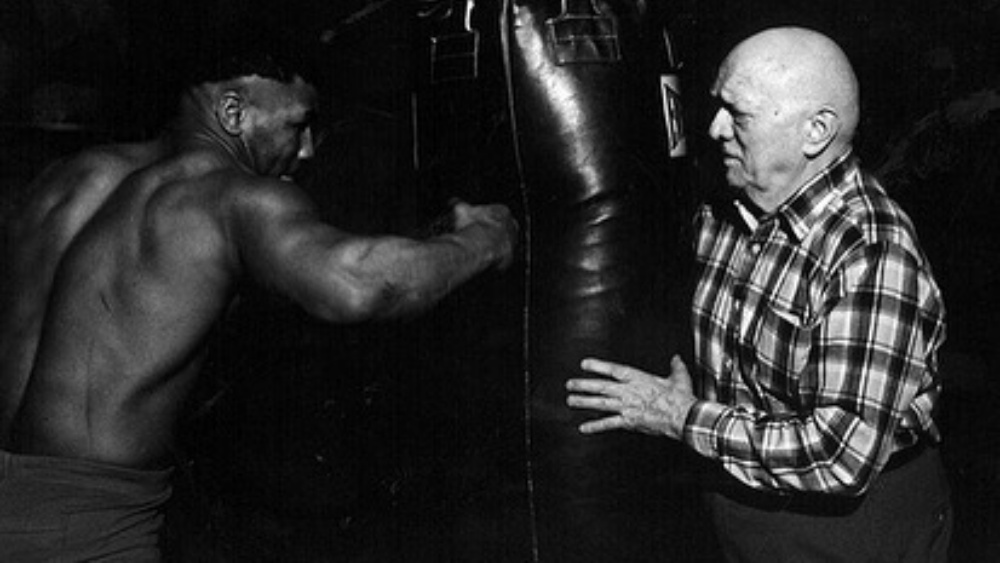 Perhaps most important of all, D'Amato showed confidence in Tyson, and this really captured his heart.
Tyson spent years of his early life without a father figure to lean on. Before he met D'Amato, Tyson was doomed to a life of failure. But D'Amato saw something in Tyson, something special.
D'Amato always believed in his fighters, and worked creatively to build confidence in them to become world champions. He instilled the champion philosophy into his wards, and Tyson was no different.
This sort of guidance was essential in Tyson's upbringing. He could have easily gone the other way, down a road that would have led him to a grim future. But D'Amato's influence ensured Tyson was set on the right path, and after a stellar amateur career, Tyson turned professional and overpowered everyone he was in the ring with. The rest is history.
Of course, Tyson's demons came back to haunt him, and he couldn't really shake them off. It seemed trouble followed Tyson wherever he went. But without D'Amato coming into his life, it could have been so much worse.
The relationship between a fighter and his coach is one of the most important. Tyson and D'Amato are certainly proof of that.
You may also like: