Most people that work out would consider adding dairy products like milk, cheese, and yogurt because of just how nutrient-dense dairy products are. But not everyone is lactose tolerant, some avoid these food of lactose intolerance. Fret not because there are countless lactose-free options for people who don't digest dairy products well.
The term "dairy products" refers to foods made out of the milk of mammals like cows, buffaloes, goats, or sheep. Some of the more popular products in this food class include whey products, casein, cream cheese, sour cream, cream, ghee, butter, yogurt, and ice cream. These products are produced using different processing methods and techniques to create distinct qualities. For example, milk can be processed into skimmed, semi-skimmed, powdered, or evaporated milk based on the technique used to process it.
Dairy products can be fortified, meaning vitamins and other nutrients can be added to them to increase their nutritional benefits. Some of the nutrients and vitamins often found in dairy products include:
Phosphorus

Calcium

Potassium

Vitamin A

Vitamin B12

Vitamin D

Magnesium

Zinc

Selenium
Creating Healthy Meals With Dairy Products
Ready to start making healthy meals that satisfy your dairy craving? Let's dive right into our list:
1) Chicken, Sausage, And Feta Pasta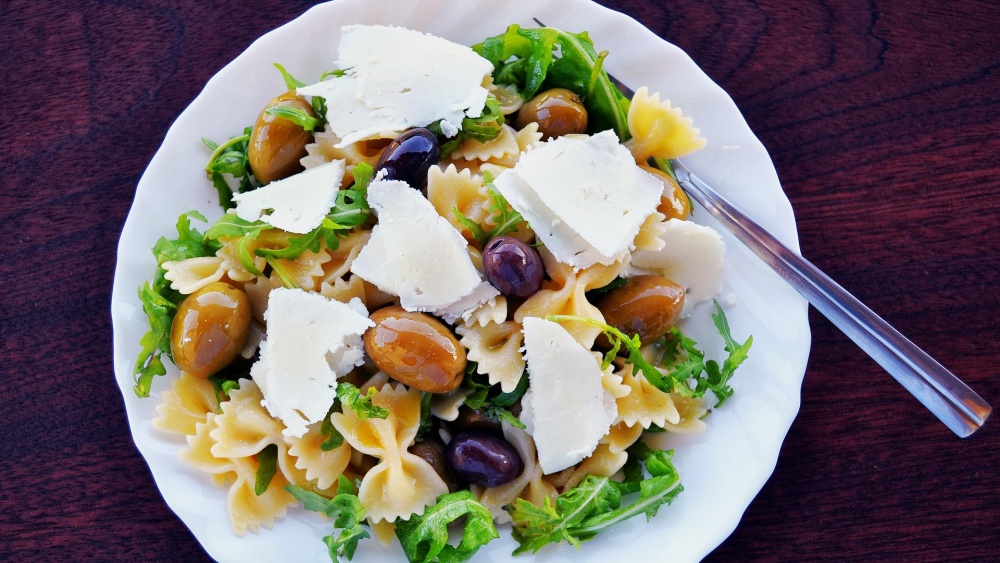 Here's a simple meal that's tasty and extra cheesy. You'll need these ingredients to get started:
One cup of diced onion

Three cooked sausage links sliced

One garlic glove

Eight ounces of tomato sauce

Two tablespoons of olive oil

Four cups of baby spinach

A quarter cup of chopped pitted Kalamata olives

Six cups of cooked whole-wheat rotini pasta

Half cup of crumbled feta cheese

A quarter cup of chopped basil

One glove of minced garlic
Start by heating the olive oil in a skillet over medium-high heat. Add the onions, garlic, and sausage to the oil once it's heated. Stir frequently for about five minutes or until the onion starts to brown. Add the olives, spinach, tomato sauce, and pasta. Keep stirring for another five minutes. Add a few tablespoons of water if necessary to prevent the pasta from sticking to the bottom of the pot.
Stir in the basil and feta cheese last and take the skillet off the stove. The entire process takes only about 20 minutes, and the meal serves up to four people.
2) Zucchini Pie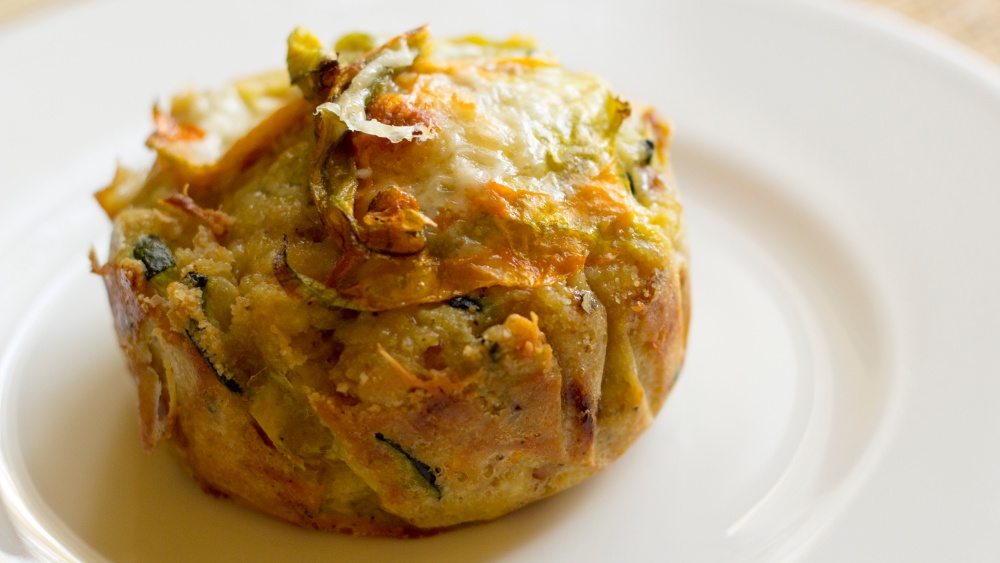 This healthy vegetable-packed dish shares many similarities with the traditional Italian spaghetti pie. It is a classic, cheesy vegetable pie that takes about 20 minutes to prepare and about 80 minutes to cook in the oven. Here's what you'll need to make the dish:
A teaspoon of kosher salt divided into two

Two large, beaten eggs

16 ounces of Zucchini noodles

One cup of shredded mozzarella cheese

One and a half cups of low-sodium marinara sauce
After cooking the noodles, start by tossing them with half a teaspoon of salt and place them in a strainer over a bowl to remove all the excess water. Pat the noodles with a dry cotton towel to get them as dry as possible.
Preheat your oven to 350 degrees Fahrenheit and coat a nine-inch pan with olive oil or cooking spray. Pour the remaining salt, the marinara sauce, and the eggs into a bowl and stir them together. Add the zucchini noodles and mozzarella cheese (save about two teaspoonfuls) to the bowl and stir some more. Keep stirring until the noodles are evenly coated.
Pour the mixture into the pie pan and sprinkle the remaining cheese on it. Bake until the pie puffs up and sizzles around the edges. The center of the pie should no longer be liquid when the dish is ready. Let the pie sit for ten minutes before serving it. This recipe feeds six people.
3) Melting Potatoes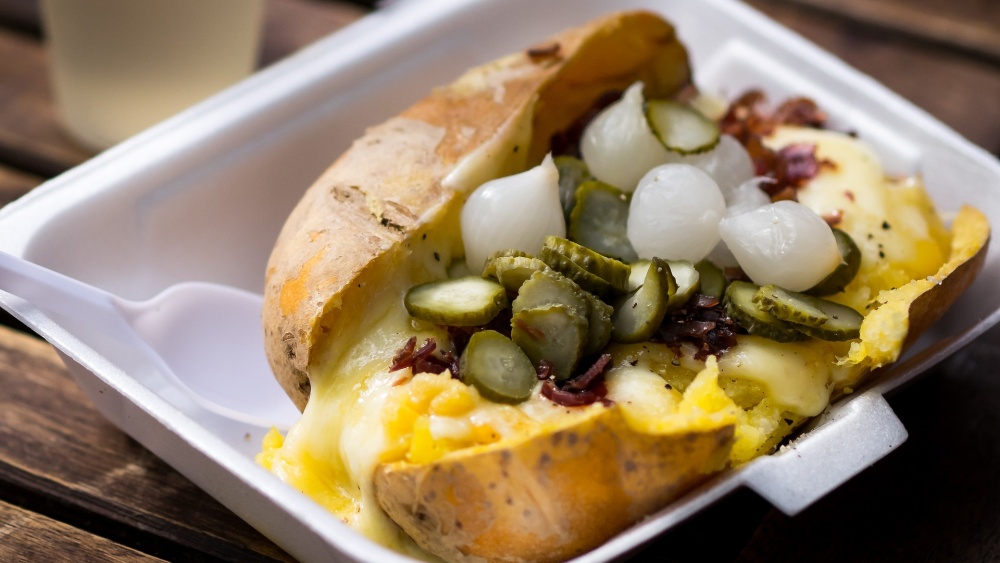 This recipe gets its name from the creamy interior of the potatoes when ready. You melt the potatoes with high heat to make their exterior crunchy. You then add broth to the roasted potatoes, so they absorb the juices, making them extra moist on the inside. You end up with potatoes that melt in your mouth with each bite.
Yukon or any other waxy potato work best for this recipe. Starchy potatoes like Russet are more likely to break apart when cooked so go for waxy varieties like Yukon, Red, or fingerling potatoes.
You'll need a large pan for the recipe since the potatoes must be spread apart to prevent them from steaming out instead of roasting. Metal pans work better than glass pans when roasting foods, so use one.
Here are the ingredients you'll need for the meal:
Two tablespoons of melted butter

Two pounds of Yukon Gold potatoes

Two teaspoons of fresh thyme

One teaspoon of chopped rosemary

Two tablespoons of extra-virgin olive oil

A three-quarter teaspoon of salt

Half a teaspoon of ground pepper

Five cloves of garlic, peeled and crushed
Preheat your oven to 500 degrees Fahrenheit and place the rack in the middle. Toss the potatoes with thyme, rosemary, salt, pepper, oil, and butter in a large bowl. Keeping tossing until the potatoes are evenly coated with the mixture, then start arranging them on the pan. Make sure they are spaced out in the pan to ensure they roast uniformly. Roast the potatoes for about thirty minutes, flipping them over halfway through.
Carefully add the garlic and broth to the pan, and keep roasting for another 15 minutes, so the potatoes absorb the broth.
4) Chicken Parmesan Pasta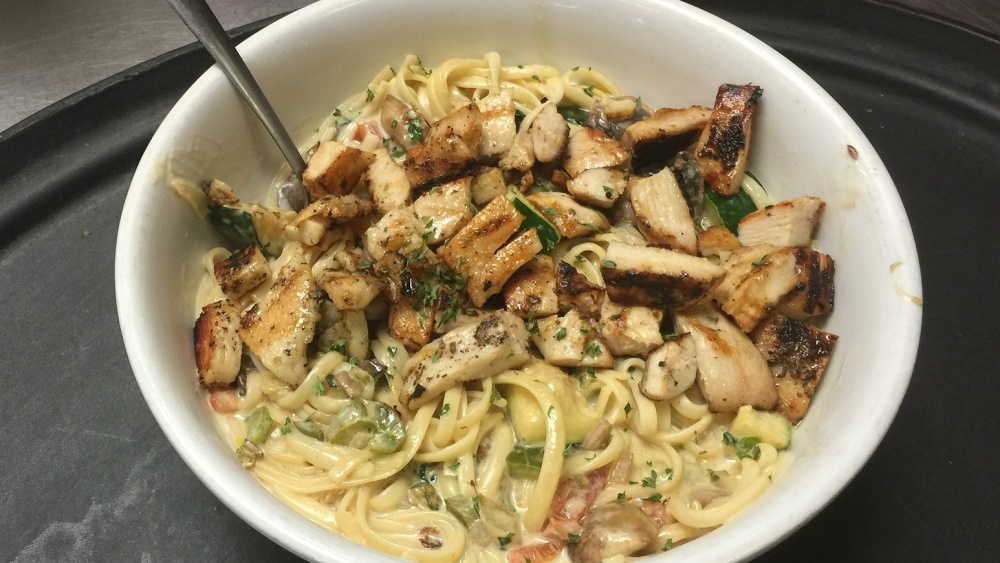 Here's an easy, cheesy dish that only requires one pot to make. You then place the dish under a broiler for a few minutes to get a melted cheesy crust. You'll need:
Two tablespoons of olive oil divided into two parts

A little more than one tablespoon of minced garlic

A quarter cup of whole-wheat panko breadcrumbs

One teaspoon of Italian seasoning

A quarter teaspoon of salt

Three cups of low-sodium chicken broth

One pound of skinless chicken breast cut into small pieces

Half a cup of mozzarella cheese

One and a half cups crushed tomatoes

Eight ounces of whole-wheat penne

Quarter cup shredded Parmesan cheese

A quarter cup of fresh basil
Start by heating one tablespoon of oil in a large oven-safe skillet on medium heat. Add one teaspoon of garlic and the panko to the oil. Cook for about two minutes and transfer the skillet's content into a small bowl.
Clean the pan and add the remaining oil to it. Cook on medium-high heat and add the chicken, salt, remaining garlic, and Italian seasoning. Stir until the chicken is no longer pink, and add the penne, broth, and tomatoes. Bring everything to a boil and cook until the sauce is thickened.
Sprinkle mozzarella on the penne mixture and broil until the cheese bubbles. Top it with the panko mixture and add basil.
You may also like:
Here Are 9 Tasty Greens You Should Incorporate Into Your Meals