Learning martial arts can be a challenging but fulfilling pursuit regardless of age. Martial arts is great because it can improve your health and is a gateway to becoming more active. Other hobbies can also give you these benefits, but martial arts' inherent difficulty and practicality can give you the confidence that most pursuits cannot.
As people age, it is essential that we tap into these activities so that we continue to improve in all aspects of life. Today, we'll discuss the best reasons why Brazilian Jiu-Jitsu is the perfect martial art for seniors.
Benefits Of Staying Physically Active
Being active physically becomes more important as we age. Our bodies become weaker physically as we get older. Therefore, it is imperative that we train our muscles, bones, and heart so that we minimize diseases from damaging our bodies.
Staying consistent in an exercise routine is perhaps one of the most practical ways to slow down the hands of time. While the chosen physical activity can somehow affect how healthy we can become, consistency will ensure that our health will at least be better from where we started.
Why Choose Brazilian Jiu-Jitsu?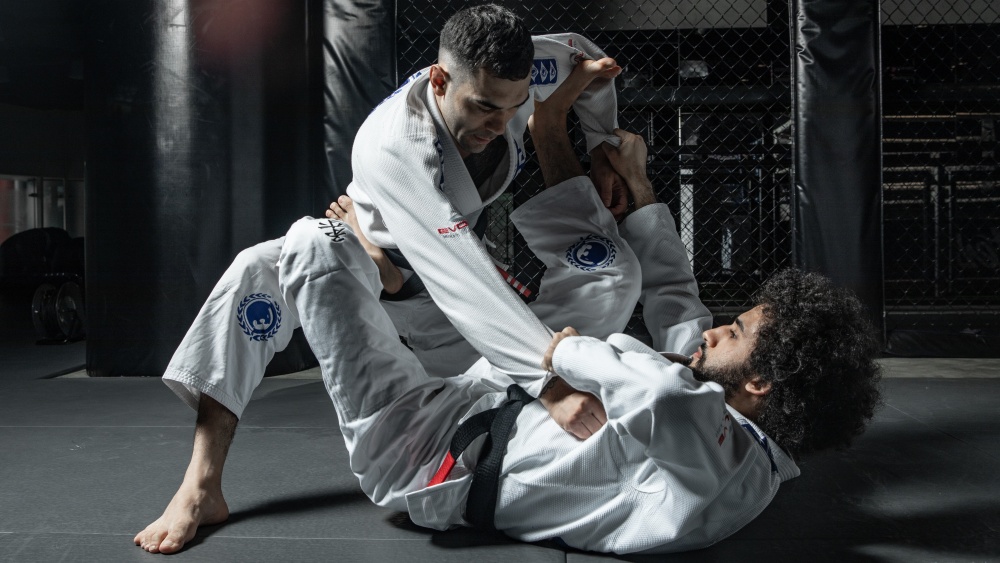 Training martial arts, specifically Brazilian Jiu-Jitsu, is one of the best bang-for-buck hobbies you can do to stay active. BJJ is a martial art that emphasizes technique and leverage to overcome bigger and stronger opponents. We generally slowly lose our strength and agility as we age. Harnessing the power of proper technique and body positioning can overcome this limitation, thus still allowing you to stay competitive on the mats.
The beauty of BJJ is that there are many techniques to choose from, and people can use the martial art to improve their lives regardless of their situation. Let's talk about some of the most fascinating benefits of Brazilian Jiu-Jitsu.
1) A New Language To Learn
Training BJJ stimulates both the body and mind. At first, you'll be exposed to an environment where everything is new and complex. Even the basic drills such as shrimping, bridging, and side-to-side movements can challenge absolute newbies and even older practitioners. This is okay. It is supposed to be difficult because BJJ relies on using leverage, and most positions are foreign to most people. It is not every day that you grapple against someone on the ground!
Once you slowly get the hang of the most common positions, a new world will unravel itself to you. You'll see that BJJ is not only a martial art but a language your body is trying to learn. Movements foreign to you many months ago will become second nature, and your body will know how to react to specific actions with little thought.
There is no better feeling than being able to apply the sweeps and submissions you've been learning the past months to fully resisting training partners. In time you'll be the senior practitioner in the gym that everyone respects but secretly dreads to roll with.
2) Confidence Booster
The confidence you'll gain by training Jiu-Jitsu is immense. BJJ has enough techniques that you can start the roll by pulling to butterfly guard and working on sweeps and submissions from the bottom position. You can focus on a few simple techniques, and you'll be able to hold your own in the gym. Knowing that you can do this despite your age will give you the confidence to keep challenging yourself to become a better grappler. It is also one of the few martial arts that allows seniors to spar safely.
3) Improves Physical And Mental Toughness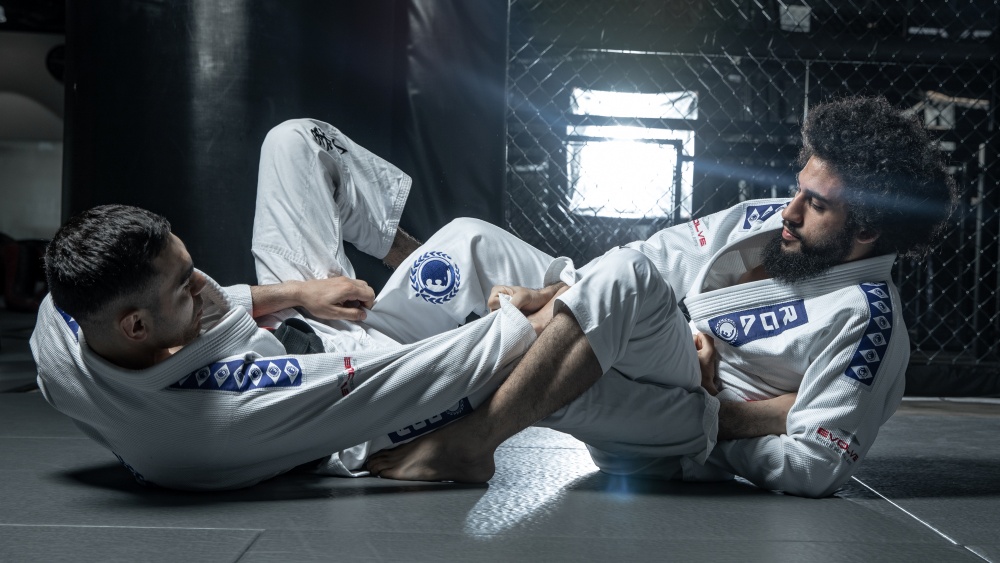 Starting a martial art at an advanced age is an achievement in itself. As mentioned previously, learning the language of BJJ is difficult in the first few months. But this inherent uphill climb will build your tolerance and can make you a tougher individual.
In the beginning, you are a new slate that's being polished into a stronger material. In time, as your belt becomes darker, you'll notice that your ability to handle stressful situations will improve drastically as well. Learn to love this process, and you'll appreciate every challenge you encounter in your training sessions.
4) Community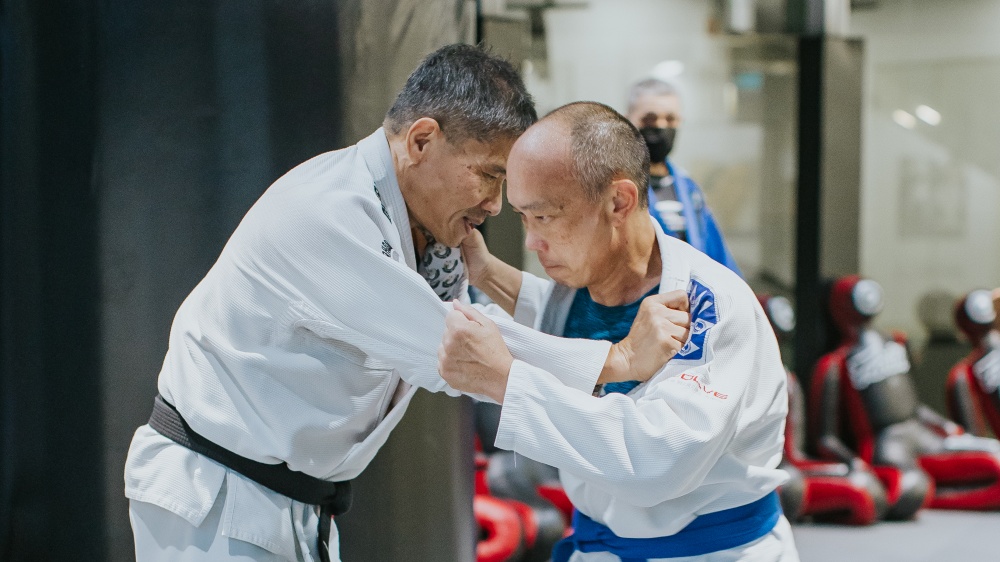 Your training partners are more than just a bunch of people you roll with daily. They are there to help push you to become a better version of yourself by testing your Jiu-Jitsu in a safe and controlled manner. One of the things that people love about training in BJJ is that you get to hang out with people from all walks of life. Everyone is on the same path toward improvement inside the gym, and it is always beautiful to see teammates bond towards one goal.
5) It's Never Too Late To Be The Best Version Of Yourself
As we age, we are reminded that we don't have the same capabilities as before. While it is true to an extent, sometimes people exaggerate this fact and treat us like we are helpless to do even the simplest of tasks. Jiu-Jitsu reminds us that we are very much capable of handling our own business. Yes, age matters, but you are a lot stronger than you think. Watch the above video and let it remind you of the inner strength that you have despite your age.
Give BJJ A Try!
We are believers that BJJ is the perfect martial art for seniors. The benefits of this fantastic martial art far outweigh the initial struggle of learning and mastering techniques. The community is very open to people of all backgrounds, and you'll be surrounded by like-minded individuals willing to help you achieve your goals. We hope we've inspired you to learn more about Brazilian Jiu-Jitsu.
Ready to give Brazilian Jiu-Jitsu a try? Attend one of Evolve MMA's complimentary introductory BJJ classes to see what training is like up close.
Book your complimentary trial class with our World Champions below!
If you have any other questions regarding Evolve MMA and the programs we offer, you can get in touch with our membership executives at the following locations:
Evolve MMA (Far East Square)
26 China Street
Far East Square #01-01
Singapore 049568
Phone: (65) 6536 4525
Evolve MMA (Orchard Central)
181 Orchard Road
#06-01 Orchard Central
Singapore 238896
Phone: (65) 6536 4556
Evolve MMA (KINEX)
11 Tanjong Katong Road
#02-52 KINEX
Singapore 437157
Phone: (65) 6288 2293
Evolve MMA (Clarke Quay Central)
6 Eu Tong Sen Street
#04-18 Clarke Quay Central
Singapore 059817
Phone: (65) 6226 2150
Evolve MMA (Star Vista)
1 Vista Exchange Green
#02-26A The Star Vista
Singapore 138617
Phone: (65) 6539 9590