On the evening of March 14th 2015, the world watched in disbelief as Rafael dos Anjos dominated every minute of a five round championship fight against the heavily favoured UFC lightweight champion Anthony "Showtime" Pettis.
With his legs wrapped around the champion in the last few seconds of the fight, Rafael Dos Anjos knew that the show was over for the ever popular "Showtime". And when the horn sounded for the fifth and final time in the match, the world of MMA stood witness to one of the biggest upsets in the history of the sport and a triumphant moment in one of the most storied careers in all of martial arts.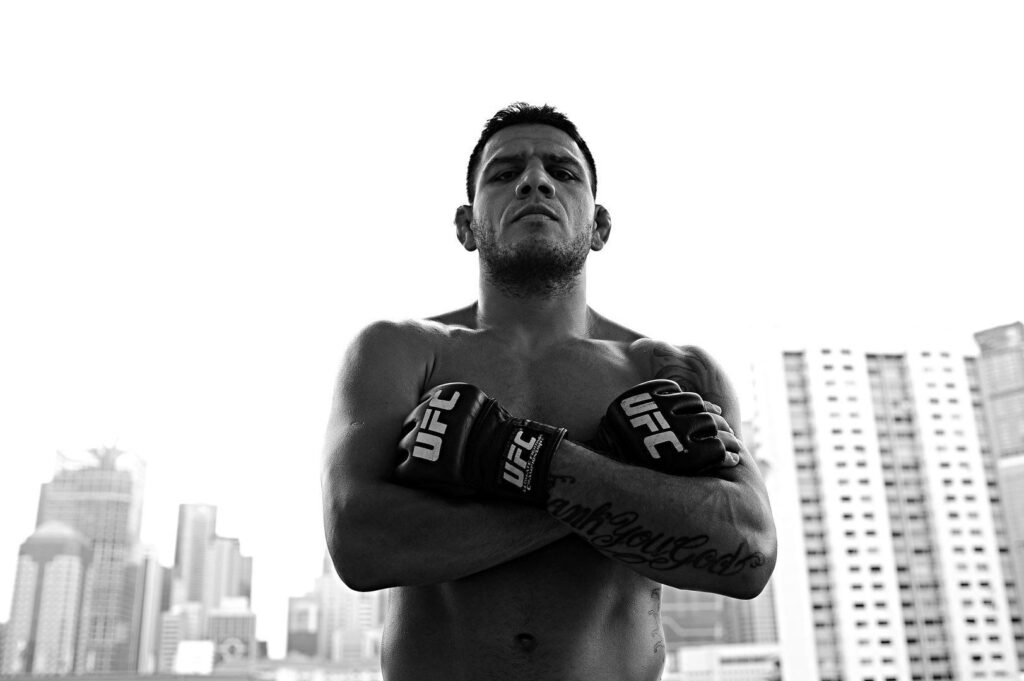 In all great mixed martial arts tales, there's always one bout that changes the landscape of what is expected of two fighters. A performance that ensures the world will learn the name, and never forget the fighter. It's now been almost 11 years since Rafael Dos Anjos first began his ascent to the upper stratosphere of the fastest growing sport in the world, making it easy to forget how he had started.
But to truly appreciate where he is now, we have to start again at the very beginning. Growing up on the streets in his hometown of Niterói, Rio de Janeiro, Brazil, Rafael Dos Anjos' life was one of poverty and violence. The young, troubled boy would often get into fights, common to all who lived in the favelas, the ghettos of Rio de Janeiro. However, the life of trouble on the streets came to an end when he discovered Brazilian Jiu-Jitsu at the age of 9.
This new found life in martial arts would give Dos Anjos all that he ever had; opportunities, friends, and an escape from a life deemed unhealthy by most. But most of all, this new found life would lead him down a path so filled with ups and downs, that it would see him become one of the most inspirational martial arts stories of all time.
Unlike most champions and champions to be, Dos Anjos had a rocky start to his MMA career. Taking the fight on short notice, he would go on to lose his debut via a controversial split decision. After leaving the fight with a black eye and a bloodied nose, his parents' disapproval of his ambitions in fighting grew stronger, causing him to depend solely on the support of his peers. Dos Anjos continued to pursue a life of MMA fighting for different promotions around Brazil and Japan.
Twelve fights later, Dos Anjos' dreams came true when he was offered a contract to fight for the Ultimate Fighting Championships (UFC) in 2008. However, much like the start of his MMA career, Dos Anjos lost his first two fights in the UFC. In 2009, Dos Anjos came to Singapore to train for a few months at Evolve MMA, a move that would have an incredibly positive impact on not just his MMA game, but his life as a whole. "Before, I was a grappler, I was Brazilian Jiu-Jitsu fighter, and coming here made a huge difference in my life and in my stand up game," Dos Anjos explained. "I started to see the stand-up game in a different light when I started training here."
Dos Anjos went on to win his next three fights in the UFC before facing top ranked lightweight title contender Clay Guida in 2010 at UFC 117. Dos Anjos' jaw was broken in the first round by a hook thrown by Guida. Dos Anjos would then be forced to submit in the third round from the pressure that was applied to his jaw. Broken in mind, body and spirit, Dos Anjos had lost all hope of ever fighting again. "I thought my career was gone, I thought I couldn't fight anymore," Dos Anjos recalled.
However, Dos Anjos overcame his doubts and pressed forward with the unending support of his teammates at Evolve MMA. In 2010, he moved to Singapore with his family to continue his training under the legendary Muay Thai instructors at Evolve MMA.
They always believed in me and invested in me," Dos Anjos said. "Even at times when you don't believe in your dreams, you have someone here who believes in it more than yourself."
UFC Fighter and BJJ Black Belt World Champion Leandro "Brodinho" Issa, is nothing but happy for his longtime friend and teammate. "I'm very happy to see Rafael as the champion now," said Brodinho. "He's an inspiration to everyone in the Evolve Fight Team and a great example for us as well."
And a what great example he is. There is no doubt that Dos Anjos truly exemplifies what can be done with an indomitable will and an unbreakable warrior spirit. According to Dos Anjos, nothing is impossible if you have faith – not only in yourself but in a higher being as well.
You have to love what you do," he explained. " You have to always put God first. You have to listen to him, work hard, love what you do, and have commitment."
His ability to overcome all odds and stand up to all the naysayers is truly admirable. And he believes that none of it would have been possible without the people who always had faith in him and helped him along the way.
I have a lot of people to thank; it's hard to remember everybody. But I have to thank everyone that helped me get here. Thank you to my team at Evolve for always believing in me. There were times in my life when I didn't believe in myself. I just want to thank everyone who has helped me –- they all had a part in it so I have to thank them."
Although Dos Anjos is at the pinnacle of success, he knows that there is still more to come. There will still be more fights; it's just the beginning. "I'm going to defend this belt and keep it for a long time, " he revealed. We believed in him before and we believe in him now, and if one thing's for certain; it's that Dos Anjos definitely keeps his word.