So you've made a fortune winning at mahjong or poker this Chinese New Year. And you've also tried every single pineapple tart, egg roll and bak kwa out there, thanks to your excited relatives. Prosperous and full that's the symbolic sign of fortune for the Chinese celebrating this happy festival.
Then you realise your clothes aren't fitting as well as they should. Or perhaps you're feeling the post-festive bulge and fatigue. Time to get in shape! But it's easier than it sounds, especially if you weren't working out before the Chinese New Year. So we've got you here – here are six fun ways to get in shape.
1) Punch It Out At A Martial Arts Class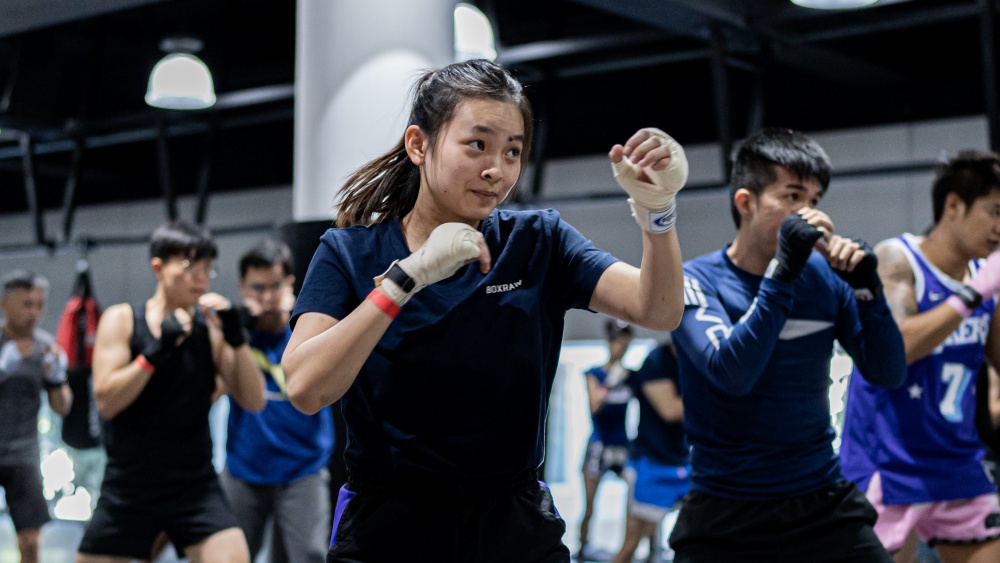 If you've ever tried martial arts, you know there's no better feeling than mastering a new move or learning how to defend yourself against an attacker. It's also a great way to get in shape because it keeps your body constantly moving – and being on the move is one of the best ways to burn calories.
Whether you try boxing, Brazilian Jiu-Jitsu, Muay Thai or other martial arts, it teaches you how to use your body as a tool for self-defense rather than just being about performing the most challenging exercises and workouts. Instead of just a repetitive gym workout, where you're typically doing the same few exercises, you learn something new every lesson. You'll feel like a champion when you master a roundhouse kick or a fast hook punch. It's also a great way to find like-minded workout buddies!
Furthermore, martial arts is also a great stress reliever! We all know how hard it can be to manage our stress levels during busy weeks and martial arts can give us an outlet. When you're tense or anxious, your body goes into "fight or flight" mode: your brain releases adrenaline into your bloodstream and tells you to move quickly.
But if there's no danger around? That adrenaline stays in your system and keeps telling your muscles to move like they're in trouble, making them tense up even more! Martial arts can help break this cycle by teaching you how to relax when feeling frustrated. Join a top martial arts school in Singapore, like Evolve MMA, to get started. It will help you to learn martial arts skills in a fun and supportive environment.
2) Dance It Out At A K-Pop Fitness Class
Love K-pop and wish you could be as "swaggy" as the teenyboppers jiggling to K-pop? Have two left feet but still want to dance? Check out a K-pop fitness class. Instead of a pure dance class with complicated choreography, K-pop fitness pairs simple aerobic dance moves with adrenaline-pumping K-pop. You don't have to be a good dancer, as the steps are easy to remember. Instructors may combine toning and resistance exercises amidst intense cardio sessions too.
It's fun because you can dance to your favourite K-pop songs, making you feel like you're having an awesome time even though you're working out. All the while, you'll be burning calories and getting fit! It's easy because no complicated moves or equipment are required – just your own body, some room to move around in, and some music that motivates you!
Best of all, it's a great complement to martial arts. The footwork will help you stay light on your feet, which comes in handy when you need to be on your toes for a boxing or Muay Thai routine. Many great martial arts artists were former dancers and attributed their ring presence to their dance background. Just see what they say about dancing and martial arts here! So if you are looking for something fun and easy to start with, why not try Kpop Fitness, which holds plenty of K-pop classes in Singapore?
3) Rock Climb Your Way To Success (And Fitness!)
Rock climbing is a great way to get in shape because it allows you to work on your upper body strength and core, both essential for maintaining a healthy weight. It also helps you build endurance, coordination, balance, and agility! Since you're using so many different muscles, it's also a good full-body workout. The best thing is you have a visual goal to reach the top, so you're less likely to feel like it's just a boring workout.
It's also a great cardio workout because it requires intense bursts of energy followed by rest periods while hanging on to a wall. And this kind of exercise will help your heart stay healthy. Another advantage is that you can scale the walls any time of the day for people with unconventional work schedules, such as those working remotely.
Moreover, you don't have to wait for a paid class. All you need is your water bottle and a climbing membership at Climb Central or the many climbing gyms in Singapore. You can also go at your own pace, so for those who don't like competitive sports, this is a good solo activity. Although it's a solitary activity, you can also meet people who enjoy rock climbing or pull friends along to belay you as you climb. An excellent way to get active without too much stress!
4) Stretch It Out… At A Gymnastics Class
Most adults will not consider gymnastics since the stereotypical idea of a gymnast is a young child with very nimble muscles. But it's possible if you've dreamt of flipping into a handstand nonchalantly or just want to do a cartwheel.
Gymnastic classes in Singapore like Gymcraft and NorthStar Gymnastics offer classes specially catered for adults. You'll be guided to do basic tumbles with professional instructors and provided equipment. Stick to it; you can start flipping and turning like a pro.
Gymnastics is a great way to get in shape because, like martial arts, every lesson is different. Every class lets you progress at your own pace while building muscle, flexibility, and endurance. Gymnastics can also help you learn to be graceful, serving you well in all parts of your life. While you can also take pilates or yoga to increase your flexibility, gymnastics will add a whole new dimension as you put that newfound flexibility to glide through the air with a cartwheel.
5) Bounce Those Calories Off
Try a Bounce Bungee workout if you've always wanted to go bungee jumping but fear heights. It has nothing to do with actual bungee jumping. Instead, you'll wear a harness attached to an elastic bungee cord in the studio and engage in a series of movements while letting the bungee hold your weight.
The Movement & Sports Medicine Centre (MSMC) offers Bounce Bungee classes where you're taken through various cardio and resistance exercises. The good thing is since an elastic cord supports you, you'll feel buoyancy in every movement you do – whether running, jumping, or doing pushups, just like you are in a swimming pool. Bounce Bungee classes reduce the strain on your lower body for knee or hip pain. You'll be able to burn calories without suffering from too many aches and pains in your joints afterwards. Resistance against the elastic cord also helps to activate your core too!
6) Take A Leaf Out Of Nature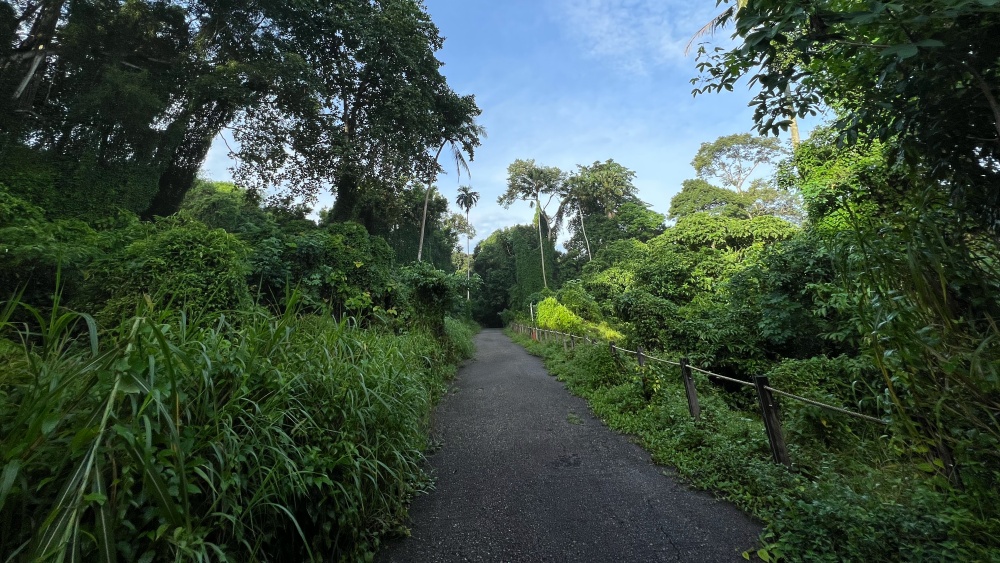 Finally, start easy if you are too overwhelmed by the myraid of fitness choices. Singapore has plenty of park connectors where one can take a stroll. Start with a daily walk and slowly progress to a slow jog.
Going to a gym and hopping onto a treadmill can be intimidating if you haven't exercised regularly. It can also get boring since it's just you and the machine. On the other hand, walking in nature is fascinating since you can observe flora and fauna around you. Studies have also found that a 30-minute walk in nature can lower stress levels and improve cognitive ability. For those who work out regularly, a brisk walk in the park can also be a form of active rest, which is necessary to let your muscles rest!
From rock climbing to K-pop fitness to even martial art classes, there are many ways to get fit this post-Chinese new year season. If you're looking to try something different, why not sign up for a free trial class with Evolve MMA if you're ready to crush your fitness goals post-Chinese New Year?
Book your complimentary trial class with our World Champions below!
If you have any other questions regarding Evolve MMA and the programs we offer, you can get in touch with our membership executives at the following locations:
Evolve MMA (Far East Square)
26 China Street
Far East Square #01-01
Singapore 049568
Phone: (65) 6536 4525
Evolve MMA (Orchard Central)
181 Orchard Road
#06-01 Orchard Central
Singapore 238896
Phone: (65) 6536 4556
Evolve MMA (KINEX)
11 Tanjong Katong Road
#02-52 KINEX
Singapore 437157
Phone: (65) 6288 2293
Evolve MMA (Clarke Quay Central)
6 Eu Tong Sen Street
#04-18 Clarke Quay Central
Singapore 059817
Phone: (65) 6226 2150
Evolve MMA (Star Vista)
1 Vista Exchange Green
#02-26A The Star Vista
Singapore 138617
Phone: (65) 6539 9590