Martial arts training comes with many benefits. It makes you confident, assertive, disciplined, ambitious, more sociable, healthier, and it can even bring families together. That's something Noah and Paul Lim have firsthand knowledge of.
Noah, 16, and Paul, 20 have always had a passion for athletics. Paul played football, while Noah was into swimming, but they yearned for something they could do together.
They eventually found Brazilian Jiu-Jitsu (BJJ) at Evolve MMA, and it's safe to say that both have been bitten by the BJJ bug.
"Previously I was playing football, and my brother was in swimming," Paul explains. "We didn't have a lot of time together because we were in different fields. Then, when we started BJJ, we had the opportunity to study the game and train together."
"We love watching lots of videos, studying our favorite fighters together," Noah added. "I feel that this has bonded us and made our relationship closer. We spend a lot of time together because we train for one hour every single day. So, we're always together studying and pushing each other very hard."
It's hard not to become passionate about the gentle art. Brazilian Jiu-Jitsu is a fun martial art to learn, and it forces students to push themselves to their limits. One of the many reasons why BJJ is so popular is that rolling (sparring) is a big component of the martial art. Rolling gives your body an intense workout, and you get to practice your techniques on resisting opponents.
Brazilian Jiu-Jitsu is a thinker's sport. Many practitioners liken it to a game of chess. A game of chess that often involves coming up with an appropriate strategy to defeat your opponent, while he/she tries to do the same to you. It's as much a mental workout as it is physical.
Like many other martial arts, Brazilian Jiu-Jitsu also builds mental toughness and the ability to solve problems while under pressure. That makes you more confident and less likely to freak out when you find yourself dealing with stress outside the gym.
Noah really appreciates this added bonus that comes with BJJ training.
"Before BJJ, whenever I was in a stressful situation, I couldn't really handle pressure very well," Noah explains. "Now, I feel like even during exams or any other stressful situation, I can calm my nerves and stay calm to do well and focus… Before I started martial arts, I didn't prioritize my time, when I came home from school. I just wasted my time and procrastinated a lot. But because I have started training martial arts, and I want to train martial arts every day, now when I come home, I finish my homework, and I train every single day. I feel I use my time very effectively."
Paul also feels he's become a lot more disciplined since he started training BJJ, and that has helped him on the mat as well as at university.
"I think BJJ has made me more disciplined," Paul adds. "This translates to my studies because during my exam period. I have to sit down for an hour straight and study. I cannot have any distractions, just like in training… Once I discovered BJJ, I realized this is something I want to do every day. I hope to improve a bit every day."
Mr. and Mrs. Lim are very proud of their sons' improved focus and discipline, as any parent would, and they're always there to cheer them on.
"We have five children. Paul and Noah are very keen on BJJ," Mr. Lim explains. "When they are free, they will be reviewing videos. They are quite focused and very interested in the sport. They have very high aspirations. Being young, Noah even thinks of someday perhaps being a world champion. Who knows? It's not going to be easy, I'm sure out there are many other kids that are very talented and very focused, but as long as you have a dream, pursue it. We will support them as much as we can."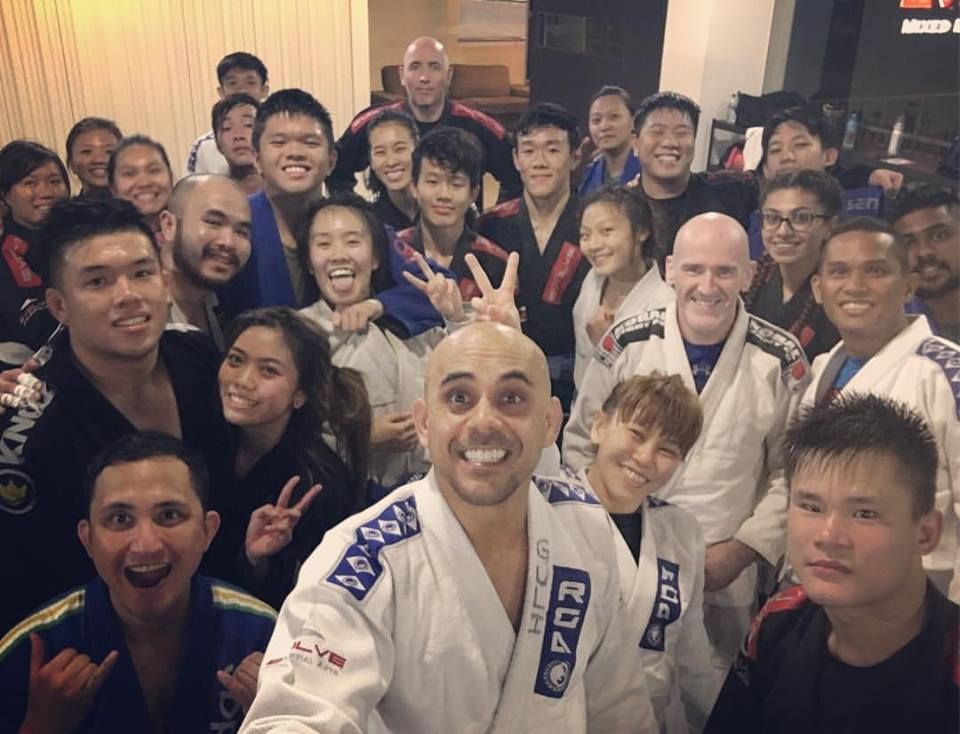 Mr. and Mrs. Lim aren't the only ones that believe in Paul and Noah's focus and perseverance. Their instructors are big fans of the brothers, and they have also noticed their transformation.
"When they started training Jiu-Jitsu, they were very quiet and shy," BJJ World Champion Leandro Issa said about Paul and Noah's development at Evolve MMA. "After a few months, they started to talk a lot more and make a lot of friends on the mat. Their technique got a lot better because they love to train and even after training they perform drills. That's the key to learning Jiu Jitsu, you have to drill to make all the techniques sharp."
Two-time BJJ World Champion and Evolve MMA instructor Teco Shinzato believes both brothers have what it takes to become World Champions someday.
"They have become good fighters because they are very hard working and they train a lot," Teco explains. "Doing techniques after class, before class. They have very good talent and during tournaments, they have very good results. Paul and Noah, they have very good talent, and these guys can go very high."
Both brothers are fully hooked on BJJ and it's something they plan to stick with for the rest of their lives. That's really not surprising. Who wouldn't want to keep doing an activity that gets you in the best shape of your life, gives you opportunities to meet interesting people, improves your problem-solving skills (which will translate to your studies and professional life), and improves your work ethic?
You can also benefit from training martial arts. There's no valid reason to deny yourself the opportunity for self-improvement. You have everything to gain, and nothing to lose. Schedule a complimentary introductory class with Evolve MMA today.
Book your complimentary trial class with our World Champions below!
If you have any other questions regarding Evolve MMA and the programs we offer, you can get in touch with our membership executives at the following locations:
Evolve MMA (Far East Square)
26 China Street
Far East Square #01-01
Singapore 049568
Phone: (65) 6536 4525
Evolve MMA (Orchard Central)
181 Orchard Road
#06-01 Orchard Central
Singapore 238896
Phone: (65) 6536 4556
Evolve MMA (ONE KM)
11 Tanjong Katong Road
#02-52 ONE KM
Singapore 437157
Phone: (65) 6288 2293
Evolve MMA (PoMo Mall)
1 Selegie Road
#03-11 PoMo Mall
Singapore 188306
Phone: (65) 6337 0082