Your "stance" refers to the way you stand and move when you're fighting. The position of your feet, how low your hips are, and your hand positioning plays a huge role in determining how you defend and set up attacks during a fight.
There is no such thing as a perfect or best stance in mixed martial arts, it's like trying to determine which martial art is the best. Some stances are best for certain fighting styles, while others require a high level of expertise to use correctly.
Orthodox or unorthodox
Your strong side often determines if you prefer using orthodox or unorthodox (southpaw) fighting positions. A fighter is said to be in an orthodox position when their left foot is in front of their right foot. This is the most common fighting stance since it's designed for right-handed people as most people are right-handed)
An unorthodox foundation is the reverse. It involves using your right foot as your front foot and keeping your left foot behind. This stance typically feels more natural for left-handed fighters.
While most people typically prefer one stance over the other, top-level fighters are often comfortable fighting in either position. A person who is comfortable fighting in the orthodox or unorthodox stance is called a switch fighter. The ability to use both stances allows you to mix things up to a greater extent and more effectively penetrate your opponent's defense. Defensive techniques that work for them when you're attacking from an orthodox stance might not work when you attack from an unorthodox stance.
You should seriously consider learning how to fight out of both stances if you plan to compete in mixed martial arts.
The most popular stances used in MMA
Your stance is more than just how you space your feet. Your hand position, chin position, and hip position also make up part of your stance. Some of the most effective stances used in MMA include:
1) Counter-Striker Stance
This striking stance is excellent if you have a long frame. A counter fighter tends to be more reactive than proactive during a fight, so they need to launch counterattacks quickly and return to a safe distance. This stance works great against explosive fighters with a tendency to overreach.
UFC legend Anderson Silva has picked countless fighters off using his version of a counter-striker stance. The stance also makes it easier to secure takedowns as a counter to your opponent's attacks.
One drawback of having a counter-fighting approach is the style can be perceived as boring by fans if you're dancing with an opponent who isn't willing to engage. You can encourage more action from your opponent by using fast, low-risk strikes like the jab, oblique kick, and calf kick to irritate them. These attacks often force your opponent to attack in an attempt to get back at you.
Here's how to get into a counter striker stance:
Get into your foundational stance.

Drop your hands lower than usual, this makes it more challenging for your opponent to see where your strikes are coming from, but it also makes it more difficult to block with your forearms.

Stay loose in your stance so you can change levels, lean, rotate, or move your head to evade strikes.

Fight from the end of your range and move quickly on your feet.

Launch your attacks while simultaneously defending against your opponent's strikes.
2) Classic Muay Thai Style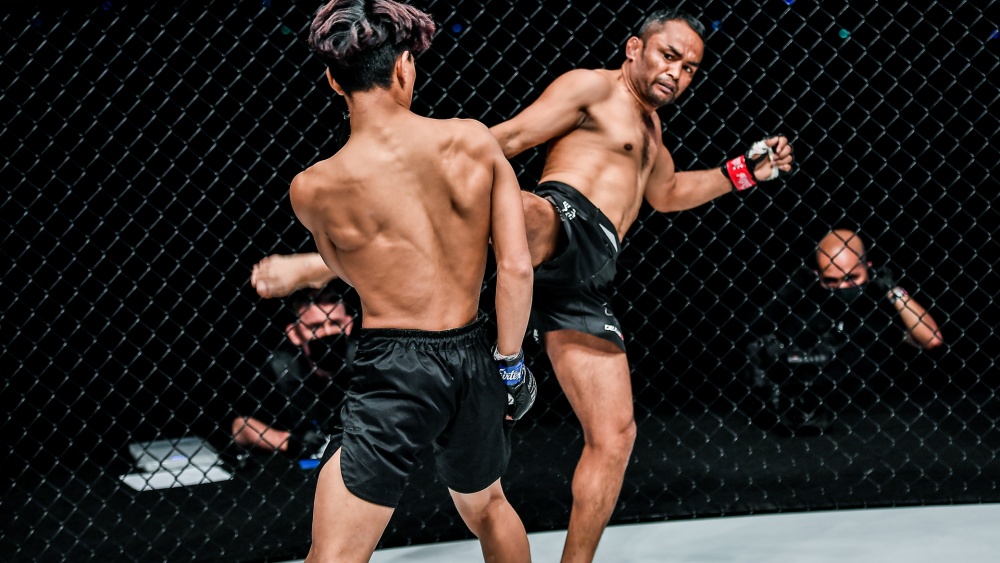 The Muay Thai stance is great for fighters who love to throw kicks. It puts you in a position where you can easily rotate your feet and hips to make your kicks more devastating. The Muay Thai stance also puts you in a position to check kicks quickly. You can use the Muay Thai stance with either the orthodox or southpaw foundation.
Like most stances, the Muay Thai stance has some drawbacks. For example, it requires you to stand tall, which makes you more vulnerable to takedowns. The Muay Thai stance also puts your chin higher than any boxing coach would be comfortable with, increasing the likelihood of you being caught with a huge punch. Many MMA fighters use a modified version of the Muay Thai stance that addresses these issues, making it more suitable for mixed martial arts.
Here's what the (orthodox) Muay Thai stance looks like:
Get into the foundation that feels more comfortable for you.

Lift the heel of your front foot about two inches off the ground.

Bring your knuckles in towards the top of your head, then extend your left hand outward.
3) Grappling Stance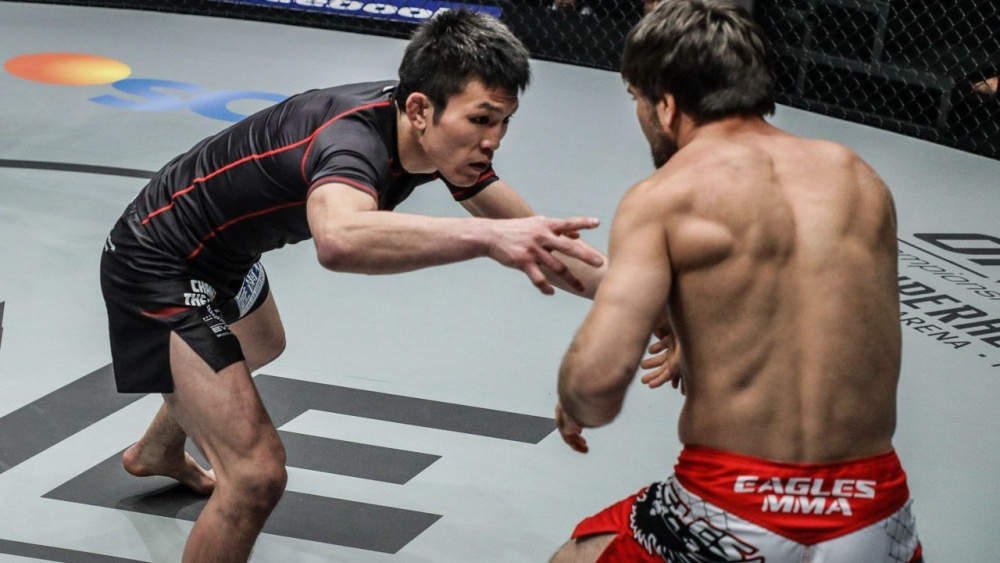 Many MMA fighters come from grappling backgrounds, so they often modify the traditional wrestling stance for mixed martial arts. A wrestling stance puts you low to the ground and your head pushed forward. It's great for shooting in or defending against takedowns, but it leaves you open to getting hit in the face.
The grappling stance commonly used in MMA focuses more on defense than offense. It aims to avoid significant strikes that can end the fight and puts you in a position to grapple. Royce Gracie used a modified grappling style to dominate the first few UFC tournaments. It's an awkward-looking stance, but it gets the job done. It's a style you should try if you have a grappling base.
Here's what the stance looks like:
Get into your foundational stance and drop your hips a little lower than normal.

Keep your arms slightly away from your face and your palms turned outward. Your arms will be your primary defense against strikes in close range.

Use oblique kicks to limit explosive attacks from your opponent. An oblique kick is a push kick that lands just above the knee.

Shoot in for takedowns whenever you anticipate your opponent is about to launch a powerful attack. Watch out for uppercuts and knees when shooting in for takedowns.
Explore MMA Stances
Our world-class instructors at Evolve MMA have years of experience teaching students how to fight using the fighting stances discussed above and many others. Feel free to attend one of Evolve MMA's complimentary introductory mixed martial arts classes to train with our team.
Book your complimentary trial class with our World Champions below!
If you have any other questions regarding Evolve MMA and the programs we offer, you can get in touch with our membership executives at the following locations:
Evolve MMA (Far East Square)
26 China Street
Far East Square #01-01
Singapore 049568
Phone: (65) 6536 4525
Evolve MMA (Orchard Central)
181 Orchard Road
#06-01 Orchard Central
Singapore 238896
Phone: (65) 6536 4556
Evolve MMA (KINEX)
11 Tanjong Katong Road
#02-52 KINEX
Singapore 437157
Phone: (65) 6288 2293
Evolve MMA (Clarke Quay Central)
6 Eu Tong Sen Street
#04-18 Clarke Quay Central
Singapore 059817
Phone: (65) 6226 2150