Any task or journey undertaken with a partner makes the journey twice as fun – martial arts is no different for this month's #WarriorsOfEvolve.
Ms Tiffany Low and Mr Damiri Hosain have two things that they both ardently agree on: their shared desire to keep learning, and how they have reached significant milestones in their careers and martial arts journeys.
34-year-old Tiffany, a Senior Account Manager in an integrated creative communications agency, started training at Evolve seven years ago and has since been awarded her purple belt. She focuses on Brazilian Jiu-Jitsu (BJJ), a ground-based grappling discipline that matches her personality. She describes herself as grounded, realistic, and controlled – traits that fit the martial art described as "human chess".
For Tiffany, who was unable to participate in sports as a child due to a weak constitution, BJJ and her neverending desire to learn has enabled her to obtain her greatest achievement so far: she clinched the gold medal at the IBJJF Pan Pacific 2019 in the U64 kg category, a fitting trophy that marked her 10th BJJ competition.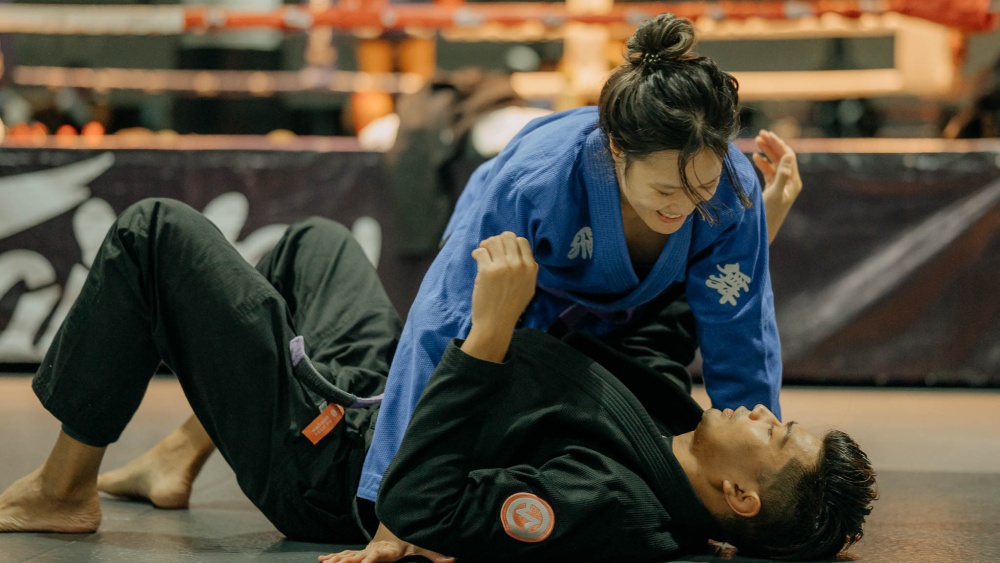 37-year-old Mr Damiri Hosain, an occupational therapist, is her partner in this martial arts journey. Damiri sees his purple belt in BJJ as one of his greatest achievements as it is the longest thing that he has ever committed himself to and taking the gold in the Master 2 category in the lightweight division in the Pan Pacific IBJJF Jiu-Jitsu Championship 2022. Outside of martial arts, Damiri is also very proud of where he is in his career. There was a period when he was not in an ideal place, but he has since overcome that with the help and trust of his colleagues.
Learning is a huge source of motivation for them, and it extends beyond martial arts. Damiri looks up to his friend Jack Tran, manager of the Singapore national Jiu-Jitsu team, as he sees Jack putting in his 100% just to grow the sport in Singapore. Tiffany looks up to her mentor at work, Brenda, as she's always in control, efficient, and stays true to herself.
Damiri has a personal motto – "For life, to grow those around me and myself through doing" – and this sums up why Tiffany and Damiri are true-blue #WarriorsOfEvolve.
Book your complimentary trial class with our World Champions below!
If you have any other questions regarding Evolve MMA and the programs we offer, you can get in touch with our membership executives at the following locations:
Evolve MMA (Far East Square)
26 China Street
Far East Square #01-01
Singapore 049568
Phone: (65) 6536 4525
Evolve MMA (Orchard Central)
181 Orchard Road
#06-01 Orchard Central
Singapore 238896
Phone: (65) 6536 4556
Evolve MMA (KINEX)
11 Tanjong Katong Road
#02-52 KINEX
Singapore 437157
Phone: (65) 6288 2293
Evolve MMA (Clarke Quay Central)
6 Eu Tong Sen Street
#04-18 Clarke Quay Central
Singapore 059817
Phone: (65) 6226 2150
Evolve MMA (Star Vista)
1 Vista Exchange Green
#02-26A The Star Vista
Singapore 138617
Phone: (65) 6539 9590