Newly-crowned UFC Heavyweight World Champion Daniel "DC" Cormier shocked the world with a scintillating first-round knockout of former titleholder Stipe Miocic at UFC 226 last Saturday night, 7 July at the T-Mobile Arena in Las Vegas, Nevada.
Dubbed "The Superfight", it was a super fight in every sense of the word as two of the absolute best in the UFC went head-to-head in an epic battle for the ages. Cormier, is as dominant as a champion as ever, having gutted the light heavyweight division of true contenders while Miocic is the most decorated UFC heavyweight champion in history.
When this fight was announced months ago, there was a genuine excitement to it that hasn't been felt in the UFC for a while. And with Conor McGregor having been stripped of both the featherweight and lightweight titles due to inactivity, the UFC was looking for a new super champion. Turns out, "DC" was it.
There have been a handful of 2-division world champions in the UFC. From Randy "The Natural Couture, to "The Prodigy" BJ Penn, these men have defied the odds, entering dangerous and uncharted territory in a different division, only to shock the world and win. But Cormier could end up being the greatest of all time in this regard.
Let's take a look at Cormier's evolution from dominant light heavyweight champion to now, a simultaneous 2-division world champion. Today, Evolve Daily shares 4 reasons why Daniel Cormier is the promotion's best 2-division champ ever.
1) He beat arguably the greatest heavyweight champion of all time
For the longest time, Stipe Miocic's reign of dominance in the UFC heavyweight division was growing more solid every day. There has never been a UFC heavyweight champion in history as talented as Miocic. He's defied the odds every time, beating an incredible list of names such as Mark Hunt, Fabricio Werdum, Alistair Overeem, and Francis Ngannou.
So for Cormier to basically go up one division, face a naturally bigger man, and the absolute best in that division by far is extraordinary. His victory is even more resounding.
Miocic is the winningest UFC heavyweight champ in history. He owns the most consecutive heavyweight title defenses in history, at three, and is widely considered the greatest heavyweight mixed martial artist of all time.
As such, Miocic was the heavy favorite heading into his bout with Cormier at UFC 226 and for good reason. For Cormier to be able to shock the world by knocking Miocic out, it was more than improbable. It was basically unthinkable.
2) He is a former Strikeforce heavyweight champion
Yet many people forget that this isn't the first time Cormier has been a heavyweight champion. Before he ever stepped foot inside the octagon, Cormier was already the former Strikeforce Heavyweight Grand Prix Champion and the King of the Cage Heavyweight Champion.
Considered a "small" heavyweight, having a relatively much smaller frame than the opposition, He upset Antonio Silva in September 2011, having taken the bout on short notice. Cormier knocked Silva out with multiple punches to the jaw.
Then he took on Josh Barnett, dominating the five-rounder to win by unanimous decision, capturing the Strikeforce Heavyweight Grand Prix Championship in the process.
In his last bout for the now-defunct Strikeforce promotion, Cormier fought Dion Starling, winning via technical knockout in the second round. He then joined the UFC shortly after, debuting against Frank Mir in April 2013 to win again by unanimous decision. The only reason Cormier dropped down to light heavyweight was to avoid having to cross paths with his teammate and good friend Cain Velasquez.
Cormier has been on an absolute tear since then, having lost only once over the past five years.
3) He's beaten whoever was put in front of him
One of the greatest aspects of Cormier's career is that he has beaten whoever was put in front of him, no matter how much he had to fight against the odds.
When Cormier entered the UFC, he has had to face criticism in nearly every bout he fought. Not many believed he could replicate his success in Strikeforce against the fighters in the UFC. But Cormier defied the odds each and every time, continuing to win and beat whoever the promotion threw at him.
The list of names includes Frank Mir, Roy Nelson, Dan Henderson, Anthony Johnson, Alexander Gustafsson, and the great Anderson Silva. His only loss came at the hands of Jon Jones, whose most recent win over Cormier last year was overturned by the CSAC due to allegations of doping.
Assuming Jones can get himself together, the two will undoubtedly face each other a third time. But that one is up in the air and there is no guarantee Jones will ever fight again. Regardless, Cormier will continue to face whoever he's inside the octagon with, and that's incredibly admirable, and a quality every champion should have.
4) He's exciting, powerful, and skillful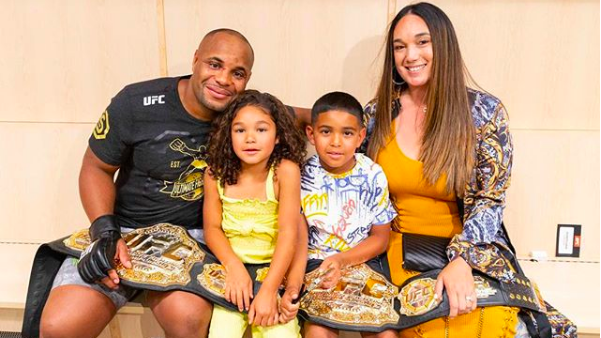 Despite many fans claiming Cormier has a very slow, deliberate wrestling style that isn't exactly built for firework-producing performances, Cormier has proven time and time again that he is the man to beat at light heavyweight, and now heavyweight, and one of the greatest mixed martial artists of all time.
He has finished six of his last 10 opponents inside the octagon with the exception of Jones, and he has done so with extremely powerful hands and great technique.
Along with the "Notorious" Conor McGregor, Cormier is now the second simultaneous 2-division champion in UFC history, holding both the light heavyweight and heavyweight straps at the same time. Subsequently, he's now the top dog at heavyweight and will be facing another legend in his next bout should everything go well.
"There's a guy that I've known for a long time. He's a wrestler, he's an All-American, he's a former UFC champion. I never thought I would fight him, but Brock Lesnar, get your a** in here," Cormier said in the post-fight interview with Joe Rogan.
Assuming all goes well, Cormier will be fighting Lesnar sometime later this year and it's a fight everyone is looking forward to.