Manny Pacquiao officially retired from boxing yesterday, 29 September 2021, and it has been a long time coming.
"To the greatest fans and the greatest sport in the world, thank you! Thank you for all the wonderful memories. This is the hardest decision I've ever made, but I'm at peace with it. Chase your dreams, work hard, and watch what happens. Good bye, boxing," the eight-division world champion penned on his official Facebook account.
In the end, the Filipino legend left it all in the ring. The amount of epic battles Pacquiao has on his resume is simply unparalleled.
From his storied rivalry with Juan Manuel Marquez, to his pound-for-pound showdown with Floyd Mayweather Jr., there is no shortage of indelible memories Pacquiao has etched into the hearts of boxing fans from all over the world.
Who could have predicted that a scrawny teenager from the lush jungles of the southern Philippine archipelago would end up becoming one of the most wildly successful prizefighters in modern history?
Through sheer grit and determination, a burning desire to change his stars and dig his family out of extreme poverty, and a willingness to sacrifice anything and everything, Pacquiao reached heights unfathomable by most.
As Pacquiao embarks on a new journey, to attempt to become the President of his country, let's celebrate a handful of noteworthy moments throughout his life and career, some favorites we've singled out and can look back on.
Today, Evolve Daily shares the greatest moments of Manny Pacquiao's epic boxing career.
1) Learning How To Box From His Uncle
Pacquiao grew up in extreme poverty, in the rural Philippine countryside. His maternal uncle introduced him to boxing at the very young age of 12, and would invite him to watch tape of recorded fights.
According to Pacquiao's autobiography, watching Mike Tyson's loss to James "Buster" Douglas in 1990 changed his life. Not long after, he started training at home and at the park, learning how to punch with just a single worn-out leather boxing glove, and a makeshift heavy bag which was just a sack of rice filled with rocks and sand.
Three years of training later, and at the age of 15, Pacquiao was already considered the best amateur boxer in the country. It was at that point in time that Pacquiao realized he had tangible talent in the sport. So he moved to the nation's capital of Manila, and made his professional debut at 16.
He started his career at light flyweight, and won titles up to as high as light middleweight. Let that sink in for a moment.
2) Teaming Up With Freddie Roach At Wild Card
Eventually, Pacquiao made a name for himself in the local scene, and soon wanted to explore his options internationally. With trusty sidekick and childhood friend Buboy Fernandes by his side, Pacquiao flew halfway across the world to the United States with the guidance of then-promoter Murad Muhammad.
While in Los Angeles, Pacquiao and his team heard about a popular local boxing gym near the hotel they were staying. It was the year 2001 that "Pacman" first walked through the doors of the Wild Card Gym in Hollywood. There he met Hall-of-Fame coach Freddie Roach, the protege of the legendary Eddie Futch, and the two developed an almost instant bond.
Partnering with Roach was the best decision Pacquiao had ever made in his career. Roach turned Pacquiao into an offensive dynamo — a two-fisted monster who blitzed through opponents like a whirlwind of destruction. He brought out the best in Pacquiao, honed his otherworldly skills, and crafted his ferocious fighting style to perfection.
More importantly, Roach took Pacquiao under his wing, treated him like a son, and the two made beautiful history together.
3) Shocking Marco Antonio Barrera
By the time Pacquiao met legendary Mexican "The Babyfaced Assassin" Marco Antonio Barrera in the ring, the Filipino had already announced his arrival on the world stage by defeating top names like Lehlo Ledwaba, Agapito Sanchez, and Emmanuel Lucero.
However, no one gave Pacquiao a shot at beating Barrera. How was that even possible? Barrera was firmly situated in the consensus pound-for-pound top 10. The Mexican was at the top of his game when Pacquiao came into the picture, a virtually unknown fighter from a faraway island nation.
What happened next was completely unpredictable. Pacquiao dominated Barrera from the opening bell, battering the highly-regarded featherweight from pillar to post. Barrera was so beaten up, that his corner had to save him by throwing in the towel in the final seconds of the 11th round.
If you didn't know who Pacquiao was before this fight, you definitely knew who he was after that insane performance. It was at that point that the world witnessed the birth of a superstar. This victory opened up incredible opportunities for the Filipino.
4) Beating Oscar De La Hoya In "The Dream Match"
In what was arguably the greatest victory of his career, Pacquiao defied the odds once again.
After beating David Diaz to win the lightweight belt, he moved up two divisions to welterweight to meet Mexican-American legend Oscar De La Hoya in a fight that was dubbed "The Dream Match."
At the time, Pacquiao competing at welterweight was unheard of, let alone against one of the sport's best ever. For nearly a decade, De La Hoya commanded the box office. He brought in the pay-per-view money and was largely viewed as boxing's top draw.
Truth be told, analysts and so-called experts again gave Pacquiao a mere puncher's chance against "The Golden Boy." De La Hoya was far too big and strong, and had a tremendous experience advantage. Apart from landing a lucky shot, a Pacquiao victory simply could not be imagined.
So when the Filipino firebrand decimated De La Hoya from beginning to end, forcing him to quit on his stool at the end of the 8th round, it was mind-boggling.
The torch was passed, and there was a new box office king in town.
5) Winning A World Title In 8th Division
Pacquiao's grocery list of achievements throughout his career is nothing short of incredible.
But perhaps his most crowning achievement is that he's the only boxer in history to win multiple world titles across eight different weight classes. It's a record that may never be broken.
He's been a world champion at flyweight, super bantamweight, featherweight, super featherweight, lightweight, light welterweight, welterweight, and light middleweight.
In 2010, Pacquiao dominated and defeated the dangerous Antonio Margarito to capture the vacant WBC World Super Welterweight Title. Pacquiao punched Margarito so hard, he broke the Mexican's orbital bone.
Other notable achievements included being the first five-division lineal champion in history, the only fighter to hold world titles in four different decades (1990s, 2000s, 2010s, and 2020s). Along with rival Floyd Mayweather Jr., Pacquiao is also right up there as one of the richest fighters of all time.
Farewell To A Legend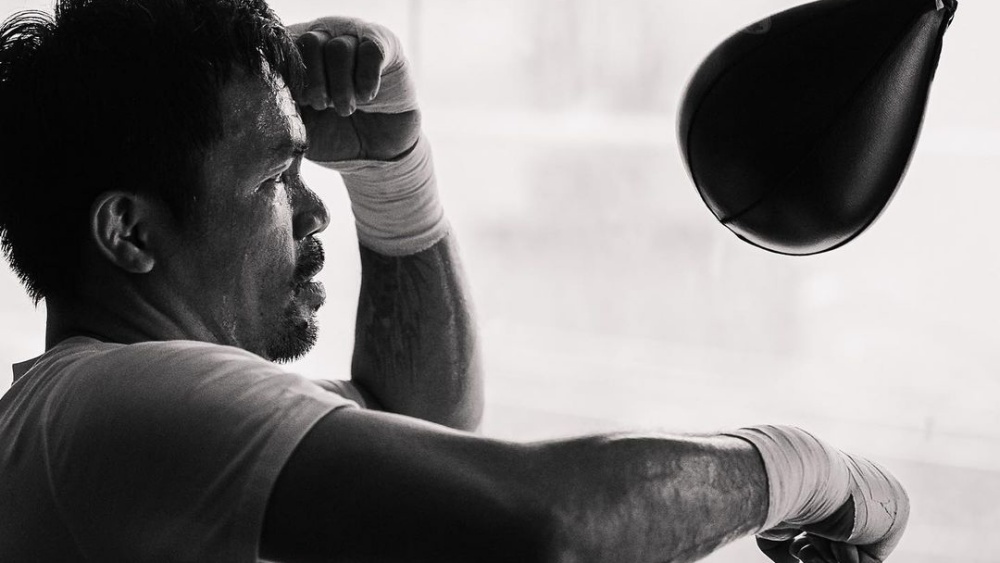 Often imitated but never duplicated, there will never be another Manny Pacquiao. But all good things must come to an end.
Pacquiao now embarks on a new challenge, a new adventure in his professional career. And having already achieved what he set out to do in boxing, and then some, now is the perfect time to walk away from the sport.
There's nothing left to prove, after all. And while fans will certainly miss the aura and magnitude of a Pacquiao super fight, boxing is in great hands with the next generation of rising stars.
At 42 years of age, Pacquiao retires, still at the top of his game, leaving countless memories atop the boxing ring. Those memories will live on forever and inspire generations upon generations of boxing stars to come.
You may also like: