A slip cord is as basic as it gets when it comes to equipment boxers train with. It can be as simple as a piece of rope or a rubber cord made specifically for boxing. Slipping a cord puts a lot of emphasis on two key movements – footwork and head movements. Not only do you get the best of both worlds when you train with a slip cord, but you also get to work on your offensive and defensive abilities, slipping in to a deliver a three-punch combination or slipping out after delivering a combination. Whether you're an orthodox or southpaw boxer, slip cord drills work wonders in improving your overall boxing game.
Take Mexican boxer Saul "Canelo" Alvarez, the undisputed Super-Middleweight Champion, for example. His ability to move flawlessly around in the boxing ring comes with hours of practicing drills to the point of perfection. Watch the above video of Canelo's ability to slip the cord which contributes to his ability to move flawlessly across the boxing ring.
Setting Up A Slip Cord
Finding material to make a slip cord out of won't cost you much, as mentioned earlier, it's as easy as using a piece of rope or long rubber rope.
Basics Of The Slip Cord
The usage of a slip cord aims to work on your basic head movement. To set up a slip cord, hang the rope across any clear space that is at least ten feet long at about chest height. The cord should be tightly secured on both ends and strung tight. A boxing ring's turnbuckles are a great place to set up a slip cord. To begin, slowly slip and duck (move your head to the side) under the cord as you move towards the end. This motion should be fluid so that you are always in position to slip or duck an oncoming punch.
3 Boxing Slip Cord Drills That Will Improve Your Skills
After understanding the basics of how to use the slip cord, let's take a look at 3 slip cord drills you should incorporate into your training routine:
1) One-Two Drill
After getting the hang of basic movements with the slip cord, start focusing on throwing some simple combinations. Start at the either end of the cord, imitating the basic slip and duck mentioned earlier followed by a simple jab–cross combination. This works drill works not only your head movement but hand-eye-coordination, imitating what it's like to dodge an oncoming punch and countering with a jab-cross combo.
2) Slip And Hit With Double Ended Bag
If you've the privilege of owning a double end bag, tie the double end bag in the middle of the slip cord and try this drill. After feeling more confident with throwing some basic combinations along with slipping and ducking, why not work on the speed of your movements? Starting from the either end of the cord, time yourself as you slip and duck towards the double end bag before throwing a few combinations and continuing towards the end. By doing this, you not only increase your slipping abilities but also the speed and accuracy of your punches.
3) Partner Drill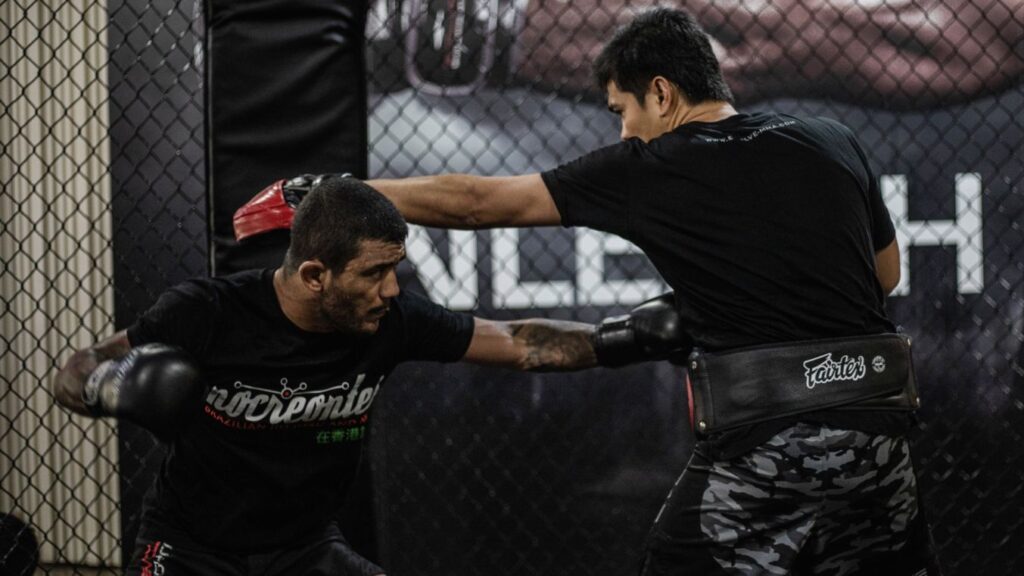 To take things up a notch, get a training partner with you for this one. Starting at the either ends of the cord, as you slip and duck from one end to the other, have your partner throw simple combinations at you after each round of slipping and ducking before countering after each successful round of slipping. This trains not only your slipping but your ability to anticipate punches. Don't worry if you don't get it the first few times, anticipating your opponent's punches take time and this drill aims to do just that.
Practice Makes Perfect
The ability to move elegantly across the ring comes with practice. Try incorporating these three drills into your training routine and see how it improves your boxing game. While your aim when using the slip cord is focused on head movement, don't neglect your footwork! Be sure to also incorporate some footwork drills to effectively move around the ring. One common similarity that all the boxing greats have apart from being good at slipping and ducking punches have is impeccable footwork.
Want more boxing drills? Attend one of Evolve's complimentary introductory boxing classes to see what training is like firsthand.
Book your complimentary trial class with our World Champions below!
If you have any other questions regarding Evolve MMA and the programs we offer, you can get in touch with our membership executives at the following locations:
Evolve MMA (Far East Square)
26 China Street
Far East Square #01-01
Singapore 049568
Phone: (65) 6536 4525
Evolve MMA (Orchard Central)
181 Orchard Road
#06-01 Orchard Central
Singapore 238896
Phone: (65) 6536 4556
Evolve MMA (KINEX)
11 Tanjong Katong Road
#02-52 KINEX
Singapore 437157
Phone: (65) 6288 2293
Evolve MMA (Clarke Quay Central)
6 Eu Tong Sen Street
#04-18 Clarke Quay Central
Singapore 059817
Phone: (65) 6226 2150