Singaporean mixed martial artist Amir Khan returned to the cage on Mar 26 at ONE: X, beating Ryogo Takahashi via split decision. After a grueling two years where he weathered the death of his father and then a long recovery from a serious injury, the victory over Takahashi was a beacon of light for the local hero, proving that he was on the right path as a mixed martial artist.
On Aug 26, Khan will face MIMMA Featherweight Champion Keanu Subba in a featherweight clash at ONE 160: Ok vs Lee II. Here are the top three reasons why you don't want to miss Amir Khan's return to the Circle.
1) Killer KO Record
Whether you're a fan of Amir Khan or not, there's one undeniable reason that you should watch his return: Khan has a killer KO record. With 9 KOs in 19 fights to his name, Khan has a record that any fighter would be envious of. In fact, Khan once held the record for the most KOs in ONE Championship – no mean feat amongst true-to-life legends.
If we take a closer look at this record, one thing jumps out immediately. Khan secured the knockouts almost exclusively with beautifully timed punches and elbows. With swift hands that are set to turn out his opponent's lights at any time, Khan looks ready to notch another KO on his belt.
2) All Thrills, No Spills
Now that you know that Khan is absolutely deadly within punching range, this highlight reel perhaps tells you all you need to know about how exciting it is to watch Khan in action.
In it, Khan boasts not just his hunger for victory, but a highly honed killer instinct, an uncanny ability to absorb an insane amount of blistering blows, and composure that only seems to get stronger with each hit he takes or second he spends in a disadvantageous position. If we had to pick just one fight where Khan showcases all three of these traits, look no further than when he faced Eduard Folayang at ONE: Contest Of Champions.
With the ONE Lightweight World Champion title on the line, Folayang delivered numerous spinning back fists, spinning heel kicks, powerful side kicks, and low kicks which would have floored any of us mere mortals. But these blows seemed to simply glance off Khan, who appeared to absorb each blow with utter ease and an almost unnatural serenity. To top off his destructive blitz, Folayang delivered a devastating ground-and-pound before Khan managed to escape and recover.
Khan took these blows calmly, answering each combination of strikes with his own that reached deep into Folayang's guard and landing a majority of those blows. Apart from his utterly mind-boggling ability to take hits, the fight proved that Khan has the will and composure to stay in the game and the determination to always have the last say – no matter what his opponent throws at him.
With his killer instinct, sponge-like ability to absorb blows, and unbreakable will, Khan's return to the cage promises to be nothing less than absolutely sensational.
3) New Tricks Up His Sleeve on Aug 26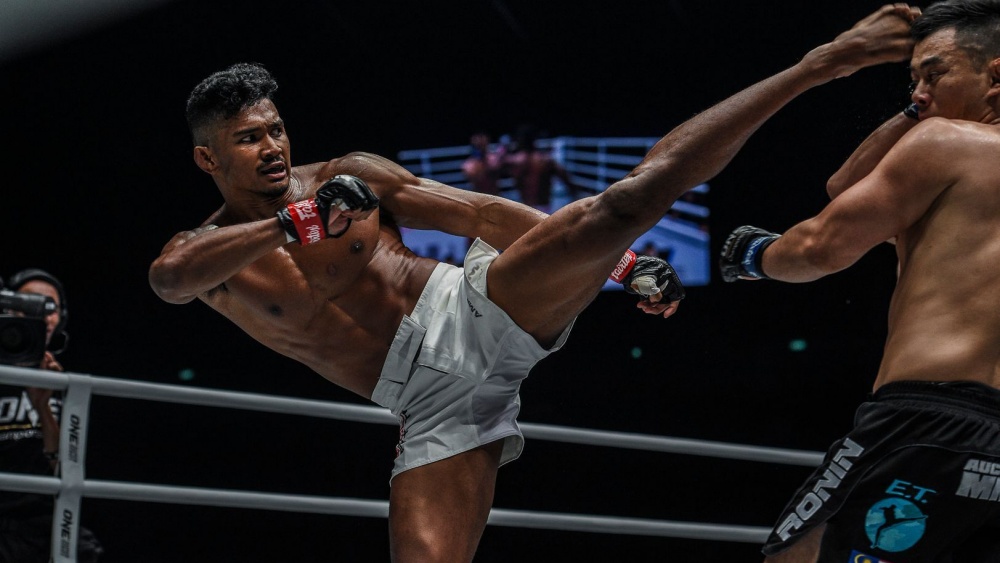 At just 26 years old, Khan is one of the youngest fighters in the famed EVOLVE Fight Team. While you might think that his relative lack of experience in the cage might count against him, Khan is currently training with the many World Champions on the EVOLVE Fight Team, including ONE Women's Strawweight World Champion Xiong Jing Nan, and Gurpreet Singh, two-time Wrestling gold medalist at the Commonwealth Championships and seven-time Wrestling national champion in India.
Khan is clearly an exceptional striker, and with a solid A-plus in trading blows, he is most likely working hard on honing his grappling and ground game. On Aug 26, we may instead see Amir Khan going for more takedowns, submission chains, or joint locks, as opposed to pulverizing his opponent with fists and elbows.
With a new strategy and game plan in the works, it is highly possible that we will see a rejuvenated Khan executing a brand-new game plan and fight style at ONE 160: Ok vs Lee II.
High-Octane Action
With an instinctive desire to always strike back in any exchange and how he seemingly shrugs off blows, Khan is a dangerous opponent to face down in the cage. Those traits have served him well in amassing an amazing record of KOs, but have also made Khan a fighter that is nothing short of absolutely thrilling the moment each round begins.
Furthermore, training with his EVOLVE Fight Team teammates will likely round off Khan's exceptional striking ability with a keen eye for takedowns. Khan has definitely secured his place as one of the rising stars in the Asian MMA scene, ready for a meteoric rise in the ranks. While Khan may have missed his first chance at the ONE Lightweight World Champion title, his return at ONE 160: Ok vs Lee II may just be his ticket back to another World Champion bout.
Don't miss Amir Khan's return on Aug 26 at ONE 160: Ok vs Lee II!