For some #WarriorsOfEvolve, their journey began with a dream of emulating someone they might have watched on TV. This month's Warrior of Evolve is a true-to-life fighter who is not just forging his path towards greatness but has overcome great obstacles along the way.
Amir Khan suffers from Tourette Syndrome, which is characterized by involuntary and repetitive tics, and was picked on as a child. He turned to street fighting to fit in, but Amir's father signed him up for Muay Thai classes to set him on the right path as a warrior.
At that time, Amir was passionate about golf and aspired to become like Tiger Woods. But after he saw Buakaw Banchamek completely dominating his opponents in K-1, Amir was wholly captivated by martial arts and decided to pursue mixed martial arts (MMA).
Amir moved to the United States to chase his MMA dream, cross-training in wrestling and Brazilian Jiu-Jitsu to complement his Muay Thai. Amir earned a spot on the renowned EVOLVE Fight Team in 2014 when he returned home.
One of the few Singaporeans who represent the nation in MMA, Amir says he is always proud to do so. Being a fighter is everything to him:
"I am the man I am today because of the way I live my life. The values and lessons I get from being a fighter give me the confidence to excel in life."
At this stage of his career, Amir is focused on becoming an elite fighter and a World Champion. He's building a blueprint to be consistently successful, which involves figuring out different methodologies and training. Amir favors elbow strikes in the Circle: "Nothing beats putting someone away with a devastating elbow shot."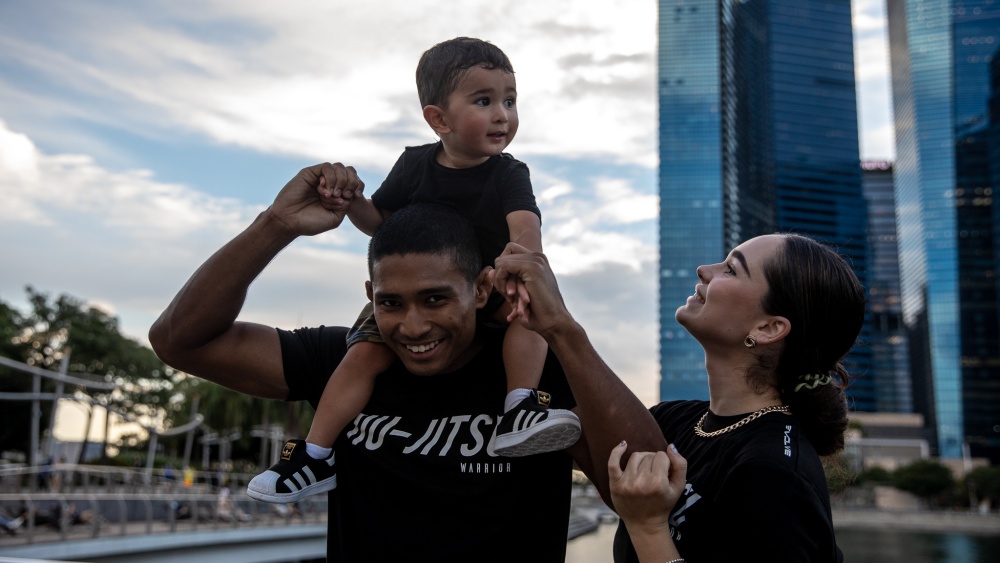 You might guess that Amir's inspiration is an elite fighter or World Champion. But Amir surprised us:
"My biggest inspiration right now is anyone working hard towards their goal. I don't have a particular person I look up to. I'm inspired by people, particularly how they live their lives. I try to learn from everyone no matter who they are."
That may be the defining characteristic of our homegrown MMA hero – he sees the champion in everyone. This August, as we celebrate our nation's 57th birthday, we are proud to have Amir Khan as one of our #WarriorsOfEvolve!
In search of something different, and inspired to unleash your greatness? Take the next step towards your goals with Evolve MMA!
Book your complimentary trial class with our World Champions below!
If you have any other questions regarding Evolve MMA and the programs we offer, you can get in touch with our membership executives at the following locations:
Evolve MMA (Far East Square)
26 China Street
Far East Square #01-01
Singapore 049568
Phone: (65) 6536 4525
Evolve MMA (Orchard Central)
181 Orchard Road
#06-01 Orchard Central
Singapore 238896
Phone: (65) 6536 4556
Evolve MMA (KINEX)
11 Tanjong Katong Road
#02-52 KINEX
Singapore 437157
Phone: (65) 6288 2293
Evolve MMA (Clarke Quay Central)
6 Eu Tong Sen Street
#04-18 Clarke Quay Central
Singapore 059817
Phone: (65) 6226 2150