Have you ever experienced hearing your favorite song out of the blue? You could be walking down the street, chilling in a taxi, or hanging out with friends, but whatever you were doing, your immediate reaction was to sway along with the song. Indeed, music can stir people to start bopping along.
For many, music is not just "nice to have". Many athletes rely on music, whether pre-session, to get in the zone or to push through an intense martial arts workout session. In this article, we'll explore why music can make a difference in your workouts and list our favorite playlists, so you don't have to spend hours looking for the right songs.
How Does Music Motivate You To Work Out?
1) It Makes You Move Faster
"I can't work out without my favorite music tracks." If you're nodding to that, guess what? Science agrees with you. It is proven that music can improve your stamina and boost your mood during a workout. Besides that, scientists have observed that music with an upbeat tempo can motivate one to move faster. For example, a 2006 study that examined how music affected treadmill speed discovered that participants increased their pace and distance traveled while listening to fast-paced music.
This phenomenon called brainwave synchronization describes how one might start moving when there are external stimuli. While many people may not adjust their movements in exact time with their workout music, brain synchrony may help the body use energy more efficiently. In addition, the external cues help the athlete use less effort to coordinate their movement. So if you have ever found yourself boxing to the rhythm of the music, that's why!
If you're curious what's the most optimal rhythm of music, it suggests that most people prefer 160 beats per minute if they're running on a treadmill. For most other activities, anything above 145 beats per minute does not seem to motivate people to run or move faster. The speed and lyrics also make a difference. Some people are more motivated to work out to quick, snappy rap music, while others get a rush from bubble-gum pop.
2) It Distracts You From Fatigue
Another reason why music is so motivating is that it can distract you from the physical signs of fatigue. When you're sweating and doing the last round of hooks at your boxing class, your body sends messages to your brain that you are tired.
Music, especially if it is emotional tunes that recall memories or feelings, compete with those negative feelings. So instead of concentrating on how sore you feel, you focus on the songs and push through physical discomfort. This is also why some game designers have created running environments to simulate zombies running after the user. And, of course, listening to the same tracks before an intense martial arts class in Singapore can pump you up so you feel ready to crush it.
Here are our three favorite playlists on Spotify that you can add to your collection for your next workout – and don't worry, they aren't zombie sounds.
1) Warrior's Muse By Evolve MMA
As the title suggests, this is a playlist of feel-good tunes curated by our renowned Evolve Fight Team. There's an entire range of music to suit your workout session or you can play it on the way to class to feel inspired. Start with the uplifting mid-tempo Hall of Fame by the Scripts and remind yourself that you are Unstoppable with Sia.
Next, pick up the beat with Tokyo Drift's Fast and Furious so you can kick faster and higher in your Muay Thai class. And the ever-familiar Stronger by Kelly Clarkson will remind you why you're there in the first place, especially if you're tired after a long day and cannot imagine doing another rep of roundhouse kicks. Find it on Spotify.
2) Post-Workout Cool Down By LowKey Bops
If you're an intense workout warrior, whether in martial arts or other forms of exercise,
you need to stretch
. But many people skip the cooldown portion of the training, whether out of sheer laziness or neglect.
One way to motivate yourself to stretch after class is to look for pop music that is not too slow and has a catchy melody. Tune into this playlist which is updated with slow to mid-tempo hits like Kill Bill by Sza and Shivers by Ed Sheeren. This playlist consists of hits from early 2022 to the latest music, so if you like being in the know, play this as you cool down. Find it on Spotify.
3) 160 BPM Best Hits For Workout By Various Artists
You need high-tempo music with a fast rhythm to practice lightning-speed punches and kicks in your mixed martial arts classes. This playlist is full of heart-pumping tunes that get you jumping faster and kicking higher. The good thing is that the tracks are not mainstream pop, so you might not recognize the tunes and be tempted to sing along. Especially if you think you might be distracted when familiar music comes on, this playlist might be better for you. Find it on
Spotify
.
4) High BPM K-Pop For Working Out By Bernice
This playlist is for all K-pop stans! Full of highly catchy, pumping K-pop music, it's hard not to bop along when you play it. You have your familiar K artists such as BTS, Blackpink, 2NE1, Big Bang, and Girls' Generation. There are also up-and-coming groups like Itzy and SuperM. Whether you know the lyrics or not, it doesn't matter. The throbbing beats with plenty of rap tunes will help you get up and moving as if you're in a K-pop concert. Find it on
Spotify
.
Come And Train At Singapore's Top Mixed Martial Arts Gym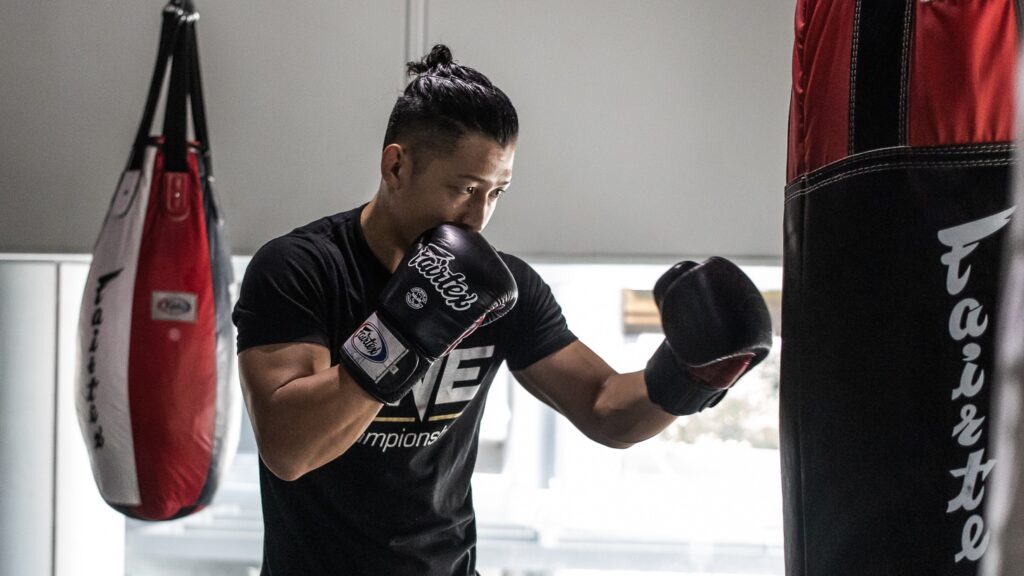 At Evolve MMA, we've equipped our gym with high-fidelity surround sound systems so students can push through while listening to great music. Whether you're taking a Muay Thai, Brazilian Jiu-Jitsu, boxing, or mixed martial arts class, it helps to listen to music and work out. That's why we've curated our in-house playlist and ensured that our gyms always play catchy tunes.
Apart from that, we have even more facilities, such as showers with rain shower capability, individual full-sized lockers, and free Wifi. We even have a Cryotherapy Recovery Center at Evolve MMA Far East Square.
So if you're looking for a world-class gym with dedicated instructors and five-star facilities, check out the nearest Evolve MMA location and sign up for a trial class to get started.
Our classes also begin as early as 6.30 am and end as late as 9.45 pm for locations such as Evolve MMA Orchard Central – there's always going to be a class that fits your schedule. So whether you're an early bird or a night owl, you'll be able to find a class that fits your schedule. Contact us today to unleash your inner warrior at Evolve MMA Singapore.
Book your complimentary trial class with our World Champions below!
If you have any other questions regarding Evolve MMA and the programs we offer, you can get in touch with our membership executives at the following locations:
Evolve MMA (Far East Square)
26 China Street
Far East Square #01-01
Singapore 049568
Phone: (65) 6536 4525
Evolve MMA (Orchard Central)
181 Orchard Road
#06-01 Orchard Central
Singapore 238896
Phone: (65) 6536 4556
Evolve MMA (KINEX)
11 Tanjong Katong Road
#02-52 KINEX
Singapore 437157
Phone: (65) 6288 2293
Evolve MMA (Clarke Quay Central)
6 Eu Tong Sen Street
#04-18 Clarke Quay Central
Singapore 059817
Phone: (65) 6226 2150
Evolve MMA (Star Vista)
1 Vista Exchange Green
#02-26A The Star Vista
Singapore 138617
Phone: (65) 6539 9590